LinkedIn is a late bloomer; where the social platform used to be a rather formal, colorless social platform - that rapidly changed in the months after Microsoft acquired the platform. LinkedIn has been booming for a while, and its popularity continues: in Q3 2020, LinkedIn reported a 26% growth in user sessions. And as long as LinkedIn won't roll out irrelevant features like their latest Story feature (I mean, come on, we have Instagram for that), we don't see that growth come to a stop anytime soon.
While the platform is great for publishing and spreading your company news, many brands have been using it as a way to build up thought-leadership as well. Here are 8 PR pros that you can follow to make your LinkedIn addiction an educative one.
Gini Dietrich: We cannot make a list of PR thought-leaders without including Gini Dietrich, author of the marketing and PR blog Spin Sucks, and the mastermind behind the

PESO model

. Her

LinkedIn profile

is dedicated to helping you build out your communications strategy with the PESO model. Sounds interesting? Gini

recently posted a step-by-step guide

on how to get started with the PESO model.

We recently had the chance to sit down with Gini for a chat about the unstable future of PR.

Read the full article

in our online magazine Unfold.
Neil Patel: Neil is a New York Times bestselling author, was named top influencer on the web by The Wall Street Journal, and is listed as one of the top 10 marketers by Forbes. His marketing blog

, which has cultivated more than 3 million visitors per month, has tips and tricks on growing your audience, perfecting your SEO practices, and improving your content. On

his LinkedIn profile

, you'll find plenty of quick reads and actionable tips on how to improve your technical marketing skills.



Alexander Jutkowitz:

Alexander is an innovation strategist, responsible for creating global communication strategies as CEO of SJR Group. Having 20+ years of experience in the media has provided him uncanny insight of this industry and his LinkedIn profile is dedicated to sharing just that. We especially loved

his article

on the importance of shifting the focus towards servant marketing in times of crisis.



Michal Pecánek: A strong communications strategy does not ignore search engines. If you're looking to learn or perfect your SEO skills, you must follow Michal. As a content marketer at

Ahrefs

, he provides easy-to-follow tutorials and step-by-step guides on all things SEO. Whether you're just starting out in the industry or you're a PR pro, you'll find yourself saving these guides to help you hone your skills.
Iliyana Stareva: The PR landscape is constantly changing. Some argue that sending email pitches to journalists will simply not work. Iliyana believes that successful media relations is done by pulling journalists in, instead of pushing messages out at them. If you want to learn the science behind inbound PR, check out

Iliyana's posts on LinkedIn

. Here you will find tips on marketing and productivity you wish you knew before you got started.



We recently spoke to Iliyana about her inbound approach to media relations. Check out the full interview in our online magazine Unfold:

How to do media relations the inbound way

.



Cole Schafer:

In his own words, Cole writes pretty words and sells things for a living. The words he writes are sure pretty. His bold and humorous approach to copywriting is remarkable; he's a must-follow for everyone in the communications industry. Don't believe us? Check out

his posts

for yourself.



Seth Godin: We all have that one mentor or professor who changed our life for the better. Chances are, if you follow Seth on LinkedIn, you might add him to that list. For more than 30 years, Seth has been inspiring people through his newsletter and challenging them to level up, both personally and professionally. His posts on LinkedIn include quick reads that are likely to give you some food for thought.
Brené Brown: Although Brené is not necessarily in the PR industry, she is a master storyteller so she had to be included in this list. It's no secret why she has amassed more than 2 million followers on LinkedIn. Besides being a research professor at the University of Houston, she is the author of five #1 New York Times bestsellers, host of a podcast and her

Ted Talk

is the 4th most-watched of all time. Plus she's a mom. Talk about insight! Her LinkedIn posts and her research dig into the intricacies of human connection, which serves as great insight for any comms person. Besides learning from her knack for storytelling, you might just pick up some great quotes and lessons to continue growing on both a professional and personal level.
Bonus
If you're looking to stay connected with what's happening in the PR world, you don't want to miss out on our personal favorite influencers:
Carmen Guillen

: Carmen is the mastermind behind pr.co's online magazine

Unfold

. As Editor in Chief, she has cultivated a deep understanding of the industry through countless interviews with PR's most prominent pros. She is passionate about ethical business and is constantly promoting conversations on diversity and inclusion, especially in the tech industry.

Sjors Mahler:

Our head of marketing at pr.co is nothing shy of an influencer. His posts convey the authenticity needed to navigate through the world of PR. In fact, they tend to gather communications specialists from all industries in heated debates in the comments section.
We get it: navigating the world of PR is tough. We might be able to help you. If you're looking for a tool to help you manage relationships and send out news beautifully, learn more here.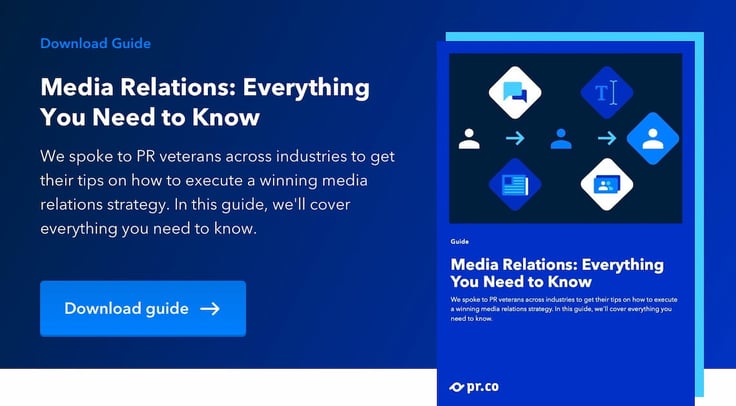 Ana is a marketer at pr.co, and is the driving force behind our 100+ articles and guides. Ana has an MSc in Corporate Communications, and four years of experience in the PR industry. Now, Ana distills knowledge from pr.co's 250+ customers to help PR professionals get better results through high-quality content.. Connect on LinkedIn or send an email