Reusable bottle company Dopper has made a sizeable impact with a small team. Here Head of Marketing, Renske Thelosen-van Daalen, and Impact Marketing Manager, Jitske Volkert explain how they've done it.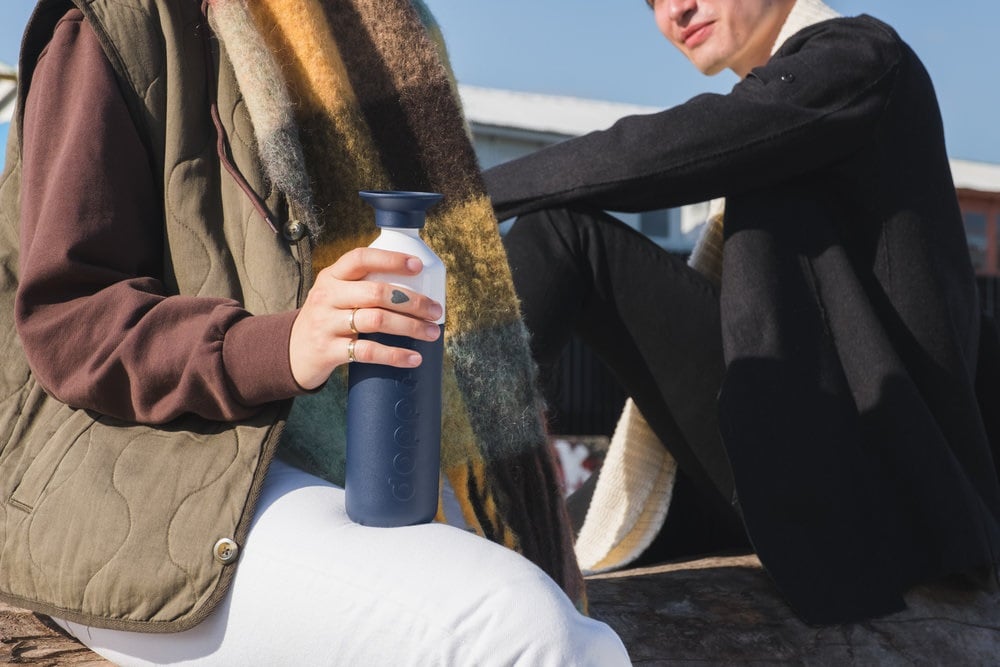 How long have you been a B Corp for?
(B Corp is an international certification for private companies to prove their social and environmental performance. Notable B Corps include Patagonia, Ben & Jerry's, and Etsy.)
Jitske: Since May 2014. Our founder was very keen to bring the certification to Europe as it was mostly concentrated in the US. He organized the first two editions of the B Corp event in the Netherlands with B Lab Europe and the consultancy agency Dutch.
Renske: More European companies are becoming B Corps now, and some even reach out to us for guidance. One of the things I was surprised to learn is that the certification touches every aspect of your company. So it really requires everyone to participate. From a people and culture perspective, from a process perspective, from a production and suppliers perspective. Even down to for example, what kind of coffee you use in the company coffee machine: is it Fairtrade?
At Dopper, it's powerful to see how much these principles are lived. We've just moved to a new building and our lovely team administrator Cindi chose to work with the greenest moving company, which wasn't the cheapest option. I thought, "wow, the depth of this. It's not just about getting the B corp qualification, it's in every small choice that people here at Dopper make."
Purpose-led brands will be the only survivors in this new era of consciousness. Here's how marketers can ensure long-term success through brand activism.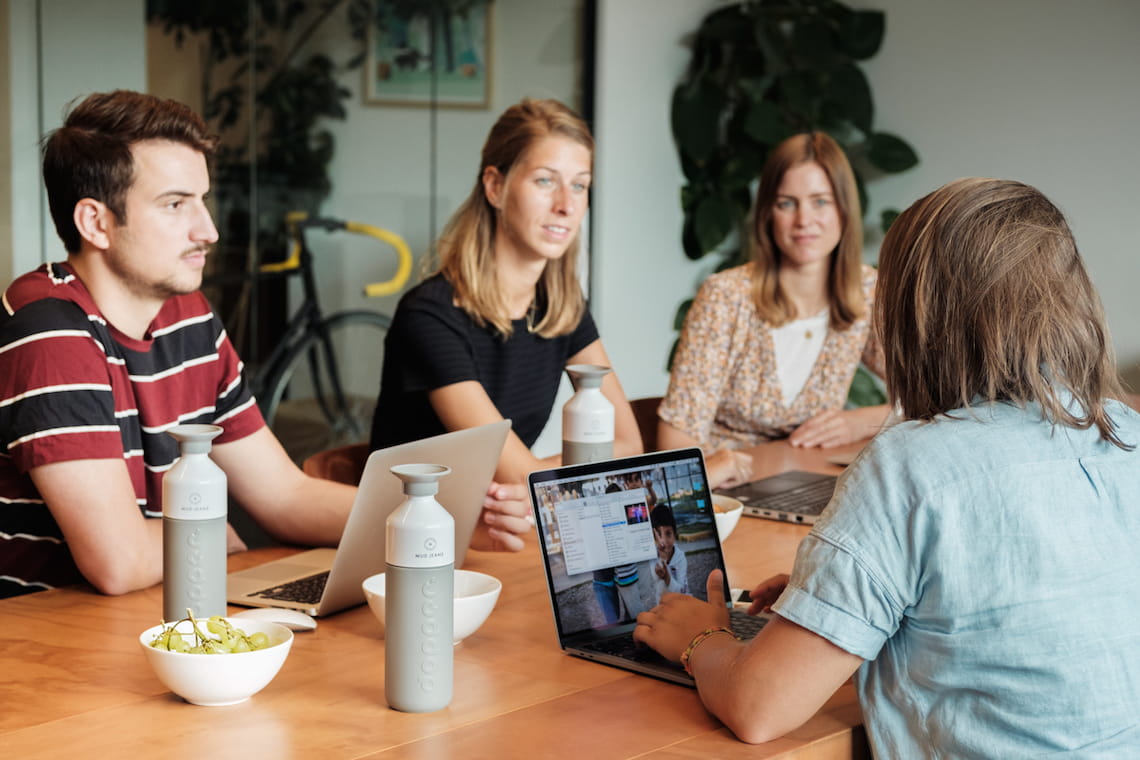 It's comforting that the barrier to entry is relatively high, as it means that companies can't greenwash— they really have to commit.
Renske: Yes. I also wonder how much value being a B Corp has to the consumer. At the moment it's very much a B2B-related trademark. I would love it if consumers would search for it as they would a label on Fairtrade coffee. If there was that pull from the bottom it would also amplify the number of businesses willing to qualify.
What is the awareness level of your audience on plastic pollution?
Jitske: We do impact research every few years. One of our recent findings was that in the Netherlands, 40% of people are hardly aware of the plastic pollution problem, so still a lot of room for improvement. In our other core markets, for example, Germany, the awareness level is a lot higher, at 75%.
It's interesting at trade fairs for example because we get a lot of questions from Germans: "Why is your bottle made of plastic?" etc. They really see plastic in itself as the enemy, whereas we really think single-use plastic is a bad thing. Because plastic itself is a very durable and strong material. The problem lies in the way we use a lot of plastic, as a single-use thing.
Renske: It's important to do research because if you're mostly talking to other socially conscious brands and consumers, you're in a bubble, thinking everyone is aware of the gigantic size of the plastic pollution problem. We really wanted to have the facts, to understand an average slice of the population.
Do you ever worry that it would hurt your brand to partner with a company not perceived as ethical: although they might be going through a social transition that consumers aren't aware of?
Jitske: It depends on the relationship, on the intent. If you sign the Dopper Wave, you commit to drinking water from the tap and bringing a reusable bottle with you – and giving up on single-use plastic water bottles. It's a small change, but for big companies like bol.com or de Bijenkorf, it's huge because they need to remove single-use plastic water bottles from all their offices, storage, canteens etc.
bol.com for example had over two thousand people using single-use water bottles every day. So when they joined the Dopper Wave it had an enormous impact. It's super interesting how we as a relatively small company can scale up our impact by partnering with larger ones.
(The Dopper Wave is a movement of companies and individuals that commit to replacing single-use plastic bottles with those that are reusable, reducing the amount of plastic pollution that finds its way into our oceans.)
You guys have an amazing array of partnerships with museums, supermarkets, and consumer brands. Was that part of your marketing strategy?
Renske: Yes, partnering with other companies and organizations has always been at the core of Dopper. Because it allows us as a small company to make a bigger impact – reach more people with our mission to kick single-use plastic out of this world.
We made this big Oceanic Plasticarium in the Tropenmuseum, which is an aquarium where we displayed plastic soup from the Pacific Ocean. (Plastic soup is the name for the floating plastic in the oceans). Saying "Hey, this should be in a museum, as plastic soup should be a thing of the past." was a way to dramatize the issue and educate people.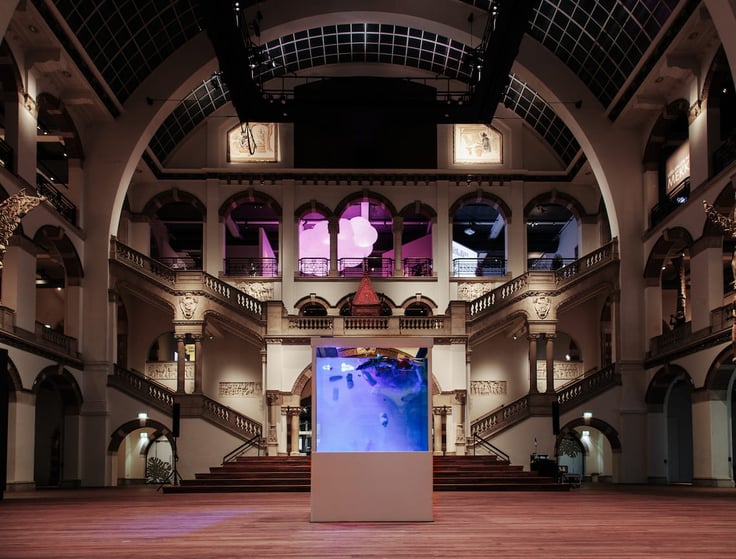 We're also working with Schiphol, which for me is an important partnership. We learned through our research that travel hubs are where people buy plastic water bottles the most. So being present at a big international airport is where we can really have an impact if we convince people to choose a re-usable bottle over a disposable one. Also, Schiphol is the place where a lot of travelers enter our country, giving us the opportunity to educate travelers, saying 'the tap water here is actually of great quality, use it.'
How do you educate people without sounding sanctimonious?
Renske: I think that's a very good question. One thing that we as an organization keep in mind is that we don't want to be pointing fingers and telling people what they have to do. We don't want to be the school teacher or to "punish" people.
That's why we try to keep our tone of voice lighthearted. So when you read our communications, we'll say things like "Hey, you get karma points".
Our visual identity is also lighthearted. We have this puffer fish holding up a sign saying, "You rock". It's kind of corny, but these elements help to keep things more playful and positive. Because we're not an angry company. We want to celebrate people taking small steps forward.
What do you think about the controversy surrounding Oatly taking Blackstone investment?
Jitske: We find that hard to answer as an outsider. Looking at the situation at Dopper: we don't work with external investors. When we talk about increasing our impact, we're talking about scaling our mission-- to get every single plastic water bottle out of this world— not necessarily to scale our product. We are happy if we have put ourselves out of business because it would mean there are no single-use plastic water bottles anymore in this world and that everyone – near and far – has access to clean drinking water.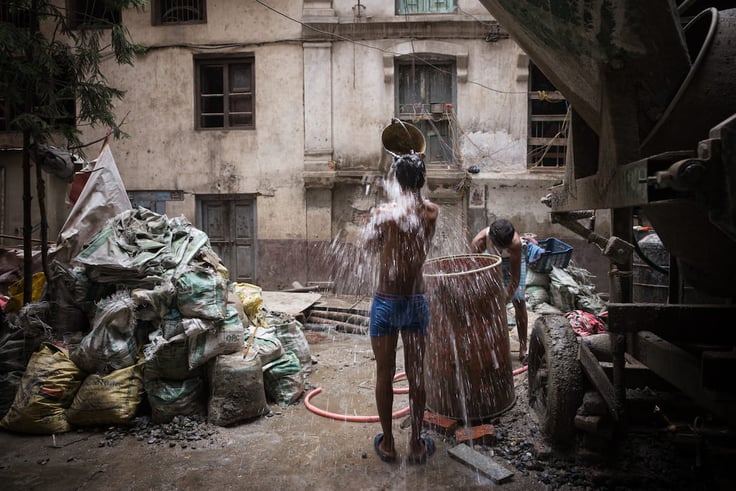 Your business model has so many different arms because you're a social enterprise. What are some of your biggest communication challenges?
Renske: Understanding which detail of which story to highlight is challenging. You want to make people aware of the problem of plastic soup, you want to get them to change their behavior. But then there's also a product with a certain USP- it can keep your water hot and cold. Then there is this whole story of how we produce bottles, how we are on our way to net-zero emissions, that we have good shipping projects etc. Where do you tell what story?
How have you decided to prioritize these stories?
Renske: I think we're still in the midst of sorting that out, to be honest. We're aware that in different countries we operate at different levels. One of the things that we started doing really diligently a few years ago was to say, "no bottle leaves without the message" ie. no bottle leaves without our mission being understood. So we've been working really hard to tell our retailers and resellers about our mission, by providing them with information kits and training. This way, when they sell the bottle, they are able to communicate the mission behind it.
I think our next step is to tell more stories about how we produce our bottle. We are the first bottle brand in the world to have our full bottle range certified Cradle to Cradle™, the world's most advanced standard for safe, circular and responsible materials and products. This is a step closer to our commitment of achieving Net Zero emissions by 2030. So first we need to let consumers know what Cradle to Cradle is, and then how we do it. Then hopefully we can inspire other companies so it becomes the industry standard.
How do you keep yourself educated as a company?
Renske: In a lot of different ways. My observation is that in general there's a very humble mindset here. So people are really willing to learn from others and reach out to experts on the topic. So for example, we talk to professors, we talk to WNF, or we organize roundtable discussions with large corporates.
Jitske: We also have 'Dopper Deep Dives' where we invite three people to speak on a topic. In the next edition, we are discussing how companies can bridge the gap between consumers and the government. So we invited Tony's Chocolonely, Oatly, and Ecover, who make sustainable cleaning products. It's for us internally but it's also externally accessible. That way, everyone can learn.
It's interesting to see more collaboration between companies that would have traditionally been seen as competitors.
Jitske: Yes, we are also in touch with some competitors, although we don't really see them that way. But for example, we talk to Soul Bottles, a reusable bottle company in Germany, to learn from each other's work. Our German sales and marketing team also talks to the team from Tony's and Seepje, and some other social enterprises that are operating in the German market because we all have the same challenges.
You have a lot of powerful statistics on the impact that your bottle has. Do you think being able to point to this helps you be more persuasive? Or do facts have less of an impact in the era of 'fake news'?
Jitske: I think we should be able to back up every decision we make with facts. When people point to different ways to approach things like Cradle to Cradle production, facts help us justify everything we do. The level of detail we can point to still surprises me sometimes. Facts are underneath all of our stories.
Renske:
We can also make ourselves accountable with facts. What's the progress we're making? Are people changing their behaviour or not? How about in different countries? In terms of using stats externally, some people can be persuaded by facts. Whereas some people are more persuaded by an emotional story from a wavemaker. You have different kinds of decision-makers and we want to appeal to them all.
What about your work is unique to the Dopper marketing department?
Jitske: I think the way we are creating an education program. Why would any commercial company do that? A lot of time and effort goes into it. Also, our campaigning is different as the goal is not as many sales as possible; It's as many people changing their behavior as possible.
We also often say no to really big opportunities, because they don't match our mission. Maybe one example is a goodie bag, we get tonnes of requests to be in goodie bags. But if there's no room for us to tell our story there, we say no. Even if it would create a lot of visibility.
Have you had any trouble with plastic bottle companies? Electric bike company VanMoof for example, were targeted by the automobile industry; causing their ads to be banned from French TV.
Jitske: Trouble is not the word I would use. We see the industry of single-use plastic bottles improving the way they do business: making bottles out of recycled plastic, and governments are also helping, by requiring a deposit on single-use plastic bottles. Those of course are steps in the right direction. The point we're trying to get across is that it's even better not to be a throwaway society at all.
Looking for more inspiration? Here are 9 socially conscious brands and their impactful PR campaigns.
What do you know about marketing or communications now that you wish you'd known when you started?
Renske: So funny, because when I started my career, I worked at Procter & Gamble. And at the time, of course, everything was about TV. So we would be trained and drilled about TV copies. Now in 2020 everything is "digital-first." So I think the biggest message I would have given myself is to understand how quickly the marketing field is transforming. It's more about having an adaptive mindset. Who knows what 10 years from now will bring.
Jitske: I think for me, it's been learning how important your why is. If you have a mission statement that you really live in everything you do, it makes life so much easier. Because all things spring from this core mission. I really think your power as a company is stronger if you're able to live your mission.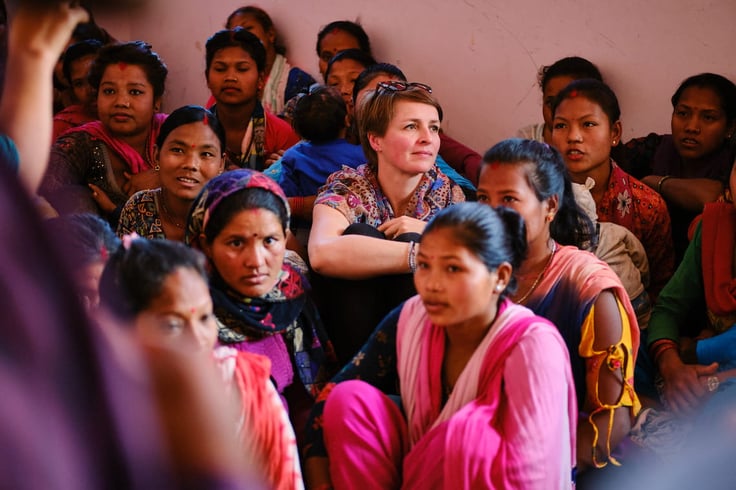 What are the most heartwarming moments in your work?
Jitske: For me, it was without a doubt the trip to Nepal with the whole company. Seeing the problem with my own eyes. We did this fundraising hike in beautiful Nepal which was really educational and a great challenge physically.
Renske: I started in March just when corona hit so my answer is a little different. We had to let people go, which I imagine is tough for every company. But especially, I think, for a social enterprise like Dopper, as one of the things we really want to do is take care of our people.

Jitske is an experienced marketer and the founder of Outeroffice, a company dedicated to organizing trips for businesses. She currently works as Marketing Lead at GoodZero and focuses on connecting companies to high-impact carbon offset projects to fight climate change. Over the past 5 years, Jitske has gained valuable experience working for socially responsible organizations such as Dopper and Goodshipping.. Connect on LinkedIn or send an email