EVBox makes charging stations and charging software available worldwide. Their mission: save the world, one charging station at a time. We are honoured to help them get the much-deserved attention they need.
---

Meet EVBox
EVBox started out in 2010, back when electric driving was still struggling to find a mainstream audience. They became the supplier of public charging infrastructure in cities such as Amsterdam, Rotterdam, and Monaco. The company then went a step further by creating Smart Charging technologies and offering software to companies, cities and drivers to enhance their charging experience.
EVBox's founders, Bram van de Leur and Huub Rothengatter, drove one of the first Teslas in the USA and could already foresee the demand for charging stations would go up dramatically. Thanks to their foresight, EVBox now offers charging stations and software globally. But growing from a startup to a reasonably sized scale-up with offices in ten countries comes with its own challenges, one of which was scaling up communications and PR.
EVBox has a mission: save the world, one charging station at a time.

Challenge: from corporate to scale-up
Job Karstens, PR & Events Marketing Manager at EVBox tells us about current challenges at EVBox. Karstens: "I moved from a rather corporate environment, where everything gets checked multiple times, to a fast-moving scale-up. A completely different way of working. When I started at EVBox, we sometimes had news (like a new deal) where we wanted to get the press release out within 1 or 2 days. Or even better: the next day. This meant moving very fast on getting all the images, figuring out whom the relevant spokespersons are, defining a media list and delegating who will translate this in other countries. Needless to say, it was a bit of a change for me from a company where every comma gets checked by a huge department of Communications and usually runs through Legal as well. At a scale up, everything moves a lot quicker. Secondly, EVBox itself just started scaling up from being a startup to something much more serious. So, I came from a corporate culture, and EVBox was coming from a startup culture. We definitely needed some structure!"
Solution: project tool & newsroom in one
"Luckily, I came across the pr.co guys at the OnBrand conference. I found out I could use their pr.co platform as a project management tool as well. That was very important for me since it's always difficult to work with multiple teams in different countries. After doing a demo and comparing options, we decided to move forward with pr.co and create a multilingual newsroom."
"I can now create a draft story in the pr.co platform and assign someone in France to translate and tweak the message to the specific market there."

-Job Karstens, PR & Events Marketing Manager at EVBox
"The project management functionalities is what really helps us bring structure to our communications efforts. I can now create a draft story in pr.co and assign someone in France to translate and tweak the message to the specific market there. On the other hand, in the United States, we mainly work with lobbyists. The tone-of-voice is different or the way of approaching media differs. Because we all work in the same online environment, we can easily check what still needs to be done, what works well in the specific different countries and all our media partners are aware of planned communications."
"After a few months at EVBox, I got used to the rhythm and actually appreciated the opportunities the scale-up world gave me. But also saw I could use my previous 'corporate' expertise to streamline and structure the way we approach PR."
"Switching from a corporate to a scale-up offered both opportunities and challenges at the same time."

-Job Karstens, PR & Events Marketing Manager at EVBox
"PR has changed a lot lately. I feel it's important not to see PR as a separate channel. You should always have an integrated approach where you combine PR, events, social media but also your employees to get your news out to the world. For example, recently we had our rEVolution event. A knowledge event where we talk about the solutions we see for cities and companies when facing challenges in their transition to eMobility. Events have become an important PR-tool, not just for customers or prospects but also for media and influencers. It is a great opportunity to show your thought leadership. Especially if you're also announcing something new or innovative during the event to give a journalist a 'scoop' because in the end it's all about good content of course."
Results
"Overall, I am very happy with our decision to implement pr.co. It has really helped us bring our global communication efforts to the next level, and streamline some internal processes. Also, the personal support from the team is excellent. I would definitely recommend it to other PR professionals looking to bring their PR to the next level."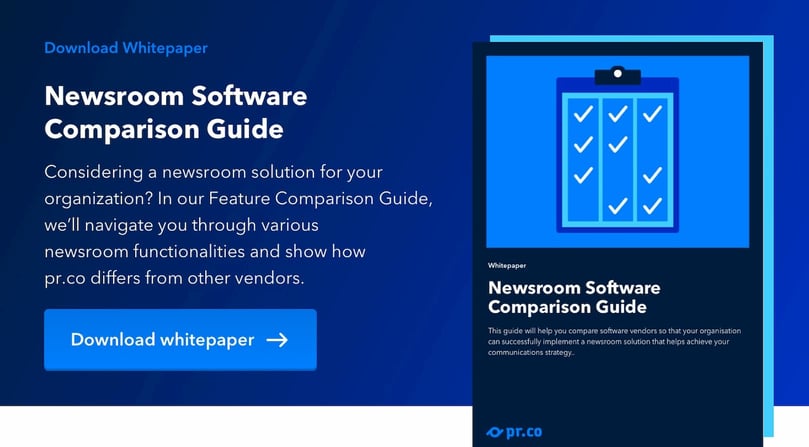 Sjors heads up pr.co's commercial team. He's in touch with customers on a daily basis and writes about everything he learns from these conversations. In his spare time, you'll find Sjors on his bike, on a run or in the pool.. Connect on LinkedIn or send an email