It comes as no surprise that the fintech industry, which has been steadily evolving for the past two decades, has made a quantum leap in the last two years. Accelerated by COVID-19, the radical shift towards e-commerce has proven that digital financial interactions – as opposed to in-person contact – are here to stay. Reports show that the global fintech market is expected to grow from USD 115.35 billion in 2021 to a staggering USD 936.51 billion by 2030. And there are no signs of stopping.
Naturally, with exponential growth comes stiff competition. Finding your footing as a scale-up is complicated as it is. Doing so, while building a reputation and trying to gain momentum, is even harder. With limited budgets and high expectations, many brands turn to PR as a cost-effective solution to aid with their expansion efforts.
Solaris, Europe's biggest embedded finance platform, understood from the get-go that investing in a PR strategy was non-negotiable. We sat down with Ansgar Holtmann, Communications and Content Manager at Solaris, to learn why.

Meet Solaris
Among the most disruptive players in the fintech industry stands Solaris: a Berlin-based embedded finance platform that enables any business to offer financial services. Solaris strives to bring together the best of the worlds of technology and banking, all while taking care of regulatory complexities for their clients.
Over the last two years, the German platform acquired one of its biggest competitors, raised more than USD 220 million, hired hundreds of new employees, and expanded across Europe. To reflect this rapid growth and unify the newly formed synergies, a name change was inevitable. A few months ago, SolarisBank became Solaris.
Solaris primarily focuses on the European core markets like Germany, Spain, Italy, and France. Although the PR team is mostly based in Berlin, Solaris serves each individual market with in-house experts and agency support. "We have plans to expand across Europe but we understand the importance of being able to sustain PR efforts in each market before we enter. We don't want to burn bridges before crossing them," Ansgar explains. "If you enter a market without a plan, you run the risk of leaving a negative first impression."
Challenge: gaining visibility for their new brand
Trust is the foundation of any successful business, especially in the financial industry.
"Investing in corporate communications is not optional; it's vital." Ansgar states. "We face fierce competition. To stand out from the crowd and thrive, we have to earn the trust of our partners, and investors. This is only possible through constant communication with them.
Keeping a high level of trust became especially important to Solaris after their recent rebranding and renaming efforts. It was a company-wide effort to build an identity that defined Solaris more accurately. "Once we were ready to launch, we needed a place to announce our new name and share our story. We wanted the world to know what Solaris was all about and what has changed," Ansgar says.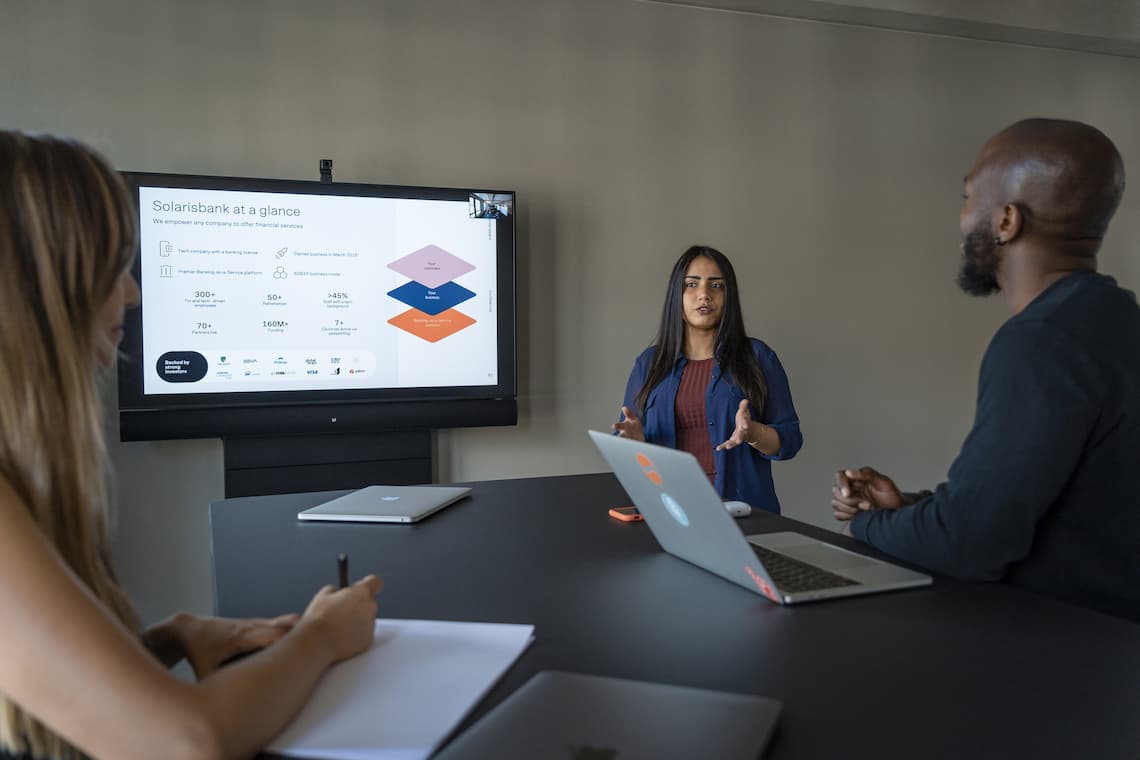 Solution: building a centralized hub for news
"Solaris sought out a place to gather our company's story, our latest news and our media mentions." A search for a centralized hub and news archive lead them to pr.co as an online newsroom solution. "Our branded newsroom not only serves journalists, but it also gives our partners or investors an overview of the latest happenings. In addition, we can bundle relevant reports and mentions of Solaris and thus create an important reference point for our employees. This is highly important for identification with Solaris' goals and values," Ansgar argues.
Solaris used their pr.co-powered newsroom as the homeplace for their big announcement. "Our newsroom was ready to go live even before we had officially launched our new brand. We announced our renaming through a press release that was hosted on our newly branded newsroom. The speed of this integration made the transition to the name Solaris a lot easier," Ansgar explains.

Visit Solaris' Newsroom
See how the Solaris team used the pr.co platform to announce their new brand and reel in press contacts.
"Our branded newsroom not only serves journalists, but it also gives our partners or investors an overview of the latest happenings. In addition, we can bundle relevant reports and mentions of Solaris and thus create an important reference point for our employees. This is highly important for identification with Solaris' goals and values,"

-Ansgar Holtmann
Results: an inflow of new (media) relations
The launch of Solaris's new name through its branded newsroom was a PR triumph. The press release picked up a surprising amount of traction beyond its core European markets. A more telling indicator of success, besides media mentions, was the amount of journalists that had subscribed to receive Solaris's news. "Because we are in the B2B sector, our contacts are very niche," Ansgar explains. "Through this campaign, we saw an increase in the number of people that were genuinely interested in our news."
As a scale-up, Solaris strives to keep up with the ever-evolving fintech market and the changing needs of its players. "When looking for a solution, it was important to find a partner who could grow along with us," Ansgar explains. "pr.co is a highly scalable platform that has helped us grow and continue to nurture our relationships with the audiences that matter most."

Ana writes stories for, about, and with the best PR professionals in the game.. Connect on LinkedIn or send an email