When COVID-19 began to spread, teams across industries scrambled to find new ways to connect. This meant moving every in-person meeting, conference, and event to the virtual realm. While the digital translation of events shed light on a new set of challenges, it also offered opportunities to redefine what connection means. Online events allowed us to join conversations happening around the world and push our networks' physical boundaries.
Since then, virtual events or hybrid events have become the norm. Even as we slowly shift back to meeting in person, online events are here to stay.
If you're organizing an event this year, you may be wondering how to amass an audience, make a good impression, and how to keep them coming back for more in the next edition. To help you with your research, we compiled a list of the top 7 virtual events that caught our attention in 2022.
Event Types & Examples
Product launch
Mastering the art of a successful product launch is not an easy task. So how does Apple, for example, manage to captivate the attention of a global audience? It's all about the hype.
A great example of this type of event is VanMoof's e-bike launch. The Dutch bicycle brand revealed their next-generation e-bike designed to change the way people move. Through an online, interactive event, both fans and the media were able to ask the founders questions and get a first-hand look at the new product. The live-stream launch drew more than 6,000 viewers from 110 countries.
To keep both the media and consumers in the loop about your new product, it is essential to share detailed information. One way to do so is by updating your press page with short announcements as your live event takes place. At pr.co, we can help you do just that. For more information, book a call or chat with our team. We're a friendly bunch.
Watch Van Moof's product launch below:
Building upon the momentum of a successful launch, Van Moof released an ad for their new e-bike, which was later banned in France "for discrediting the automobile industry." The dismissal of the controversial TV ad was turned into a PR triumph, as it allowed VanMoof to emphasize their commitment to questioning the status quo.
Regardless of which type of event you're planning, here are tips from three seasoned PR pros on how to plan buzzworthy PR events.
Workshops
Even though video conference apps have allowed us to connect in many ways, they still can't make up for the inability to read body language and the reduced participation of introverted team members in group calls. That's why there is a natural resistance to virtual events. To overcome this challenge, it is crucial to set clear expectations and engage participants from the beginning of the meeting.
An example of how to create engaging online workshops is Jaarplandag, which translates to YearPlanningDay. This yearly review session, organized by Rick Pastoor, a best-selling Dutch author, helps people transform their dreams into doable actions. In 2019, Jaarplandag was held as an in-person workshop with 200 people crammed into an office space. The following year, the number of attendees doubled to 400, despite being hosted online. This platform facilitated participants a safe space to do high-impact thinking and planning, even if it meant being on a call with 400 strangers.
By the end of 2021, the yearly planning event was also held online. Although some COVID restrictions were still at play, the event organizers noted that many people found comfort in being able to participate virtually.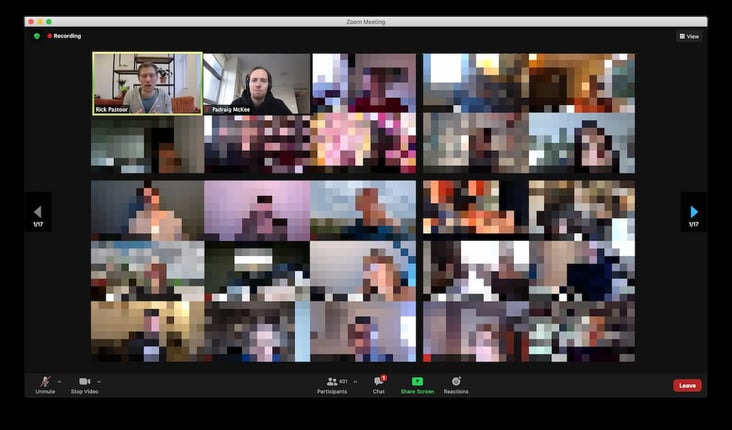 Our colleague, Padraig McKee, attended Jaarplandag 2020 and committed to his dream of sharing his amazing pizza with the world.
Zoom can be an excellent platform for workshops, even if you're expecting a large number of attendees. Depending on which plan you're on, you can host calls with up to 1000 attendees (though your current plan most likely allows up to 100 or 300 attendees). Just don't forget to remind everyone to click on 'mute,' or you'll have a very challenging workshop ahead of you.
Webinars
2020 was the year of the webinar. Surely, it wasn't your first time attending one this year. Webinars have been around for a while, even BC - before COVID. What set this year apart was the increased accessibility to dozens of events happening around the world. Webinars help you hone your skills from the comfort of your couch.
Our favorite webinar this year was hosted by PR Lab. The Amsterdam-based PR agency moderated by a series of events focused on global trends, industry insights, and advice from PR pros. Each session invited speakers to share their expertise and help communications specialists navigate through the uncertainty ahead.
Although they are slowly shifting to in-person events, like their popular breakfast events for example, their online events offer loads of insight and allow people from other countries to join in.
We realize you're all quite busy these days, so we distilled the biggest take-aways from a session on crisis communication. Here's a recap.
You don't need to invest in expensive tooling to organize a live stream; most streaming companies have a live stream feature. PR Lab used Youtube's live stream product- which is free of charge- which got the job done perfectly. If you're a Vimeo user, they have a live-stream functionality too, which gives more options to monetize your webinar or keep it restricted to a specific audience.
If you're planning a live event soon, we've got a tool that can help you stand out. Our events feature allows you to inform your newsroom visitors of upcoming press events, announcements, reports, annual figures, and even online events. Curious to know more? We'd love to chat.
Interviews
To keep your events engaging, break the fourth wall; make your attendees part of the conversation by allowing them to ask questions. This type of event enables you to connect with your audience, become more accessible and build credibility around a topic.
For instance, you can host a Ask Me Anything (AMA) session. The simple format and invitation to participate with total freedom ensure authenticity. Participants can submit their questions in a thread, and those that get upvoted the most usually are the ones that get answered. Last year, the second most upvoted Ask Me Anything (AMA) session on Reddit was Bill Gates on COVID-19. Accompanied remotely by two healthcare professionals, he answered questions like how to reduce the impact of social distancing in education or which tactics will work best to contain the virus. Since then, the thread has gotten upvoted more than 87k times. Now, I need to manage expectations: if you're not Bill Gates, you most likely won't reach 87k upvotes on Reddit. That's okay; if transparency and trust are key elements of your communication strategy- an AMA session is a brave and bold way to build on that.
If you're wondering which AMA session was the most upvoted in 2020, it was Borat.
Performances
There is nothing quite like the feeling of anticipation when the lights go off before a show begins. Everyone in the room has come to focus their gaze on a single person or group of performers for a limited amount of time. The energy is almost palpable. Unfortunately, it seems like we won't be witnessing live performances in person any time soon. On the other hand, the accelerated growth of technology has given us access to culture in a whole new way.
A mind-blowing online event was Ariana Grande's virtual concert in the insanely popular online video game, Fortnite. The American singer was transformed into a character for the game and performed a 10-minute in-game concert. Players were allowed to congregate near a virtual stage to watch the show. The performance was viewed by a whopping total of 27.7 million unique users and 12.3 million concurrent players.
The attendance of Ariana Grande's in-game concert surpassed Fortnite's previous record of 12.7 million attendees for a virtual show featuring Travris Scott and 10.7 million viewers for DJ Marshmello in 2019.
Watch the full event: here.
Album Release
Even though you might be able to catch your favorite band in person soon (even without a face mask), online concerts are still cool. Don't take our word for it, take it from the American rapper Kanye 'Ye' West. On February 22, 2022, he shared the release of his new album, Donda 2, by live streaming his performance in Miami.
Fans who could not physically attend the album launch were able to stream the album via Stem Player, a platform/device created by Kanye West himself. Kanye West claimed fans spent more than $2 million buying Stem Players 24 hours before the album was released.
Behind the scenes
With everything going virtual in 2020, it's easy to lose the feeling of proximity. Despite being connected 24/7, it's the small details that can remind you of the humanity in others online. Take a behind-the-scenes event, for example. It is the perfect opportunity to show just how things get done behind closed doors. This builds a sense of connection with your audience and allows you to deepen a relationship with them.
Tomorrowland, the Belgian music festival, took their massive event, which usually draws more than 400,000 people, online. One million people attended the virtual event, which included eight different stages and more than 60 artists. Once the event finished, producers used footage of the show to create a behind-the-scenes documentary on the making of the online festival. The film was launched on their Youtube channel and currently has half a million views.
Conferences
One of the biggest benefits of online events has been the opportunity to attend massive conferences from the comfort of your couch. Besides the reduced cost of attending (and hosting) a virtual conference, it also proves to be the eco-friendliest way to connect.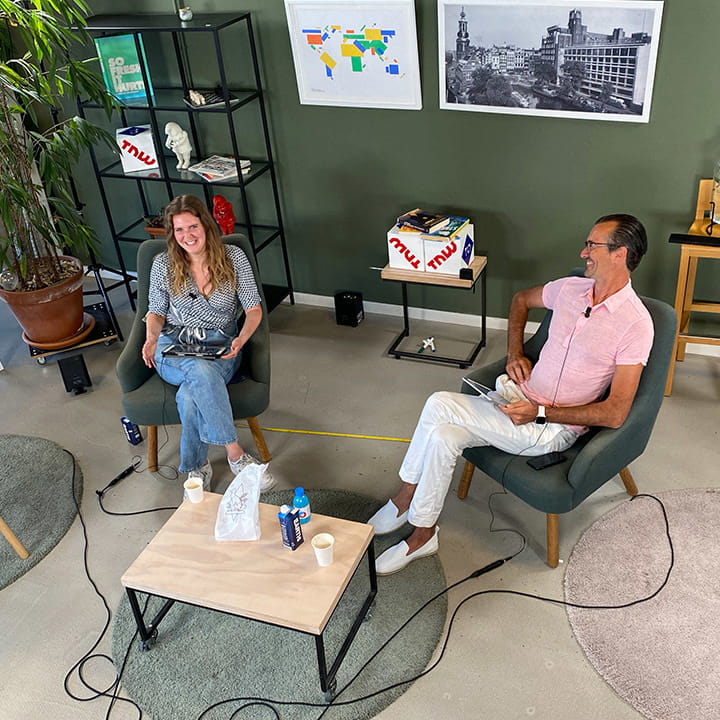 TNW Conference is a technology festival that brings together international technology executives, top-tier investors, and promising startups for two days of business and knowledge sharing – surrounded by some of the highest production values at any tech event on the planet.
But how do you make up for the lack of in-person networking? How can you successfully translate the ambiance of a conference to the virtual realm? We think TNW has done a great job with their annual conference – two years in a row. We regularly attended their annual conferences in the past when we were allowed to shake hands and even hug. In 2020 and 2021, the digital experience did not disappoint. With a power-packed lineup and a fantastic platform that integrated chats and conferences, both editions of TNW brought together a total of 25,000 (!) attendees in a beautiful online experience. We're looking forward to catching this event in person later this year.
Virtual Tours
Fun fact: did you know it would take you around 200 days to see each of the 35,000 works of art on display at the Louvre if you took 30 seconds to see each and every piece? That's a pretty long stay in Paris. Thanks to online events, now you can relish the magic of museums from the comfort of your home. If you're an art fan, you can catch online workshops and classes at The Metropolitan Museum of Art, catch a virtual tour of the Louvre, or study your favorite painting at the Van Gogh Museum.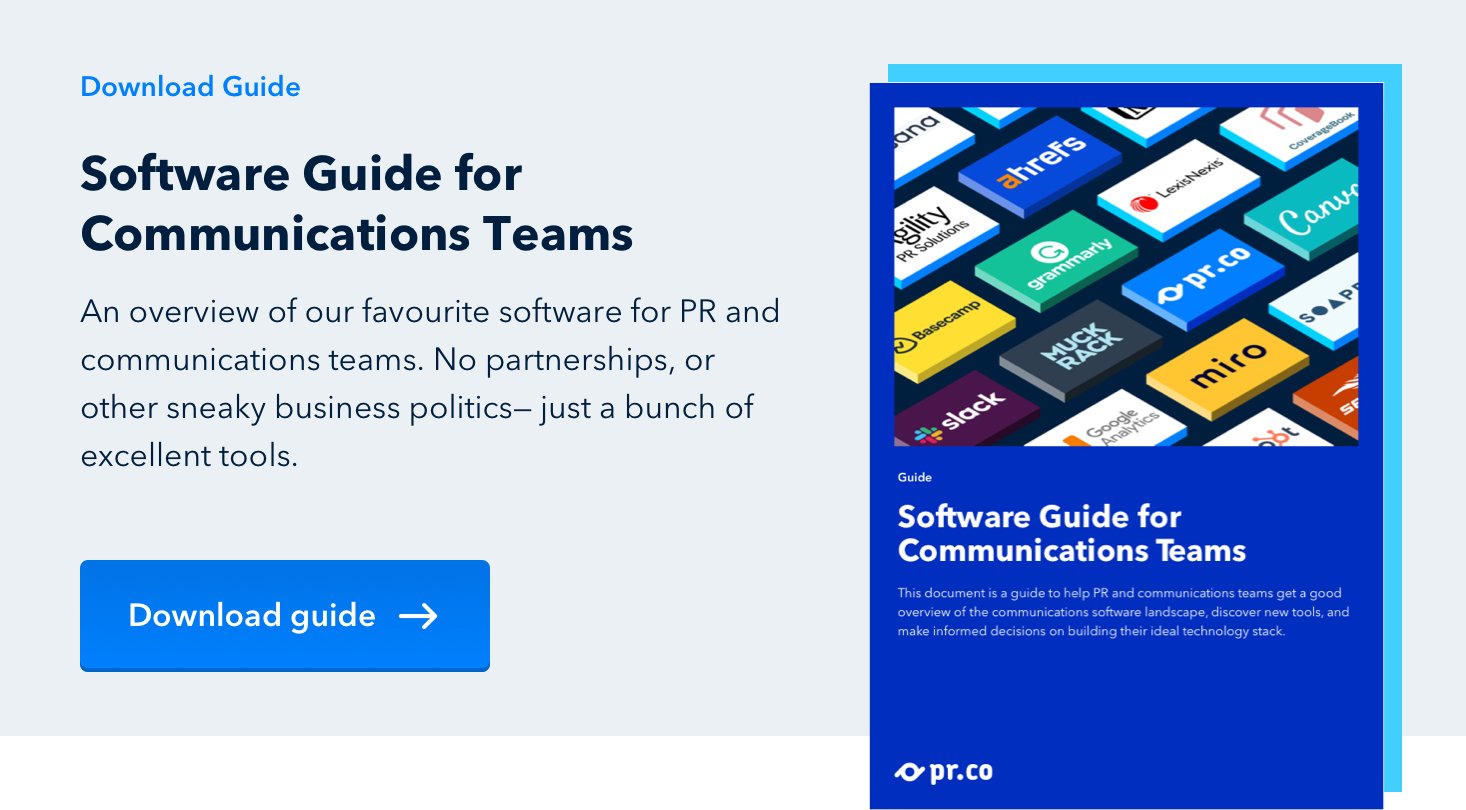 Ana is a marketer at pr.co, and is the driving force behind our 100+ articles and guides. Ana has an MSc in Corporate Communications, and four years of experience in the PR industry. Now, Ana distills knowledge from pr.co's 250+ customers to help PR professionals get better results through high-quality content.. Connect on LinkedIn or send an email