A few months back we conducted interviews with journalists from The Next Web and Dutch magazine Sprout. Both journalists said they hardly ever get their news ideas from press releases:
"You know, we get around 300 - 400 press releases every day in our editorial inbox. In general, 99% of the press releases we receive are rubbish. Sometimes because it just doesn't fit our editorial guidelines, but most of the time because it's not newsworthy."

~ Remy Ludo Gieling, Journalist and Editor in Chief, Sprout and MT.
We're seeing the same trend in quantitative studies. According to a 2021 research conducted with more than 2000 journalists, 47% of journalists believe that the way companies share information is outdated. In fact, almost 20% of these journalists confessed that when it comes to publishing stories, none of them originate directly from pitches.
So if journalists aren't really responding to your pitches, how can you get your company seen and heard? We went searching for answers. Here's how to leverage the power of SEO in your PR strategy:
Pitching is not the only way to get published
To put it simply, the traditional outbound way of doing PR - pitching your news to a massive list of media contacts - causes frustration. Overflowing inboxes and phones ringing off the hook do not create optimal working conditions, whether you're a journalist or a Bengal tiger. It interrupts your flow. And, if it's not personalized or highly relevant, it's spam.
It was also annoying for people who work in PR, no one wants to be like your best friends' younger brother, who despite constantly shouting and interrupting, is somehow always ignored and excluded (sorry Tom).
Because of this, public relations is becoming more of a pull than a push. Outbound PR - where you would pitch journalists via email or the phone - is on the out.
Inbound PR on the other hand- helping the media find good content about you - is very much in.
"My network, my curated social feed and social media are my primary sources to find news."

- Remy Ludo Gieling, Journalist and Editor in Chief, Sprout and MT.
Here's what you can pick up from inbound marketing to increase your chances of getting published.
Nowadays journalists and bloggers find their information through search engines and social media. More often than not, they're coming to you. So you have to make sure, when they come looking, you have a thousand neon signs pointing in your direction.
This is good news. It means all the things that you are naturally good at as a PR person can finally be used. You're a great storyteller and you're personable. You're strategic and creative. This shift to inbound means it's your time to shine.
So, how exactly are you supposed to get your story out there?
The answer lies in your findability.
There are many ways to do this, but today, we are going to look at one of the most effective: having a good online newsroom and using that newsroom to leverage SEO.
How do I make my news findable?
When people look for your news, you want to give them the best possible answers to their questions — and do so quickly . Online newsrooms are the home of those answers — a place where you control the narrative, where you provide loads of context, and where you keep things consistent and professional.
Making your news and content publicly available online not only increases your brand awareness, but it also boosts your rankings on search engines. Here's how it works:
Search engines, much like journalists, are becoming less and less susceptible to spam. They determine the quality of a website's content, through various different factors. Unfortunately, these factors aren't disclosed to us. However, SEO tools found a way around this: Domain Authority. Basically, this means that the higher the quality of your content, the higher your domain authority is, and the more likely it is that your website will rank in search engines.
There are many things you can do with your newsroom to build your Domain Authority, and help search engines (and the journalists that lead them there) find you. In order to make your news findable, there are four components to take into account:
Know your audience
If you want to start conversations with your content, you first need to know what your audience (journalists, in this case) wants to know about. This will require a little research of your own but once it is done, you can work out the best tactic and stories to reach them.
What channels do journalists prefer? What topics have they written about? Who do they reference a lot? What are their pain points? What questions do they want answered? Are there any other people in their field they seem to have a relationship with? If you can answer these questions your content is going to be electric.
Listening to your audience is one of the most important steps in your strategy. Here is a free canvas to help you build your own communication strategy.
Build a strong newsroom
It's not easy to get your design team, development team, and branding team together. It's even harder when you have to explain it's for a newsroom - these teams would generally rather focus on the product. However, in order for your newsroom to work, you'll need to put some real thought into which components journalists and stakeholders will look for in your newsroom.
You can start by looking at media requests; a big chunk of requests could be solved on the spot by having clear information in your newsroom (think images, videos, coverage, contact details, etc.). Also, you'd be surprised how much you'd learn from a chat with one of your media contacts. They'd be delighted to learn you're working on a website dedicated to them.
△ See how EVBox organizes their press assets in their online newsroom neatly to offer journalists a seamless experience.
We know a thing or two about building newsrooms. It's why we're trusted by socially conscious brands WeTransfer, Dopper, Shimano, and Dolby. Here's how we can help you.
Leverage your SEO
Since a newsroom lives online and is publicly available, your news is accessible to anyone using a search engine. By leveraging SEO you'll end up in journalists curated Google Newsfeeds and in search results when they're doing research.
How can you optimize your PR content for search engines? Here's what you need to know.
Make sure that your newsroom converts
Allow visitors to sign up for your press list, offer a subscription service, and have all your news and press kits readily available and downloadable. Your newsroom should be optimized for converting visitors to press leads. Just like you have optimized your blog to convert business leads.
Tools to help you get started
If you want to optimize your PR strategy, we've gathered some tools that can help you get started:
Ahrefs: We can vouch for the excellence of Ahrefs because we've been using this tool for the past four years. This SEO software suite includes tools for keyword research, content gap analysis, competitor analysis, and much more. Plus, their blog is one of the most complete and informative we've ever seen. It's our go-to resource for anything SEO-related.




SEMrush: This tool allows you to accomplish everything from content ideations to optimization. The keyword database is rich and easy to navigate.


Moz is a set of tools that make SEO, inbound marketing, link building, and content marketing easy. This tool is easier for the end-user. For a discipline as substantial as SEO, this is a major plus.


PeopleAlsoAsked: This tool gives you a breakdown of which questions users are asking about a topic and how those questions are linked together.


Neil Patel's Uber Suggest: It's no wonder why Neil Patel's marketing blog attracts more than 10 million visitors each year. He even has his own tool, Uber Suggest, to help you track and improve your rankings and also manage your SEO 'health'.


Google Analytics: No strategy is complete without measurement. That's where Google Analytics comes in. Sure, it can be a bit daunting if you're a first-timer, but once you've got a good grasp of the basics, you'll have a good insight into your users' behaviors and your content performance. Plus, it's free.


Google Data Studio: If it's reports you're after, Google Data Studio takes all of those insights and turns them into nice-looking visuals. There are endless ways to customize each report and data is constantly updated, making it more reliable.
Looking for more tools to help simplify your life? Here's our overview of 30+ tools for PR teams.
How do I know if my SEO strategy is working?
After investing so much work into your SEO strategy, here are two KPIs that will help you track if your efforts are paying off:
(High quality) Press mentions
This one's quite obvious, of course. If your strategy is working, you'll see an increase in press mentions: your media contacts have more information to work with, there's a lower threshold to find information about your company, there are beautiful media assets available, and it's very easy to get in contact with the PR team.
One of our customers, Dutch bicycle brand VanMoof, started to pick up multiple press mentions from magazines they had never been in contact with. That's the moment they realized their strategy is working - there's no way that would've happened without an online newsroom.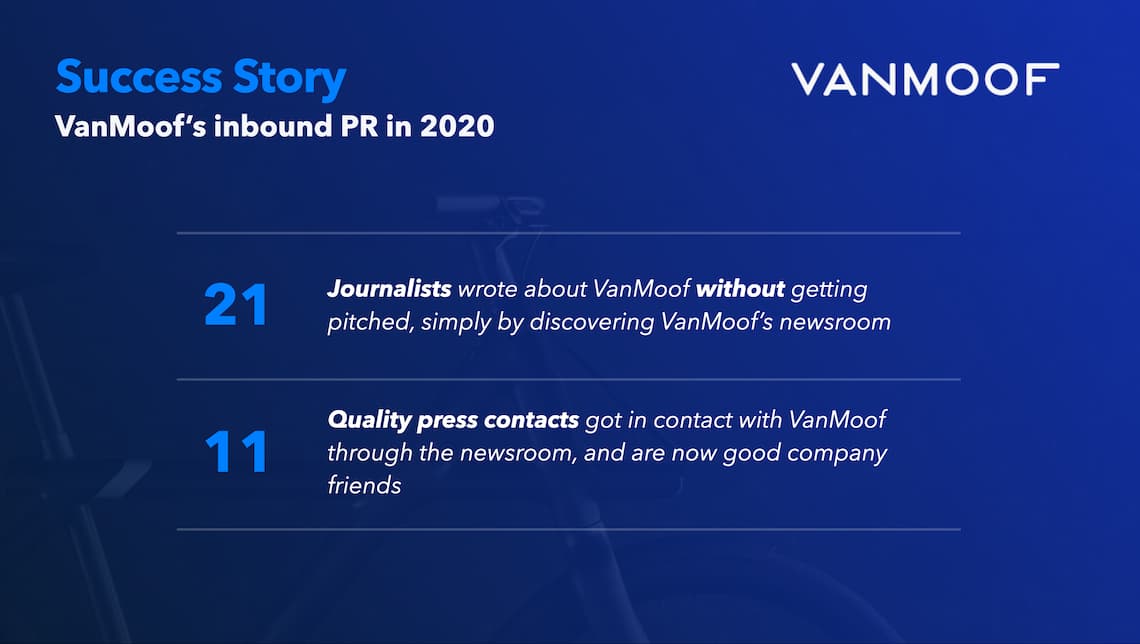 Backlinks
As a PR team, you're building a brand. You're building authority. And online, authority is based on backlinks. With every backlink to your website, you're strengthening your company's online authority.
Speaking of KPI's, when it comes to measuring and reporting results, there is no one-size-fits-all approach. Here's our honest take on measuring in PR.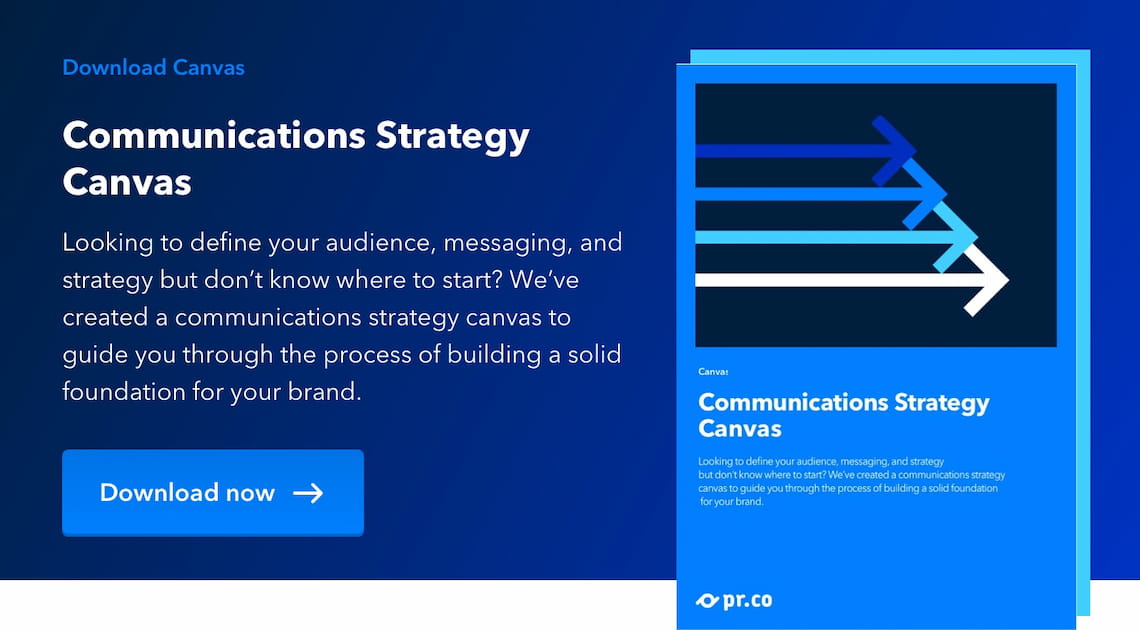 Having worked as a journalist for two national newspapers, as well as the comms departments for several NGOs and the European Commission, Carmen is passionate about ethical business and the magic of artful storytelling.. Connect on LinkedIn or send an email