A newsroom is more than a place to store press releases—it's the beating heart of your brand. Unconvinced? Buckle up, and I'll take you for a spin to discover how a newsroom can help you increase your impact and grow your brand.
What is an online newsroom? A definition
Mediaroom, press page, media center, or online newsroom, whatever you call it, its the public face of your brand. In today's 24-hour news cycle, your online newsroom allows you to update journalists, shareholders, and the public with the click of a button.
Here are our top ten reasons why you should add a newsroom to your marcomms channels:
1. Online newsrooms increase your media coverage
Although PR is much more than media relations, your relationship with journalists still matters. And, no matter how good your PR skills are, most journalists are fed up with traditional PR methods. They are overwhelmed by pitches and, to make matters worse, two-thirds of journalists say that the pitches they receive are irrelevant to them.
So while you might think that your carefully curated press list will land you the coverage you deserve, you're in the minority of PR pros if you're not spamming journalists. Remy Ludo Gieling, editor-in-chief at Sprout, explains, "In general, 99% of the press releases we receive are rubbish…most of the time they're not newsworthy. But that doesn't mean that we don't want to know about it—they often provide essential context for other stories." If your releases never make it further than an overstuffed inbox, then this probably makes for hard reading but Remy has a solution.
"It'd be much better to publish this news in the news archive on your website so that we can use it as contextual information for a bigger story." What Remy describes here is the first benefit of a newsroom—they increase both the quantity and quality of your press coverage by drawing the press to you.
The best newsrooms even allow your audiences to subscribe to the updates that interest them, organizing themselves into beautiful contact lists. What better way to nurture relationships than by knowing that your audiences want to hear from you?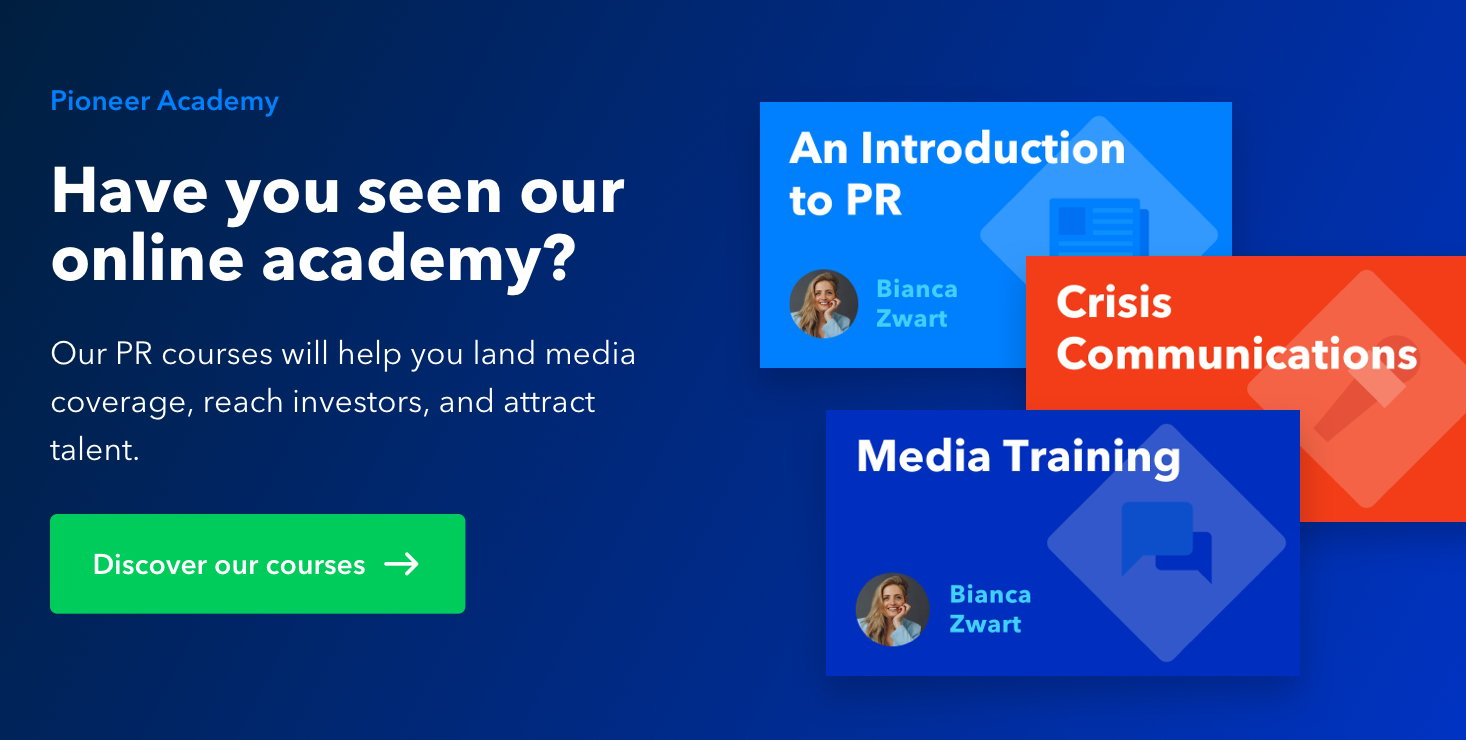 2. Company newsrooms improve your brand recognition
Great online newsrooms are branded just like the rest of your corporate website. So every user, whether journalist, shareholder, or member of the public, will be fully immersed in your brand when reading your latest news. Getting your newsroom branding isn't just important to your design wizard (we all have one, right?). It's important because it reassures your reader that they are reading a legitimate and credible source.
Your online newsroom should also allow you to publish curated media kits so that your visitors can download the files they need. By making your assets available to the public, you increase your chance of them being splashed all over your dream publications without worrying about expired media links and compressed files.
If media kits sound too public, some newsrooms allow you to password-protect your media kits—keeping your top-secret files safe and creating a happy medium that would even satisfy Goldilocks.
3. Online newsrooms increase audience engagement
Relationship building should never be one-sided. Thankfully, far from encouraging you to pump information into the ether, newsrooms strengthen your ability to engage with your audience. Features like Virtual Events allow you to hold online press conferences, webinars, and product launches.
A newsroom makes meaningful engagement possible without the commute with live Q&As, audience polls, and webchat.

It's a convenient solution that is simply more interesting to consume than a traditional pdf press release. Break up blocks of text with audio recordings, high-resolution images, or video, and ensure that you capture your audience's attention from start to end.
Just like any gripping web content, newsrooms also make it easy for users to share your content on other platforms ⁠— Reddit, Twitter, you name it, your story can be shared there, further maximizing your chance of coverage and reaching new audiences.
4. Online press rooms help you to appeal to Gen Z
Speaking of new audiences, if you want to sell to Gen Z, you need to show them your values in action. Unlike the generations before them, ethical considerations are at the heart of their consumption, and they don't differentiate between brands and their perceived impact on the world around them. Thankfully, according to McKinsey Gen Z are also communaholics which means they want to hear from you.
Your newsroom can become the backbone of this communication, where your claims of ethical behavior and sustainability are evidenced, and you prove that your values have substance.
5. Online newsrooms build love and brand loyalty
Brand love is what keeps your customers and supporters coming back time and time again, without even questioning why.
For the most part, your audience don't fall in love with your brand because of your product, service, or even your alignment with their values. They fall in love because they identify with the story you share about your brand.
Well-told stories evoke emotions, allowing your audience to build relationships with your brand. Your newsroom tells your story with every article, press release, and clipping. Rather than relying on outbound PR and a corporate website, having a newsroom creates many more opportunities for you to showcase your story. With every article, press release, and clipping, you can connect with your audience on an emotional level.
6. Company newsrooms provide social proof
Way before today's #influencers, psychologist Robert Cialdini laid out six key principles of persuasion. He argued that one of these principles is social proof, or the way in which we rely on the actions of others to inform our behavior.
A good newsroom will allow you to showcase your success stories, news clippings, and press features. Not only does this add weight to your story, but its very existence makes it more believable and shows your audience that others are buying into your brand—persuading them that they should too.
7. Your online newsroom will keep your staff in the loop
It's not just the public and journalists that will benefit from your newsroom. Your staff can too.
Keeping up with corporate changes in large, globally distributed, or complex teams can be hard. Yes, you can email them beautifully crafted updates, but how many staff read them or can find their way back to the information when needed?
Rather than doubling up and wasting your precious time, allow your newsroom to serve your staff too. They'll thank you for it. Instead of hunting through a shared drive for what they hope is the correct version of a press release or product images, they can help themselves to your newsroom content. Like a self-serve checkout without the 'unexpected item in the baggage area'. Dreamy.
8. Online newsrooms increase your website traffic
Did you know that your newsroom could even increase your domain authority?
Your domain authority score reflects how often Google uses your domain in its search results. Simply, it reflects how easily internet searchers can find your website when researching you or a related topic. The primary way to do this is by publishing high-quality, unique, relevant content. However, improving your SEO, and increasing the number of links directed toward your main domain can boost your domain authority. A higher domain authority means a higher ranking in search engines, and therefore more traffic—on all your pages, not just your newsroom, which means that an online newsroom will boost ALL content, company-wide.
Your newsroom URL could look something like this: https://brandname/newsroom. Not only does this create a great user journey for your audience, but it also adds a ton of links to your domain—helping your newsroom and your main website come out top in search results more often. It's a win-win for marketing and PR.
9. Company newsrooms help you to control your narrative in the age of AI
Machines might not be able to think like you and I, but they can certainly learn. With the rise of Artificial Intelligence (AI), the internet is increasingly populated with AI-generated content.
To ensure accurate information is being written and shared about your brand, you need AI algorithms to find it. That's where your newsroom steps in, giving the 'machine' all the data it needs to recompose a story about your brand.
10. Having an online newsroom lets you keep up with your competitors
Finally, according to MuckRack's State of Journalism 2022 report, 44% of journalists believe that the way companies share information is outdated. This might sound like a lot, but it is actually a decrease from a whopping 61% of journalists in 2021. So, if you haven't changed your tactics yet, there's a good chance that your competitors have.
Get started
Phew. That was a lot to take in! If you've made it this far, congratulations. You're clearly interested in implementing a newsroom for your brand and, as you can tell, we think that's a smart choice.

We've built hundreds of newsrooms, for some of the fastest-growing, and most exciting brands in the world (take a look at our Showcase).
If you're looking for a tool that brings you all the benefits above and more, we think we can help. Book a call with my colleague Nelson to discuss how we can help you.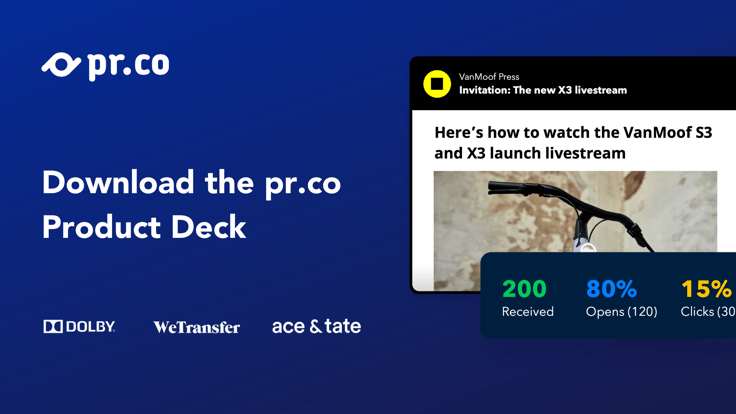 Harriet has 8 years of marketing experience at NGOs and in the public sector. She's a marketer with a strong ethical compass, and sharp pen. Harriet worked as pr.co's Head of Copy and Communications in 2022 and 2023.. Connect on LinkedIn or send an email