Did you know that journalists respond to roughly 3.27% of the pitches they receive? This means that it would take about 31 media pitches in order to get a response to the pitches you send. But bombarding a journalist until you are acknowledged is ill-advised. So how do you catch a journalist's attention if they're not reading your emails? Well, the answer you seek lies on the internet. Literally.
Journalists rely on an arsenal of tools to find relevant stories. They check in with trusted contacts, and keep an eye on tons of outlets, social media accounts, and the big old World Wide Web. Unsurprisingly, Journalists: they're just like us. When they're searching for a story, chances are, they start off with a simple Google search. Here lies the golden opportunity for your company to be seen, and you don't want to miss out. This is why you need a press room.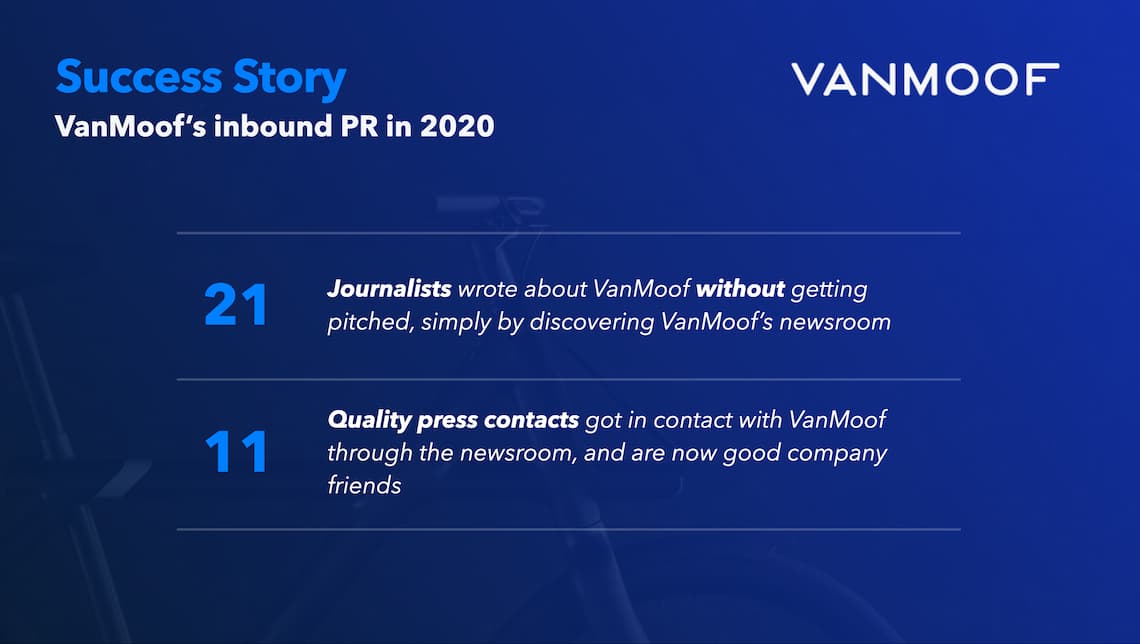 Press rooms also support your outbound PR efforts. A link to your neatly organized press room with tons of content will give your pitch a big advantage over your competition.
What is a press room or online newsroom?
A press room or online newsroom is the public-facing heart of your company. It's a website, built for the convenience of your press network, where your press releases and company news live. Consider it your digital one-stop-shop for the media, opinion leaders, and other external stakeholders such as investors, analysts, governments, and partners. The ultimate goal of a press room is to make your news findable, make pitches more complete, and to provide answers to the questions of your stakeholders. A press room also allows you to control the narrative of your brand, keeping your information consistent, complete, and professional.
What should be included in a press room?
Your press room usually includes your company's latest announcements, business developments, media coverage, media kits, contact information, and more. If you're looking to gather inspiration from the world's leading brands, here is our pick of the Top 10 press rooms of 2022.
What does a good online newsroom look like? Here are some key features you should include.
Top 10 press rooms of 2022
Just Eat Takeaway: leveraging the power of localization
Just Eat Takeaway is a global online food delivery marketplace, operating in more than 25 countries around the world. In order to be seen as newsworthy in the eyes of the media, you have to provide stories that are relevant. Having a newsroom that adapts your news to each region and its language is crucial. Here's how Just Eat Takeaway does that: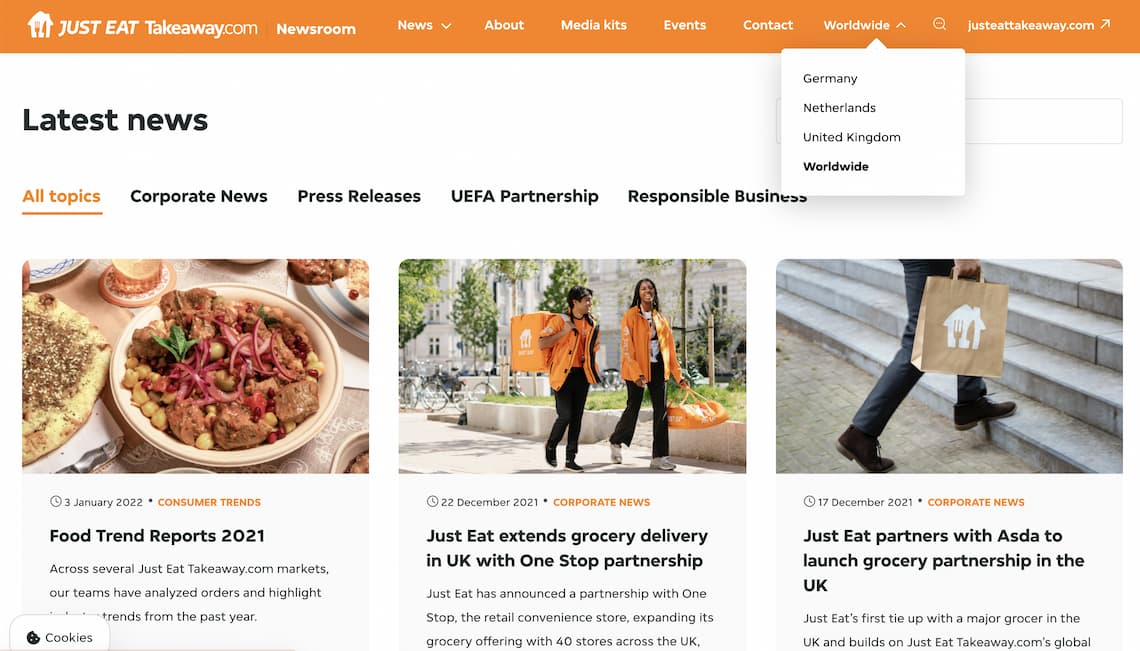 JBL: displaying achievements
Another way to differentiate yourself from your competitors is by displaying the awards you've won. An award serves as a third-party endorsement, increasing credibility and reassuring others what you are capable of achieving. By promoting your accomplishments in your press room, you are legitimizing the quality of your products/services to potential clients or even to the media. This not only increases brand awareness but also brand trust. Here's how JBL, the American audio equipment manufacturer, share their award-winning products in their press room: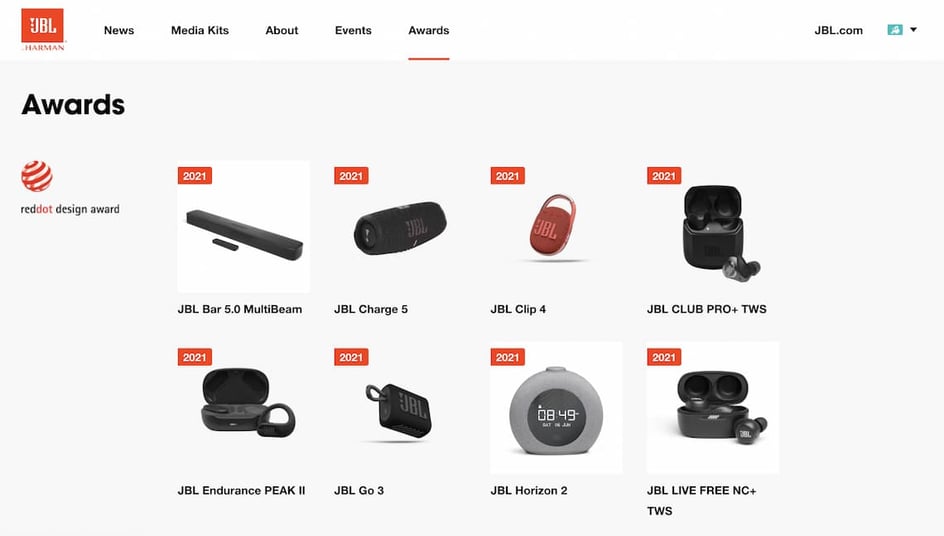 Korzo: building a community
Making your news publicly available allows you to build out your inbound channel. Instead of constantly pushing messages out, a press room allows you to reel in relevant contacts by providing valuable information that they can't find anywhere else, for free. This will not only help you land coverage, but also build long-lasting relationships with your community.
Korzo is a Dutch art center that exemplifies this point perfectly. A strategically placed CTA allows users to sign up to receive updates on their latest productions, shows, and other news.
We won't say outbound sales are dead. But who doesn't prefer inbound? If you want a strong influx of new potential customers, there are certain things you can pick up from inbound marketing to increase your chances of getting published. Here's how.
Swapfiets: serving journalists in the best way possible
Time is everyone's worst enemy. That's especially true for journalists, who work around the clock to put out meaningful stories for a 24/7 news cycle. One way to make their lives easier is by providing all of the information they might need to write about your brand. Not only will it increase your chances of getting covered, you'll earn some good karma points and build solid relationships with your press contacts.
Here's how Swapfiets, the world's first 'bike as service' company, uses their press room to serve journalists in the best way possible: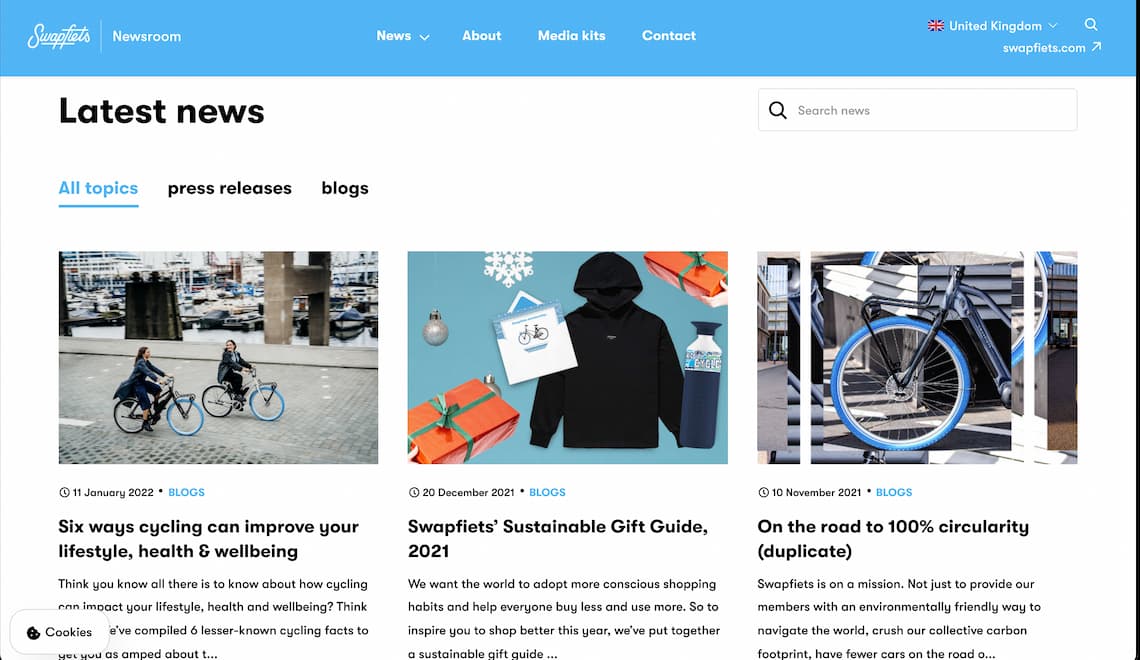 WeTransfer: providing a seamless user experience
Press rooms aren't just bullet-point lists of previous press releases. Because they are hosted on your website, they become an extension of your brand. For brands that prioritize the way they are perceived by their audience, every touchpoint is crucial because it forms an experience with that brand. Here's how WeTransfer, a file-transfer service, uses branding and design to make their news stand out:

Gogla: building thought leadership
It's increasingly difficult for NGOs to get their messages out, especially in a world where so many crises compete for some time in the spotlight. One tool that helps amplify messages is a press room. Not only does displaying content publicly increase transparency and trust, but it also allows NGOs to build thought leadership. In order to harness some media attention, one strategy NGOs can use is to directly support the stories the media writes about them. This means collaborating, sharing ideas, and seeking out opportunities to educate audiences on issues that the NGO deals with.
Here's how Gogla, a global association for the off-grid solar energy industry, uses their press room to share their latest collaborations and seek new ones.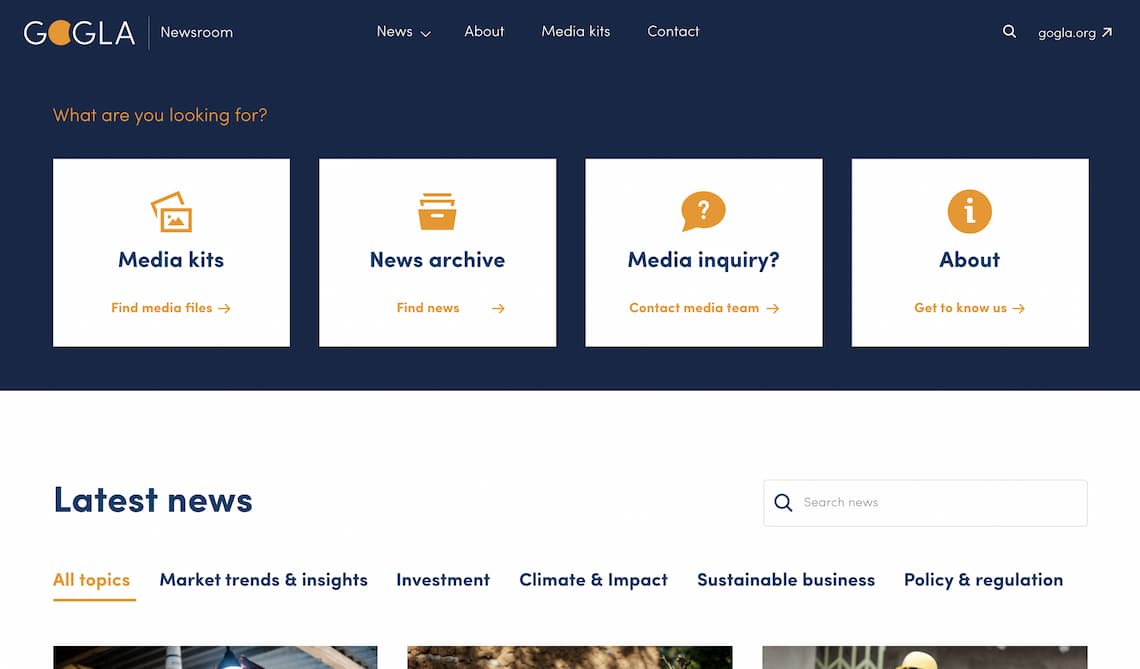 VanMoof: offering high-quality images and media
No press room is complete without a press kit a.k.a. media kit. A press kit includes downloadable assets that journalists can use to complete their stories. It can range from high-resolution images and videos to data visualizations, technical specifications, infographics, etc.
Media kits should make a journalist want to write a story about you- because you've given them so many quality assets, that they'd be crazy not to. Here's how VanMoof, a Dutch bike manufacturer, displays their media assets in their press room: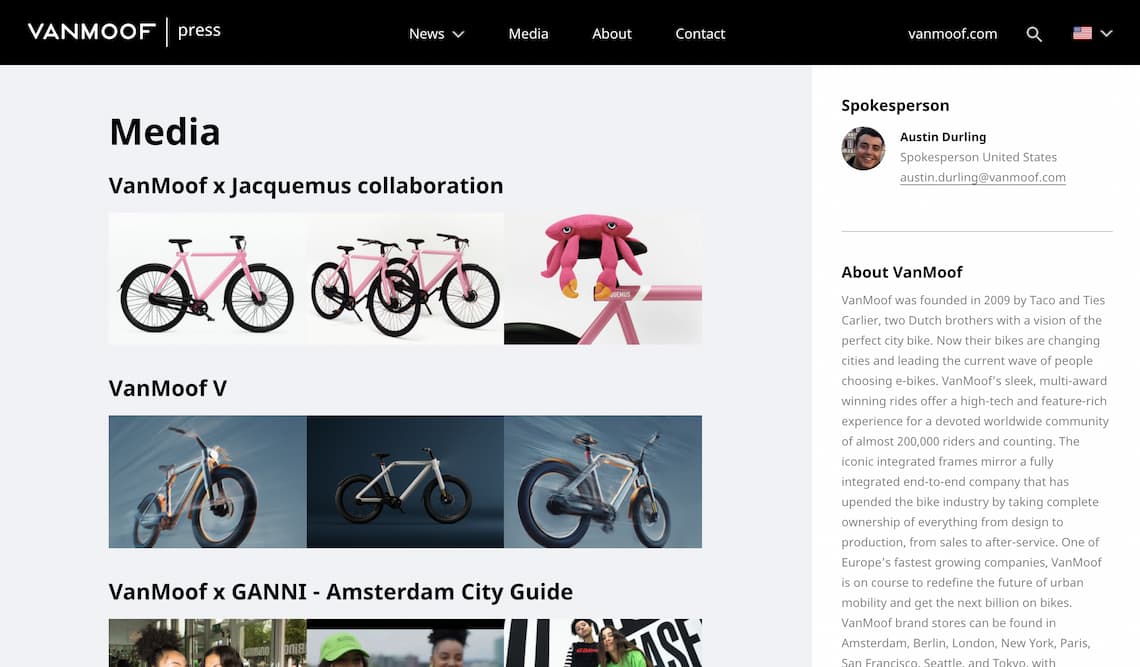 What makes up a good media kit? Here are some more examples.
Flowcube: organizing media assets
Imagine you devote endless hours to craft a killer press release and once it's out in the world, it flops. You still have to report your actions and results to your client, yet you don't have enough coverage to prove you were successful. If you work at a PR agency, this is probably something you've experienced.
One way to make sure your client's work is findable and therefore more likely to pick up traction in the media, is to host their latest news in an organized press room.
Here's how Flowcube, a Swiss PR agency showcases each client's news, media kits, and press contacts.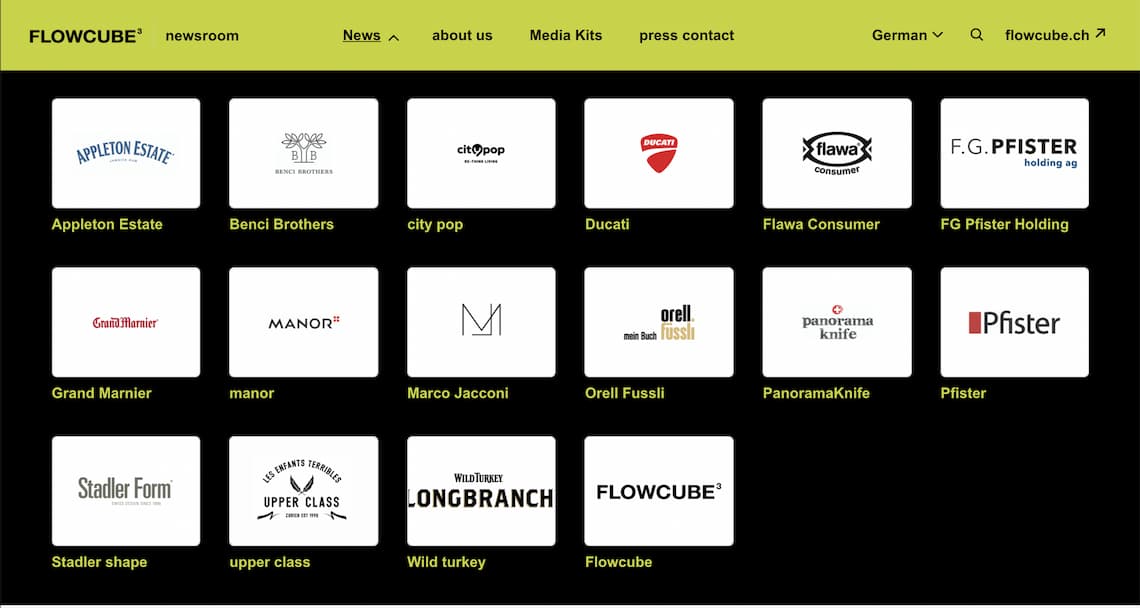 Ace&Tate: making a statement
Most PR pros will agree that the first step of any communications strategy should focus on building your owned media. This refers to the content you create that lives on your blog or website. Without it, journalists will think you're not active, your social media channels will be empty, and you won't have much to share with the world.
A press room is a perfect place to do just that. It's a space curated by you that allows you to tell the story of your brand through press releases, media kits, clippings, and much more. Here's how Ace & Tate, a Dutch eyewear company, uses a daring tone in their press room to show what the brand is made of. Who doesn't love a brand with a potty mouth?
EVBox: building credibility
PR is a game of show and not tell. It's about saying "my brand is the best one in the market" without actually using those salesy words. One way to prove that point is by providing clippings of your latest media coverage in your press room. This gives a journalist more context about your brand's story. It's like saying: we're doing cool stuff, but don't take my word for it- here's what these journalists had to say about us.
Here's how EVBox, an electric vehicle supply company, offers journalists a dedicated segment in their newsroom to share previous coverage.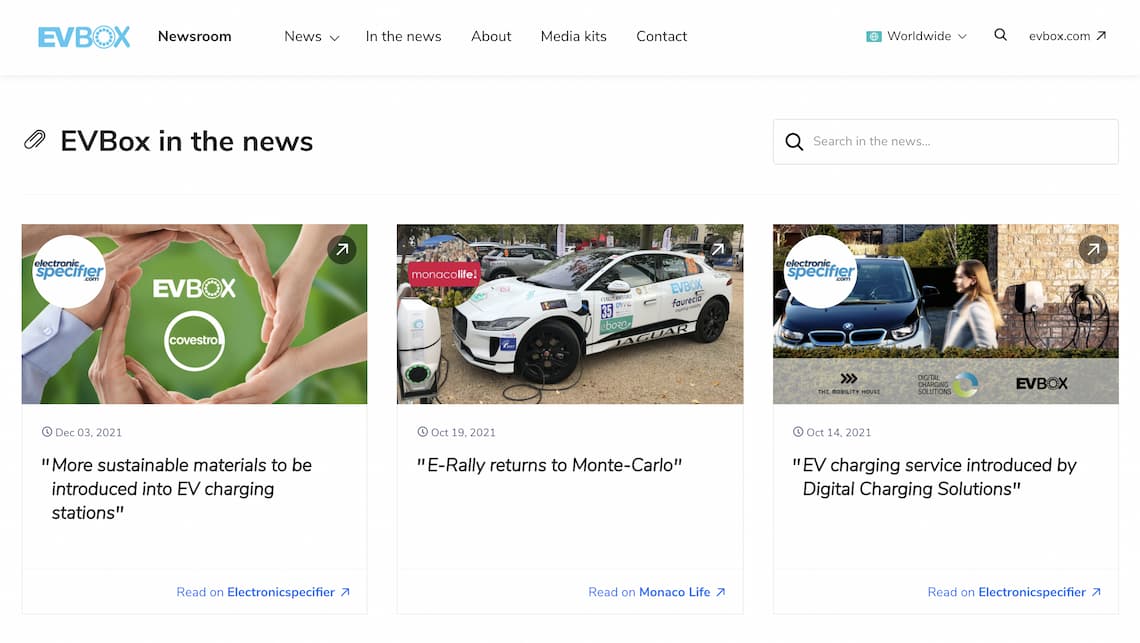 TicketSwap: leveraging the power of inbound PR
PR is traditionally an outbound strategy. Searching for relevant contacts and pitching a valuable story will always be a powerful move. However, if you're not leveraging the power of inbound PR, you are missing out on an influx of new leads. Inbound PR is all about making you and your news easy to find. So when journalists are doing their own research, they'll find everything they need all in one place.
One way to leverage the power of inbound PR is to pull in high-quality contacts by offering exclusive information, instead of pushing this information out. TicketSwap, for example, is making the most of its newsroom by strategically placing CTAs which allow journalists and other stakeholders to subscribe to these news.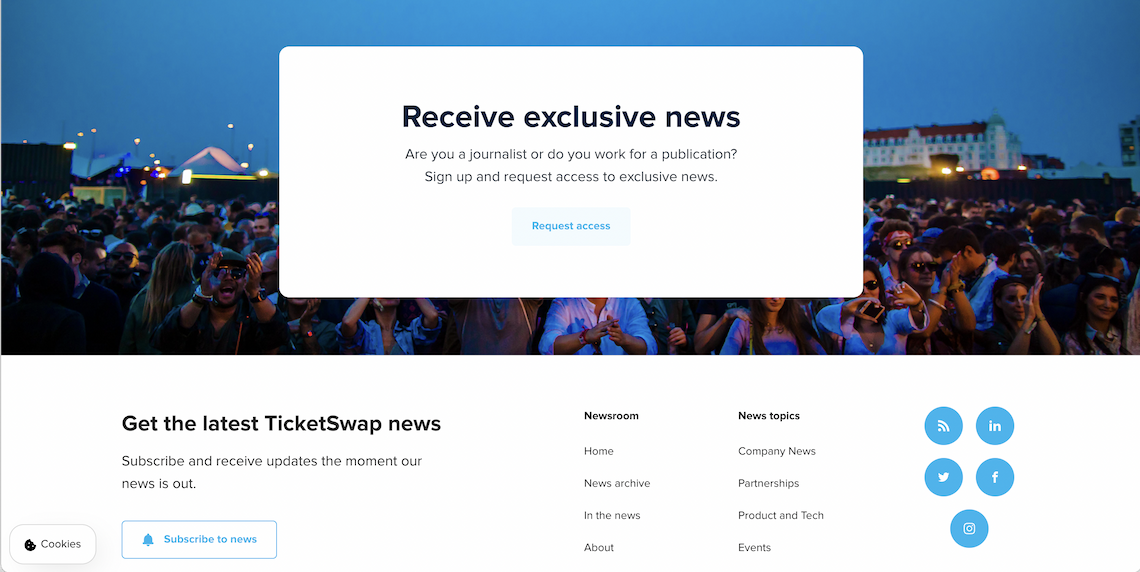 How do I build a press room?
There are a lot of factors to consider when it comes to building a press room. You can either build one yourself or use a third-party developer (how about us? 😁) to create it for you. The "right" decision depends on your development capacity, and the level of detail you want your newsroom to have. If you're looking to make a pros/cons list to weigh in your options, we've got something that can help. Download our build vs. buy whitepaper to discover which option works best for you and your team.
If you're curious to learn how we can help, let's chat! Just schedule a chat with one of our newsroom experts. No strings attached.

Ana is a marketer at pr.co, and is the driving force behind our 100+ articles and guides. Ana has an MSc in Corporate Communications, and four years of experience in the PR industry. Now, Ana distills knowledge from pr.co's 250+ customers to help PR professionals get better results through high-quality content.. Connect on LinkedIn or send an email