If you're working in PR, especially in a B2C context, providing your media contacts with complete, hi-res media kits is essential. In this article, we'll walk you through how media kits have evolved from offline to online, what you must include and some examples of outstanding media kits.
If you were to look inside a media kit seventy years ago, you would be opening a cardboard folder full of neatly typed paper and black and white photographs. While these old media kits are beautiful objects in their own right, a media kit in the digital age is a very different thing.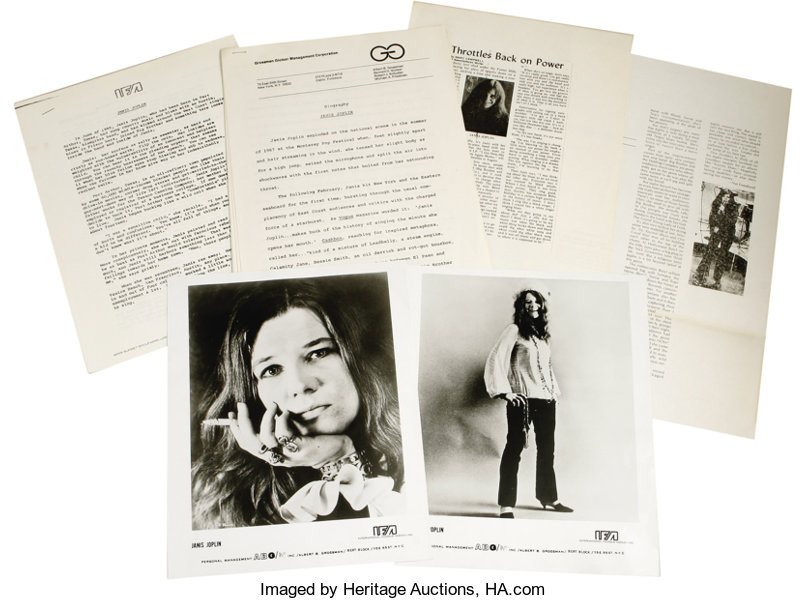 A beautiful vintage press kit from Janis Joplin, circa 1969. Source:
ha.com
Another beautiful example is this press kit from 1993, filled with information, news releases and even slides (yes, slides!) from Apple's then brand new AV Technologies.
The function is still the same: a media kit is a one-stop-shop where a journalist can find every asset they would need to write a story.
In the early 2000's it became best practice to pitch via email rather than at an old-fashioned press conference. In the modern-day, press conferences are the preserve of large bodies like the White House and FIFA (think: sincere footballers leaning into a row of mics). It makes great TV, but in practice, most companies find it more efficient to pitch to individual journalists. Plus, let's be honest - most companies won't be able to fill up a room with journalists.
Nowadays, most PR happens via an online newsroom, rather than a physical one as modeled by the lady and gentlemen below.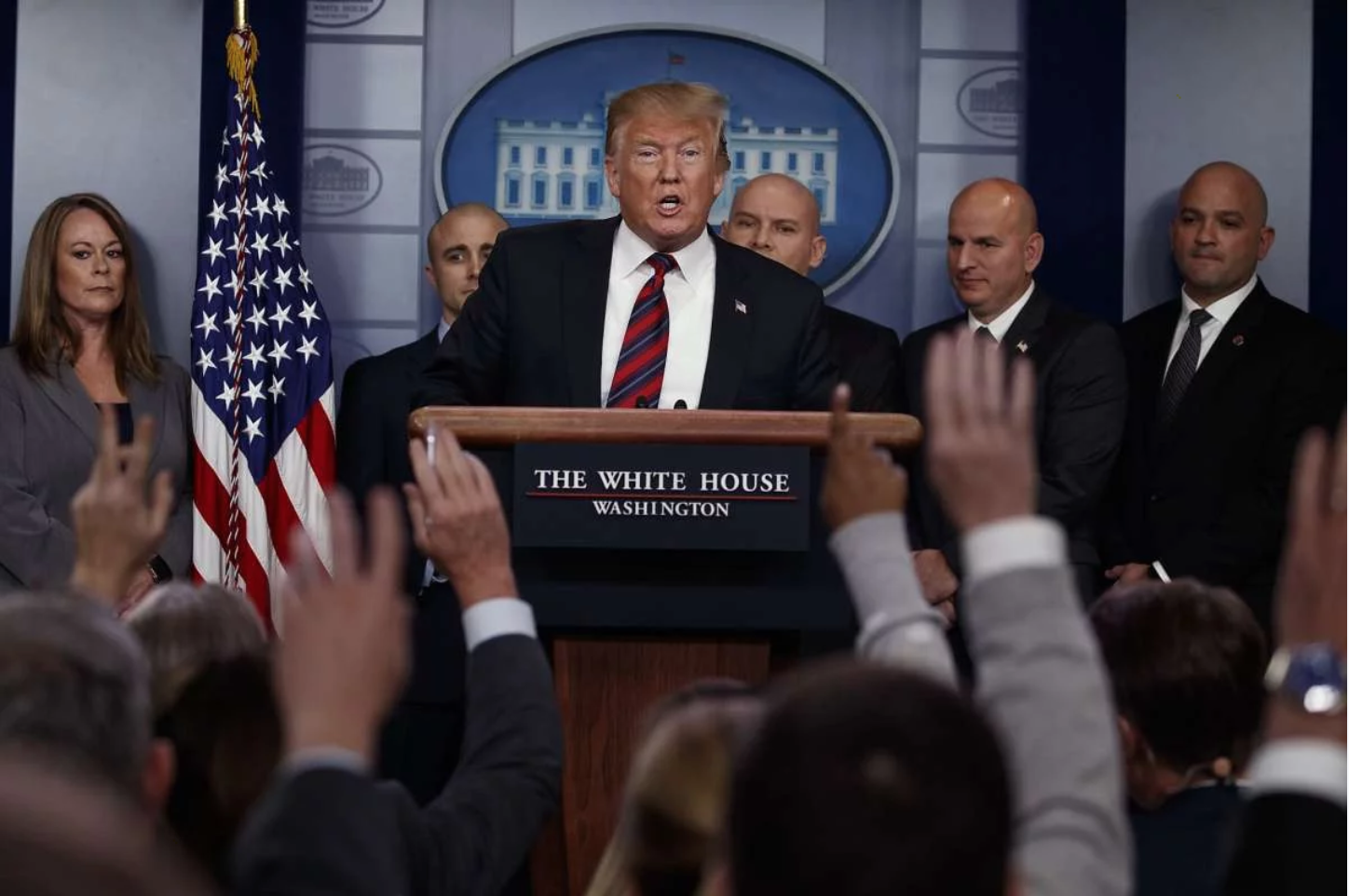 The difference between a media kit and an online newsroom
Some people use the terms 'media kit' and 'online newsroom' interchangeably. However, they are two very different things. Let's revisit the definitions.
What is an online newsroom?
An online newsroom is a webpage (ideally) attached to your main website. It is the public face of all your company news, the home of your media relations. It includes everything a journalist would need to tell a story and understand your brand. It can include everything from press releases, to contact details, to a company about page, to press releases to (you guessed it) media kits.
What is a media kit?
A media kit is a component of an online newsroom. It is a folder full of downloadable assets that supplement a story. This is mostly photos, but can also include things like videos, data visualizations, and technical specifications. Media kits should make a journalist want to write a story about you- because you've given them so many quality assets, that they'd be crazy not to.
Why media kits transitioned from email attachments to components of an online newsroom
As recently as five years ago, media kits were attached to emails as a PDF when pitching to journalists or kept in files that could be transferred via USB or services like Dropbox or WeTransfer. As you can imagine, this was not very user-friendly: imagine being a journalist and receiving north of 400 press releases with PDFs a day. That means that you'll be opening your clunky PDF reader 400 times a day. Also, if you are the kind of person who loses sleep over a typo, material that can't be updated is the stuff of nightmares.
The pitfalls of a media kit in traditional PDF format
They are clunky
A (good) online media kit is enough to make Marie Kondo burst into song. All your assets are neatly organized in clear boxes and a journalist can swoop in terminator style, grab the picture or information they are looking for, and get back to writing their story. As you can imagine, journalists like this.
A PDF, on the other hand, is not journalist-friendly. And journalists, ultimately, are the audience you want to serve. When a journalist receives a PDF, they are obliged to download everything you think might be interesting to them, which results in large files that can't be previewed. Given that there is a likelihood that most of the press assets they receive will be junk, they have very little incentive to download it. Hell, the cardboard version of the 1950s is more enticing this context- at least you could preview them.
Looking for inspiration? Here are 11 examples of powerful online newsrooms.
Journalists rarely read them
Which leads me to my next point: journalists rarely read them. We surveyed some local media agencies and they confirmed that they no longer read emails, and, in the unlikely event that they do, will not download an attachment.
"The worst thing you can do is send us a PDF. They're not easy to preview, it's a hassle to download them, and you can't use any images straight from PDFs. Our team prefers emails with the full press release in the body of the email, and with links to the full press release in your newsroom."

- Remy Ludo Gieling, Journalist and Editor-in-Chief, MT & Sprout
We recently interviewed a few journalists to learn where they get their news, read more here: A journalist's perspective on your press release.
You can't update them
This is a biggie. Beyond remembering errors after you hit that irreversible send button, the nature of news is transient. The time of your event could change, a certain word is no longer politically correct, the features of your product can be modified. There are a thousand reasons why you would want to update your news and PDF blocks you from managing any of them.
They ignore a massive traffic channel
If you Google recipes, names for your pet turtle, directions, or professional advice then it's official: you are a normal human being in 2020. Search engines are the main way we get information. Journalists- as fellow normal human beings in 2020- also get most of their information from search engines.
PDFs are not indexed by search engines. Needless to say, using PDFs for your media kits is a missed opportunity of epic proportions. Now that PR is increasingly Inbound (where a journalist actively searches for news instead of you pitching) findability is an indispensable part of modern PR strategy.
For more information on SEO for PR professionals, this article might come in handy: Why PR professionals should focus on findability, instead of pitching.
Benefits of a modern media kit
Suffice to say, nowadays, media kits are not only more efficient, but they serve a multitude of functions. Modern media kits are the exact resources that a journalist needs to write a story- given to them in an instant.
Modern media kits can be stored on your company website, or your online newsroom, the home for all your company news. Here are the main benefits of the modern media kit
It adapts to every channel of communication

PR, just like the media it reflects, is changing every day. There is officially more ad spend on social media than traditional platforms, and that modern media has had to adapt. Because of this, there are many more ways to get in contact with a journalist: sliding into their DMs on Twitter, tagging them on Linkedin, sending GIFs on WhatsApp.

Any PR professional worth their salt will be rolling with the times, and adapting to the favored platforms of their relevant journalists. The good thing about storing your media kit in your online newsroom is you can link to it from whatever platform you are chatting on- and it always goes to the same place. Same consistent narrative, same high quality, same assets. This makes you future-proof, which is the difference between sink or swim in the digital age.

You get some control over the images that are being used

When you have your media kit on your own dedicated news website, you run the show. You create context for your brand so they understand your 'why', you control which images journalists will use, and you can create a beautiful story arc that will keep a journalist coming back.

With hi-res assets on display, it is more likely that a media professional will return as they will remember you as a bounty of resources with a professional, strong brand narrative. This is an opportunity you simply don't have in an email. The added bonus of this is it will also drive more traffic to your main website.

It increases Inbound PR

Modern PR is increasingly Inbound, journalists are more likely to go searching for a story to respond to a pitch. They tend to surround themselves with a close-knit group of PR people relevant to their beat- people they know can provide quality stories and are knowledgeable about their field.

Because of this, having a good media kit in a strong online newsroom is more important than ever before. You want to make sure that when a journalist comes looking, they find everything they would need to feel like a champ, and that they will return. Chances are if you present this professional face, you will eventually make your way into a journalist's inner circle.
You can read more about what makes a good online newsroom here.
What makes up a good media kit?
So what does a good media kit even look like? By having quality, strong images you can avoid images found in the darkest corner or Google image search representing your brand. Keep in mind that no matter in which magazine or on which blog you'll be published, the author of that article is going to need images. By providing your media contact with the right images, you're not just very helpful, but you even get some control over which photos will be published with the article. Now, that's cool - because images are a very powerful component of a story.
Every company will have its own spin on a media kit depending on their individual needs. However, we've helped build hundreds of media kits over the years and these are some good elements to include:
Portraits of the (management) team
Journalists will likely cover stories of spokespeople or management. So quality photos are a must. It gives a face to the company and gives the brand a professional air.
Photos and videos of the company office(s)
People love to see your brand context- and your office is an integral part of your brand. It is the home for your ideas and is often requested by journalists. By displaying these online you also avoid lots of tedious repetitive media requests
Photos and videos of people working
People love faces, so a good media professional will go looking for photos of the humans behind your story. Having these are a big plus.
Photos and videos of the product(s)
This is a bit of a no-brainer if your business is product-related. This is a chance to showcase your products in their best light and make sure the assets being used in coverage are consistent.
Photo's and videos of your events
Events are a great opportunity to produce exciting visuals, and interesting events are also a solid story idea for a pitch.


If journalists are deciding between multiple pitches, they will choose the one with the best images. Here are other reasons why your team should invest in photography.
Examples of great media kits
Here are some examples of companies who are nailing their media kits:
You can check out VanMoof's media kits here.
Another great example is by Titleist - a world-renowned golf brand, who has made multiple sets of images of each of their products and events available to their media contacts. You can find their online newsroom here.
Another good example of a collection of good media kits can be found on Twotone Amsterdam's newsroom. Twotone is an Amsterdam-based agency, working with cycling brands all over the world. In their newsroom, you'll find multiple media kits (per campaign and per product), nicely categorised into folders for each client. The search functionality in Twotone's newsroom also searches through all these media kits, making it very easy for Twotone's contacts to navigate to a specific image.
Not sure how to add a media kit section to your website? Here at pr.co, we use our own pr.co platform to manage our newsroom and publish media kits. All of the examples above are also powered by the pr.co platform. If you're curious to learn more about out platform, just scroll to the bottom of this page to schedule a chat with our newsroom experts or download our product deck.
If you don't have an online newsroom, you're only just starting out, or budget is very tight, you could of course use a file hosting service like Dropbox, Google Drive or WeTransfer. It's a little bit less user-friendly, and your media kits won't be clearly branded, but it tackles the most important job: making it ridiculously easy for your media contacts to publish a beautiful story about your brand.
If you found this helpful, you're in for a treat. We've interviewed some of the best PR professionals in the game and bundled everything together in a Media Relations Guide. Download it by clicking on the button below.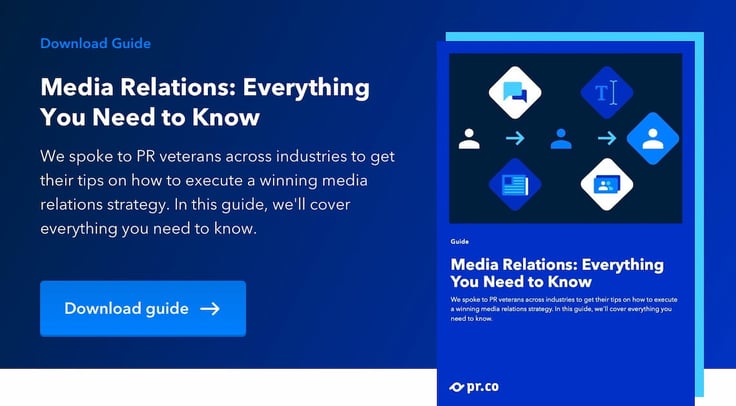 Having worked as a journalist for two national newspapers, as well as the comms departments for several NGOs and the European Commission, Carmen is passionate about ethical business and the magic of artful storytelling.. Connect on LinkedIn or send an email