PR pros have a way with words. Perhaps no one understands the power of a rich vocabulary better than PR professionals. But it's precisely because of that that we tend to get caught up in our own lingo.
"I just pitched a story to a few tier-2 publications. I hope we will get more traction with this angle— we desperately need some more backlinks to our newsroom."
If this sounds like a riddle to you, we got you covered. We've compiled a list of PR terms and definitions to help you when you find yourself knee-deep in conversations riddled with jargon.
Feel free to download our dictionary and share with your colleagues. Looking for something specific? Hit command + F and search it up. If we're missing a term, let us know.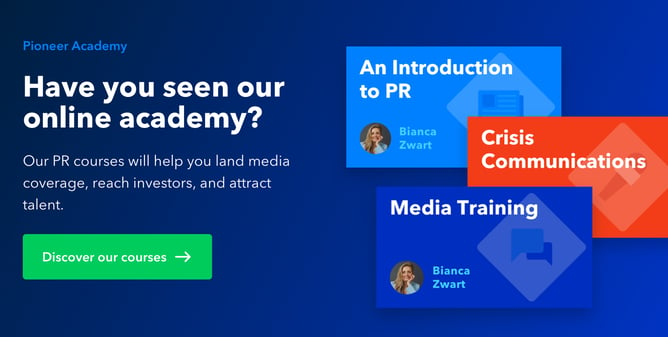 Table of Contents:
Advertising
Definition: Advertising is a tactic that involves paying for space - be it on billboards, social media, or on the radio- to promote a product, service, cause, or brand. The difference between advertising and PR is that the former is a paid space while the results in public relations are earned through providing the media with information and getting coverage "organically".
Angle
Definition: The focus used when writing a story that will be presented to the media. The story's perspective is usually determined by the publication type, the audience, goals you want to achieve and the channel.
Example:
There are different ways to write a story. It all depends on the angle you choose. Here is an example of how the British newspaper, Express, depicted how the Duchess of Cambridge and the Duchess of Sussex consumed avocado toast.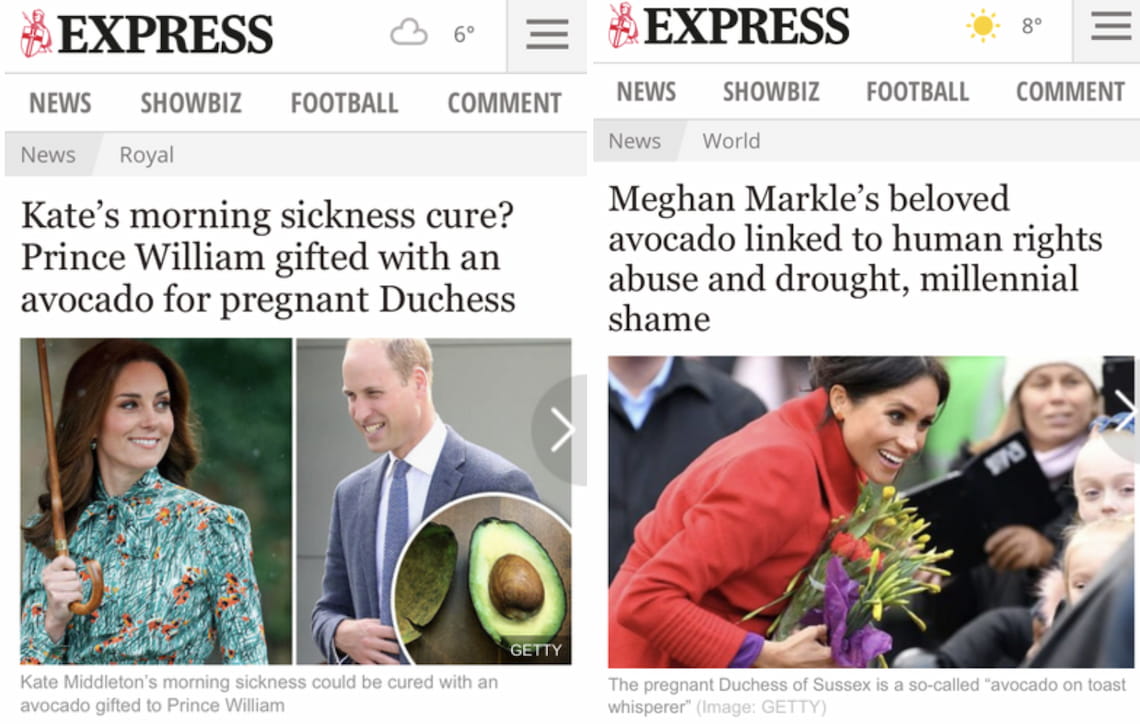 B2B
Definition: Short for Business to Business. B2B is a business model based on companies selling their services and products to other companies, rather than the general public/consumers.
B2C
Definition: Business to Consumer (B2C) is a business model in which a company sells products and services to a consumer.
Backlink
Definition: To put it simply, a backlink is a link from one website to another. Why are they important? Search engines, such as Google, use backlinks as a way to rank websites. Let's say you write a press release for your product and include a fact sheet. If a media outlet, like Wired, covers your story and includes the link to your website, you've just gained a backlink. If many outlets link back to your website, Google believes your content is newsworthy and will rank you higher. If these backlinks come from high-quality pages, this will increase your domain authority, and therefore has a positive effect on your visibility in search engine results. Here's how backlinks can help you with achieving great PR results.
BHAG
Definition: BHAG stands for Big Hairy Audacious Goal. It is a clear and compelling mission statement that serves as a unifying focal point for an organization. It can seem like an over-the-top, long-term mission statement but placing it at the center of your actions can guide you and your team towards a finish line.
Example:
Take General Electric's BHAG: "Become #1 or #2 in every market we serve and revolutionize this company to have the speed and agility of a small enterprise." The goal of a BHAG is to engage employees and stimulate progress towards a common objective.
Boilerplate
Definition: A boilerplate is a section at the end of your press release that includes your company information. Not everyone is familiar with your brand or organization, therefore it's important to include a short description of what you do and what sets you apart. Many organizations include metric information such as number of customers, employees, and capital raised. Others include their one-sentence mission, or awards and recognitions they've gathered in their trajectory.
Writing a press release? Besides a boilerplate, here are other elements you must include.
Example:
Below is an example of Swapfiets' boilerplate information: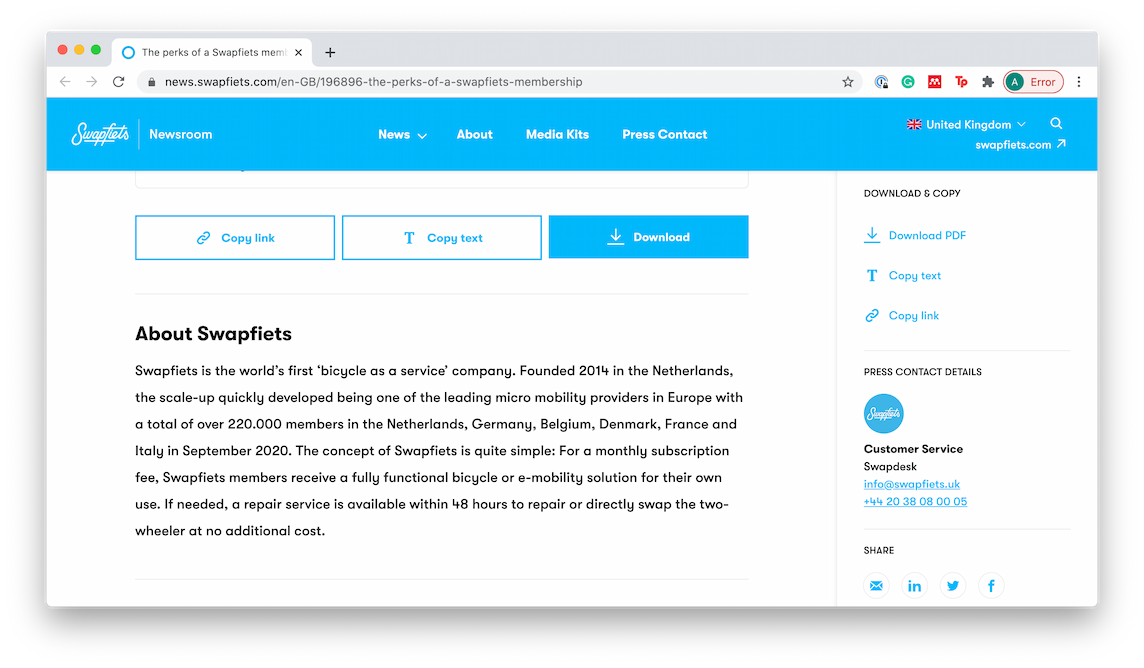 Brand
Definition: A brand is an identifying symbol, logo, name, word, tagline, or set of features that companies use to distinguish their products from others. This term can also refer to the experience a person has when interacting with a business.
Example:
Starbucks is way more than just coffee. The biggest coffee chain in the world has built its brand by doing more than just serving coffee. They created an experience. Whether it's the perfectly curated playlist, the signature cups (which probably include your misspelled name on it), the signature sandwiches and pastries - every aspect of the company serves a purpose. Each detail allows Starbucks to establish their brand.
Brand activism
Definition: Brand activism is the act of taking a stand to help drive change in social, political, economic, and/or environmental issues that society faces. Brands may choose to support these causes through statements of solidarity or pledges of action.
Example:
In 2016, American football player Colin Kaepernick, kneeled during the national anthem to protest against police brutality in his country. This controversial demonstration backfired when suddenly he was unable to get back into the league for the following three years. In 2018, Nike took a stand beside Kaepernick by featuring him in their campaign for the 30th anniversary of the brand's iconic slogan. The ad featured a black-and-white shot of the quarterback's face with the words "Believe in something. Even if it means sacrificing everything."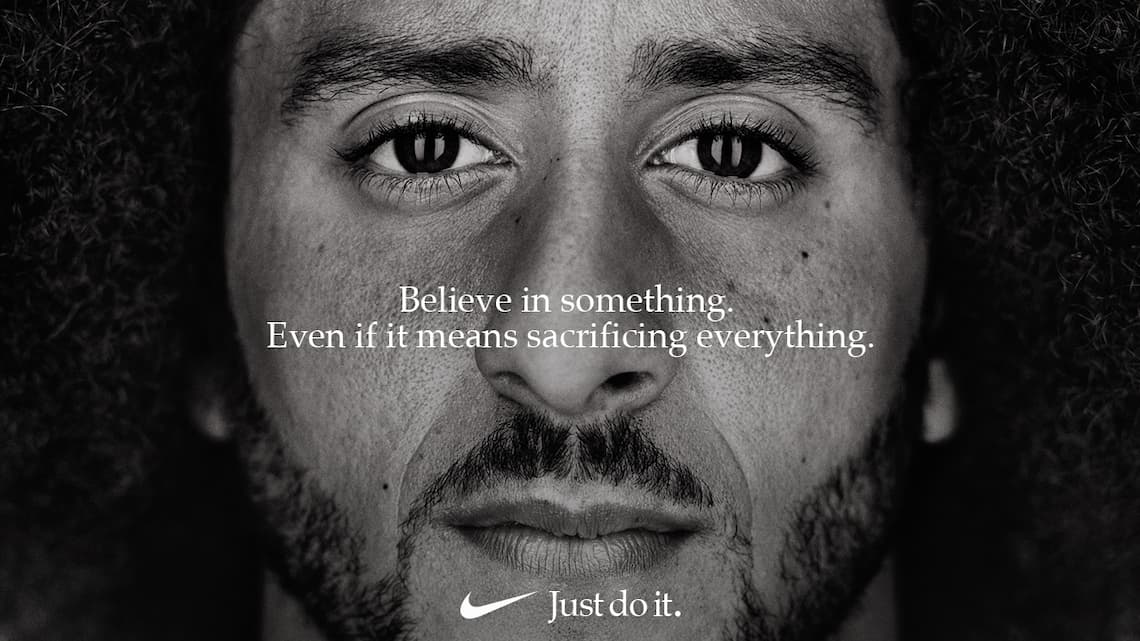 Brand ambassador
Definition: A brand ambassador is a person who represents a brand because their interests, lifestyle, or personality match up with the brand's values. The goal of choosing a brand ambassador to be the face of a brand is to increase brand awareness and eventually, increase sales.
Example:
George Clooney. Nespresso. What else? The Swiss coffee brand reportedly pays the actor a hefty $40 million to be their brand ambassador.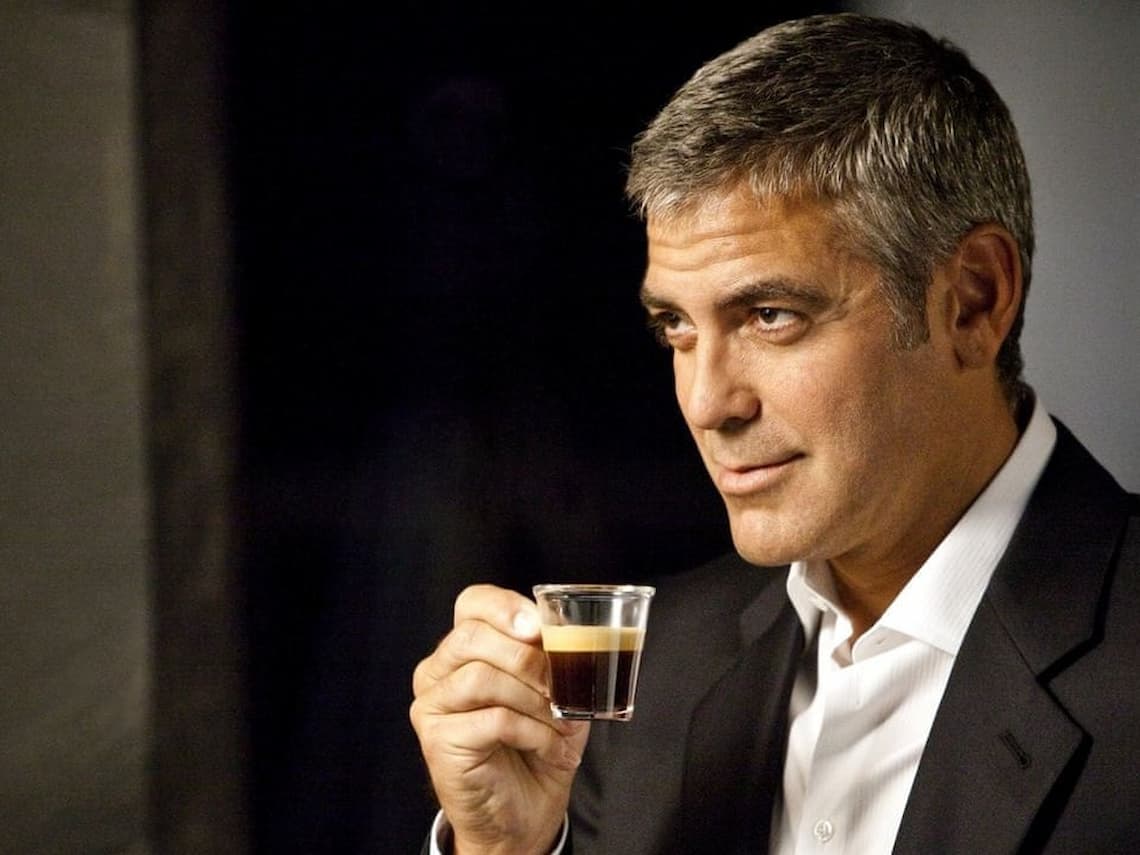 George Clooney has been the public face of Nespresso for the past 14 years. Source: The Guardian.
Brand archetype
Definition: Archetypes are a categorization of traits and characteristics that are intrinsic to human nature and remain consistent over time. In branding, archetypes can be used to reflect the personality of your brand and engage with specific consumer personas. There are twelve brand archetypes: The Innocent, Everyman, Hero, Outlaw, Explorer, Creator, Ruler, Magician, Lover, Caregiver, Jester, and Sage.
Example:
When we talk about the Magician archetype, we immediately think of Disney. When it comes to the motivation of the Magician, these brands want to make your dreams come to life and create something special and informative. From the fairytale movies to the fantasy-filled theme parks, the brand is all about bringing magic to our ordinary lives.
Brand awareness
Definition: Brand awareness refers to the extent to which consumers are aware - or recognize - a particular product or service. This marketing term can also be defined as a goal, through which a company seeks to increase their exposure in order to be recognized by its target audience.
Brand consistency
Definition: Brand consistency is the way in which a brand delivers their messages in line with their values, visual identity and strategy, across channels and over time. Brand consistency fosters brand awareness and trust.
Brand journalism
Definition: Brand journalism is a tactic that implies bypassing traditional media outlets (and PR firms for that matter) and conveying your brand's story using journalism-style writing. This technique is rooted in the belief that consumers are wary of advertising or marketing copy - and tend to stay away from anything that doesn't sound authentic. Also, as brands become more complex, it is ill-advised to rely on a sole channel to tell a story. Through this tactic, brands acknowledge the importance of elaborating engaging narratives and delivering them through multiple channels and platforms in order to showcase the organization's value from a different angle.
Example:
One of the most famous examples of brand journalism is Red Bull, which became both a content creator and a media outlet. In 2012, the brand set up a publicity stunt in which Austrian skydiver Felix Baumgartner jumped from the edge of space. Red Bull set up an entire news site to promote their event, including live video, blog, photography, statistics, data visualisations, infographics, and more.
Brand promise
Definition: A brand promise refers to the values customers can expect from a company when they interact with that company.It's the corner-stone of your brand, since your customers trust you to keep that promise.
Example:
Apple's brand promise is to create easy-to-use products based on seeing the world a little differently, which will inspire their customers to do the same. Patagonia's brand promise is that they will produce the best product, cause no unnecessary harm, and use business to inspire and implement solutions to the environmental crisis.
Bridging
Definition: Bridging is a technique used during interviews which allows the interviewee to steer away from negative questions or unfavorable conversation back to their key messages. It is important that a spokesperson acknowledges the reporter's question before transitioning or bridging back to their messages.
Example:
Actress Anne Hathaway found a creative way to answer an uncomfortable question on a talkshow, by bringing the attention back to the film she was promoting.
Bridging is a skill a spokesperson must always carry up their sleeve. Next time you'll get a tough question fired at you— here's how to react and respond.
Buyer's journey
Definition: The term buyer's journey is used to describe the process consumers go through as they research a product or service before making a final purchase decision.
This process typically has three steps:
Awareness: The beginning of this process is marked by a prospect experiencing a problem.
Consideration: Once the problem has been identified, the prospect begins to research potential solutions to this problem.
Decision: The final stage consists of prospects identifying a solution to the problem they experience and are close to making a purchasing decision.
Byline
Definition: A byline is content on a publication where the author's name is featured. They are usually placed at the beginning of the content or at the end, as a signature to give credit to the person who has written the article.
Having a list of contributed bylines is a powerful PR tactic. It's a way to demonstrate to an audience that the brand or leader is an expert in a specific topic. Because news publications are always on the lookout for new content with a fresh perspective that will captivate their audience's attention, landing a byline can help establish credibility in an area of expertise and strengthen thought leadership.
Case study
Definition: A case study is a detailed, in-depth examination of work a company has completed for a client that emphasizes the objectives, processes, solutions applied and results achieved.
Example:
We don't mean to brag, but we have built newsrooms for some of the world's industry-leading brands, and have a few pretty sweet case studies. If you're looking for some inspiration, you can check out our case studies.
Clippings
Definition: Media clippings are the mentions of your brand in newspapers, blog posts, podcasts, magazines, television, and online media. The name comes from the act of cutting out these mentions in published media to put together a report for clients. Nowadays, this coverage is no longer physically clipped from media and instead is monitored through different tools and software.
Communication Strategy
Definition: A communication strategy is a written plan that allows you and your team to effectively accomplish specific objectives by determining key aspects of communication. Essentially, it outlines what you talk about, how you talk, who you should talk to and where you find that audience.
We have built a canvas to guide you in the process of mapping out your communication strategy.
Content Marketing or Content Creation
Definition: Content marketing or creation is a marketing strategy based on creating relevant and valuable content to attract and retain an audience (ideally organic; through search engines), to ultimately, drive engagement and achieve profitable customer action.
If you want to hone your content marketing skills, we highly recommend this Hubspot certification course.
Copywriting
Definition: Copywriting refers to the production of text for persuasive purposes like advertising, websites, social media channels, etc.
Example:
If you ever feel like you've just run full-speed into a brick wall called writer's block and have found no way through, here's an idea. Check out Cole Schafer's creative writing shop, Honey Copy.
Coverage
Definition: The sum of your clippings. A space in news publications such as an article, blog post, or story that mentions your brand.
CMS
Definition: CMS stands for Content Management System, which is software that allows users to modify, manage and publish content on a website or blog, without having to write code.
Example:
If you google CMS, you will encounter hundreds of software services to manage your content. If you're looking for a CMS specific to PR professionals - we have built a one to create and beautiful publish press releases and other brand assets. Want to know more?
CRM
Definition: A CRM allows you to organize and manage your contacts and their information. It helps you get a better overview of all your contacts, and more importantly, keeps them in your organization if your colleague leaves the company or your computer crashes.
Example:
When creating a list of media contacts, use a CRM system to keep your information organized. Don't forget to include your contact's social accounts, bios, email addresses, and a short description including details like their familiarity with the topics you're pitching. Here is what that looks like in our very own PR CRM tool: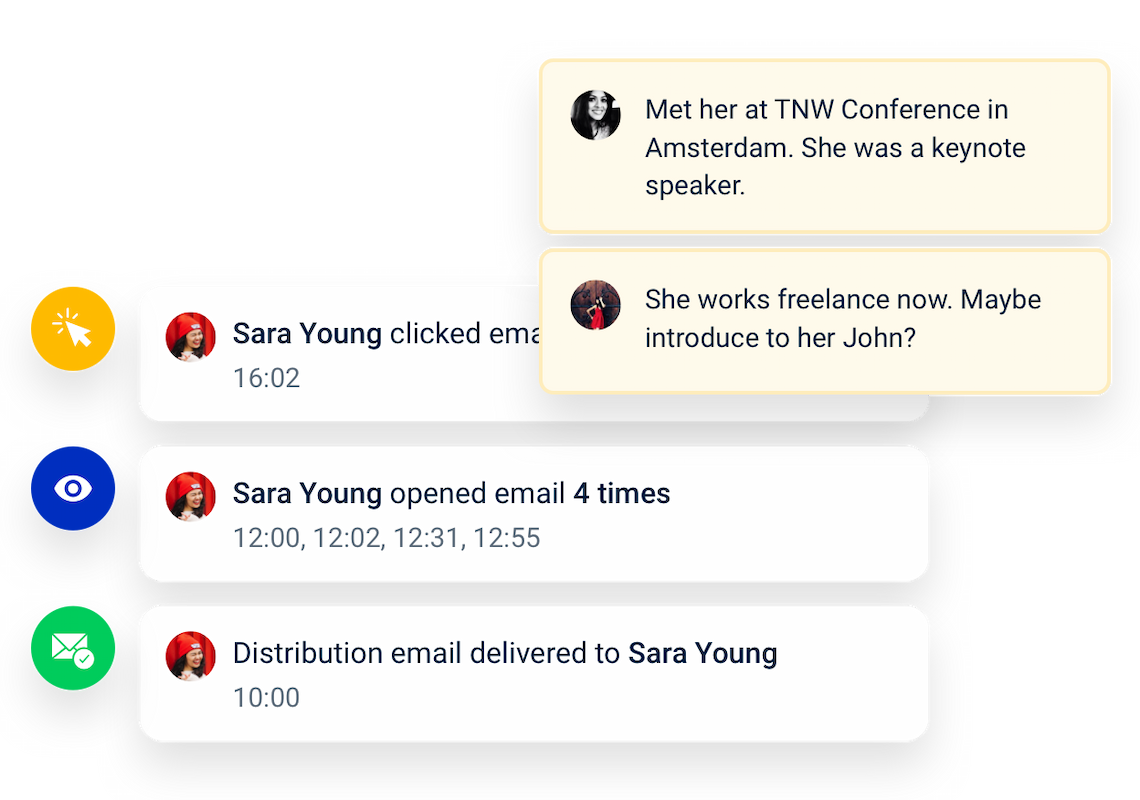 Ready to take your contact management system to the next level? We can help!
Crisis Communications/Crisis Management
Definition:The process through which an organization handles unpredictable events while protecting a brand's reputation. As opposed to risk management, crisis communications or management deals with events that have already occurred. PR has an important role to play in crisis management as its practice revolves around mediating between different publics and stakeholders.
Corporate communications
Definition: Corporate communications consists of the set of activities a company orchestrates in order to reach internal audiences (such as employees and board members) and external publics (like customers, competitors, and government) in order to achieve a favourable image.
Corporate blogging
Definition: Corporate blogging is a marketing tactic through which companies create content based on industry news, expert tips and company news in order to engage their target audience. This space can also provide a forum for company leaders to establish themselves as thought leaders as they discuss topics that are deemed interesting by customers.
Example:
Let's be candid here. If you search for the best corporate blogs on Google, you will only find blogs from 2010 - some which don't even exist anymore. We can say that this practice is a bit outdated and has been replaced with more targeted (often more opinionated) content creation in other forms. Here's one example we found that is a mix between a press page and a blog. Starbucks uses their platform to communicate company news and compelling stories about their team to a broader audience.
Dark Social
Definition: Dark social describes the "invisible" or unmeasurable shares that occur through channels like messengers, email, and text. This referral system does not allow marketers to understand where the traffic actually comes from, since it will only appear as "direct" traffic to them. The term was introduced by Alexis Madrigal in 2012, who explained that instant messaging apps and email can make a marketer's job harder because the traffic source becomes untraceable. Studies reveal that around 80% of content sharing on social media happens via dark social.
Editorial Calendar
Definition: An editorial calendar is a visual roadmap for PR and communications teams to schedule their content on a daily, weekly, or monthly basis. This calendar can guide teams when it comes to both traditional PR such as press releases, events, interviews, and also online content such as social media posts, blog posts, podcasting, etc.
Earned Media
Definition: Based on Gini Dietrich's PESO model (a classic!) earned media is the space in the media where your brand is mentioned, without having to pay for it or create it yourself. In other words, it's having a newspaper write about you, a talk show mentioning you, a podcast featuring your story, etc. In this case, both parties win: the press gets valuable insights or content for a new article, and you might land a press mention. You might also know this term as media relations.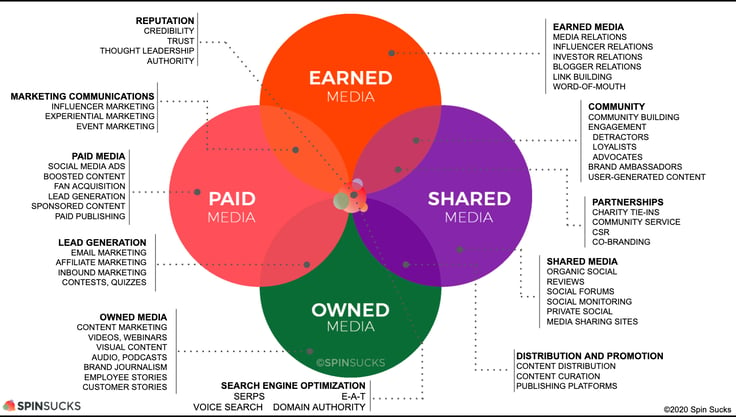 The PESO Model was coined by Gini Dietrich, founder and CEO of Spin Sucks.
Electronic Press Kit (EPK)pes
Definition: EPKs are used in the music industry. An electronic press kit is a digital downloadable collection of asset that includes basic information about you or your band. They often include high resolution images, videos, music clips and other resources. This tool allows you to make a long lasting impression on labels, agents, promoters, venues and journalists.

Think of your EPK as your digital resume that will make it easier for music and art industry professionals to really understand who you are, what makes your sounds different and why you should take center stage at a next festival.
Example:
We love the storytelling format used by WePresent, WeTransfer's medium to tell stories about the artists they work with. They include a mix of quotes, photos, videos and music clips to showcase musicians and artists.
Embargo
Definition: A news embargo or press embargo is a request that the information provided not be published before a specific date or until certain conditions have been met. Unlike 'off the record' information, embargoed press releases are intended to be published after a certain date.
PRO TIP: Although timing news is beneficial, embargoes can be tricky for journalists, especially if they are sent weeks ahead of the given time. Give journalists enough time to craft their article and send out a reminder email a day before the embargo ends as a heads-up. Also, provide correct dates and times (don't forget timezones!) when publishing your news.
Here are some best practices for sending out press releases under embargo.
External communication
Definition: External communication refers to the variety of techniques used by an organization to reach audiences that are not closely related to the organization but still affect it. These audiences include customers, media, suppliers, governments, industry leaders, competitors, among others. The goal of external communication is to achieve a favorable image and strengthen relationships with strategic audiences.
Findability
Definition: Findability is a term that refers to the degree of accessibility to information. It relates to how easily your information is found, both from outside a website and also by users already on a website.
Journalists report that they are actively searching for news instead of writing about the pitches that flood their inbox. Therefore, PR professionals should focus on simplifying the process of discovery when it comes to your brand's news. Here's why.
Flywheel
Definition: The flywheel is a growth model proposed by Hubspot which shows the momentum an organization can gain through aligning every action towards creating a memorable experience. This model depicts the inbound marketing method as three separate phases: attract, delight and engage. The difference between the flywheel and a funnel is that the flywheel model focuses on growing your company with the help of your own customers as accelerants. A funnel on the other hand, places customers as an output or end goal.
Example:
Growth hacking
Definition: Growth hacking refers to the hacking strategies used by businesses to grow in a short period of time and with a limited budget. The term was coined in 2010 by Sean Ellis, founder and CEO of GrowthHackers. Growth hackers aspire to acquire as many users or customers as possible while spending as little as possible.
Example:
Class Pass, an app that provides access to a variety of fitness classes, is revolutionizing the fitness and wellness industry. In 2020, the company received $1 billion in funding. But it surely did not start out that way. In 2014, in an effort to acquire more users, founder Payal Kadakia, decided to lure customers in by giving away $100 Lululemon gift cards in exchange for signing up and staying in the app for 6 months. Of course, this partnership was not consensuated by Lululemon and as a response, sent a cease and desist order. In spite of this action (or maybe because of it) Classpass began cultivating loyal users to its app.
Inbound PR
Definition: Inbound PR is a new perspective on how PR is carried out, and is a counter-message to traditional outbound PR. It combines PR's core strength in terms of content creation and marketing's strategic execution, including numbers and measurement.The ultimate goal in inbound PR is to build a network of journalists that have found you, instead of intrusively pitching journalists with whom you don't have a relationship yet.
We sat down with Iliyana Stareva, a global partner at Hubspot and author, to better understand how to nurture media relationships in a world where mass press release emails no longer work. Read the full interview here.
In-house PR
Definition: In-house public relations refers to a team or department that carry out functions and activities pertaining to public relations as a part of the organization. Contrary to an in-house team is a PR agency which is independent from the organization.
Influencer marketing
Definition: Influencer marketing refers to a marketing tactic which uses endorsements and product mentions from influencers to create awareness and increase sales. Influencers are individuals who have amassed a large social following and are considered experts within their own niche. This tactic is based on the idea that if influencers have built up enough trust in their communities, then a recommendation from them can serve as social proof to your brand's potential customers.
Example: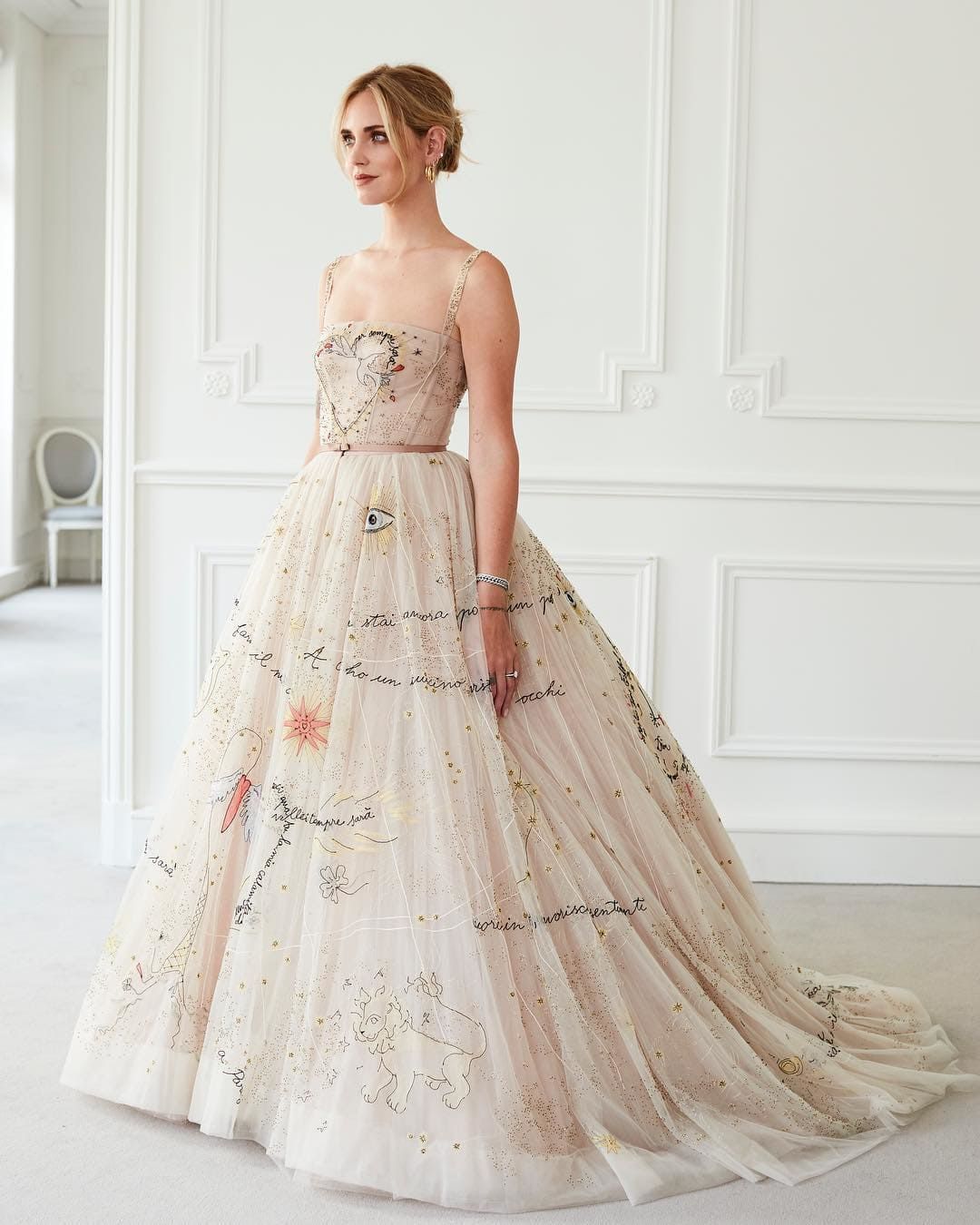 Chiara Ferragni's wedding earned a total of 67 million interactions on Instagram and is said to have had more exposure than the Royal wedding, that same year. Source: Harper's Bazaar.
Chiara Ferragni is a popular Italian fashion influencer. Her wedding is said to have amassed a total audience-driven media impact of—wait for it—$36 million and 67 million interactions from Instagram posts, comments, and stories and reported online press. Her custom designed Dior wedding dress earned Dior what could have cost them $5.2 million in digital advertising dollars.
Internal communication
Definition: Internal communication consists of a wide range of activities and tactics used by an organization to reach audiences inside the organization, such as employees, board members, management and shareholders. The purpose of internal communication is to maintain a flow of information among the people within an organization and push them towards achieving a common goal. Its effect on external communications is often underestimated; happy, well informed employees are a superpower for brand and product awareness.
Investor relations
Definition: According to the Institute for PR, investor relations is defined as "a strategic management responsibility that integrates finance, communication, marketing and securities law compliance to enable the most effective two-way communication between a company, the financial community, and other constituencies, which ultimately contributes to a company's securities achieving fair valuation".
Unlike most PR practices, this sub-discipline must be integrated with an organization's financial team, legal department, and top executives. In this field of public relations, there are stricter regulatory requirements mandated by governments.
KPI
Definition: KPI stands for Key Performance Indicator which refers to a measurable value that indicates and demonstrates how effectively a department or company is hitting their primary objectives.
Example:
There are different ways to measure the success of a PR campaign. In the end it all comes down to what your goals are. For instance, you can measure media mentions or prominence of your mentions, an example of earned media. You can also measure the effectiveness of your PR efforts through web or blog traffic.
Lag measures
Definition: Lag measures track the success of your objective, or your most important goal. You cannot influence lags directly. Lags are measures you spend time losing sleep over. They are things like revenue, profit, brand awareness, and customer satisfaction. They are called lag measures, because by the time you see them increase or decrease, that what drove the change is already passed. You can't do anything to fix them, they are history.
Example:
An example of a lag measure is assisted or direct conversions. For paid media partnerships it's important to track how people are interacting with the content. To do this, look at assisted and direct conversions from the paid article. This means that the paid partnership was one of the touch points that caused the lead to convert. This does not necessarily mean they converted into a customer. You can also measure conversions from website visitor to subscriber, to content downloader, to demo requester. Pick the conversion that makes most sense for the audience you're reaching, and the campaign you're running.

Lead measures
Definition: Lead measures track the critical activities that drive (or lead) to the lag measure. They predict the success of the lag measure. The big difference with lag measures is that lead measures are directly influenced by your team: they are things like new contacts, news announcements sent out, completed campaigns. It's very important to focus on lead measures you can directly influence. Lag measures are often easier to measure, and they represent the result we ultimately want, but without executing on lead measures they will bear nothing but frustration.
Example:
To give you a good idea of lead measures you could work with, here are a few examples:
If you're building or expanding a (new) network of press contacts:
Published x number of articles on your blog or thought-leadership platform

Connected on social with x number of press contacts on LinkedIn & Twitter

Shared x number of news announcements, blogs and press mentions on LinkedIn and Twitter

Engage with press contacts' articles
Localization
Definition: Localization is the process of adapting a product or content to a specific location or market.
Example:
More and more businesses are understanding the importance of recognizing international audiences and their own languages. By creating content that is relevant to global audiences but translating them for specific markets, brands can increase their awareness. Apart from translating, often you'll also need to adjust your story to a local market— relevance of a story or message might be different for each of your markets. An angle that works great in Germany, might be a total disaster in Italy.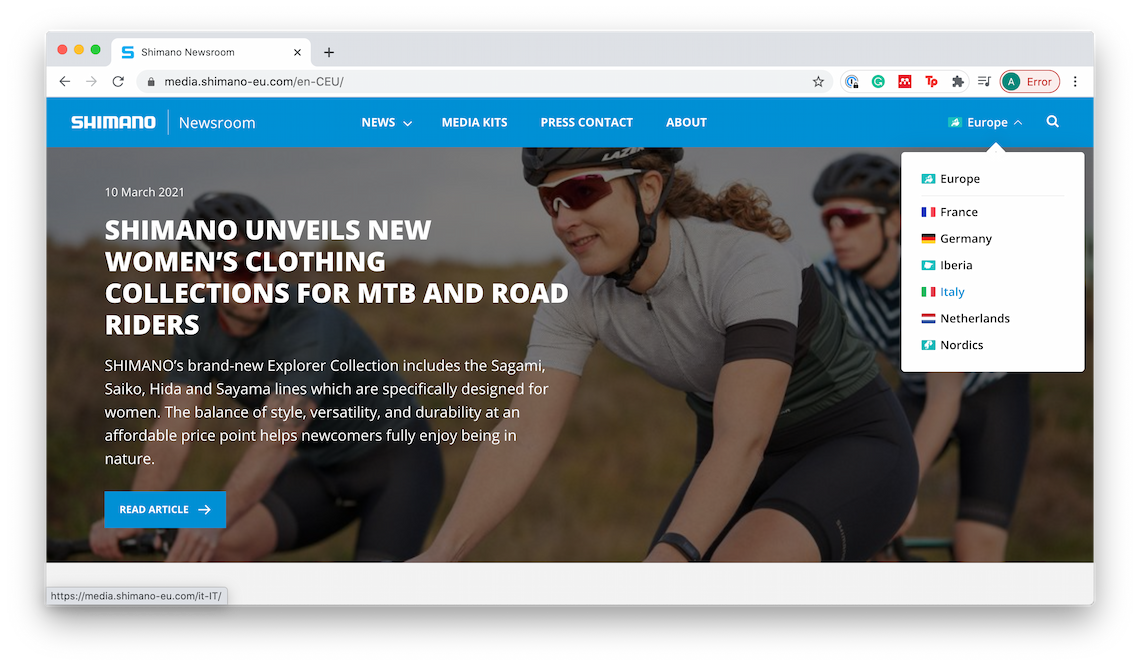 Media database
Definition: A media database is an organized directory of media contacts - be it journalists, influencers, bloggers, and media outlets, which allows communications professionals to find the right people when seeking earned media coverage.
There are many services that offer media databases. We argue that the most efficient databases that will allow you to reach your target audience are the ones you build yourself. You don't need a big budget in order to do so, either. Here's how to build your own database for free.
Media days
Definition: A media day refers to an event organized by a brand where journalists, bloggers, and influencers are invited to view a new collection or product. This PR event offers the media a first, exclusive look at what will be launched in order to create buzz around the new product.
Example:
Komoot is a navigation system that allows you to plan and experience authentic outdoor adventures. The app has rapidly grown in Europe and is expanding worldwide. We recently chatted to the Director of PR who shared how Komoot integrates events into their PR strategy using media days - or in this case - bikepacking rides, to launch their product.
"I think the main objective of events should be about relationship building and product education; really spending time with the journalists to show them the tool; how it works, and everything they need to know when it comes to Komoot."

Fiola Foley - Director of PR, Komoot
Media exposure
Definition: Media exposure quantifies the amount of attention that television, radio, online media, social media and newspapers or outlets give to a specific story.
Media inquiries
Definition: A media inquiry refers to a request by the media for additional information or an interview.
PRO TIP: You'd be surprised to know just how many brands leave out their contact information from their online newsrooms. This mistake can cost you some serious media coverage. Help a reporter out! Don't forget to include your spokesperson's name, phone number, email address and social media handles if applicable.
Some brands admit they leave out their contact details in order to avoid getting calls from customers. Here's a quick way to solve that.

Media kit
Definition: A media kit is a folder full of downloadable assets that supplement a story. This is mostly photos, but can also include things like videos, data visualisations, and technical specifications. Media kits should make a journalist want to write a story about you- because you've given them so many quality assets, that they'd be crazy not to. It should be publicly available in your online newsroom. What makes a good media kit? Here are a few examples.
Media value
Definition: Media value quantifies the monetary worth of a PR campaign or action through established metrics. Media value can differ depending on the metrics. It is important to mention that media value is a method to calculate the success of earned media, as advertising is paid media and owned media channels are not applicable. Media value can be a bit of a vanity metric, because it ties the value of your coverage back to the size of the readership. A large audience (quantity), however, is not what you're aiming for— you should be aiming for the right audience (quality).
Media relations
Definition: Media relations refers to the act of building long-lasting, mutually beneficial relationships between PR professionals and the media. Journalists benefit from this relationship because it gives them access to story ideas and sources. Meanwhile, PR teams benefit from the media because it allows them to promote a story about their brand without paying high costs.
PRO TIP: We don't claim to know everything about media relations because it's such a vast topic and there are so many perspectives. But we do pride ourselves on what we've learned from dozens of conversations with our clients and journalists over the past 10 years. We gathered those insights and made a media relations guide on almost everything you need to. Download below: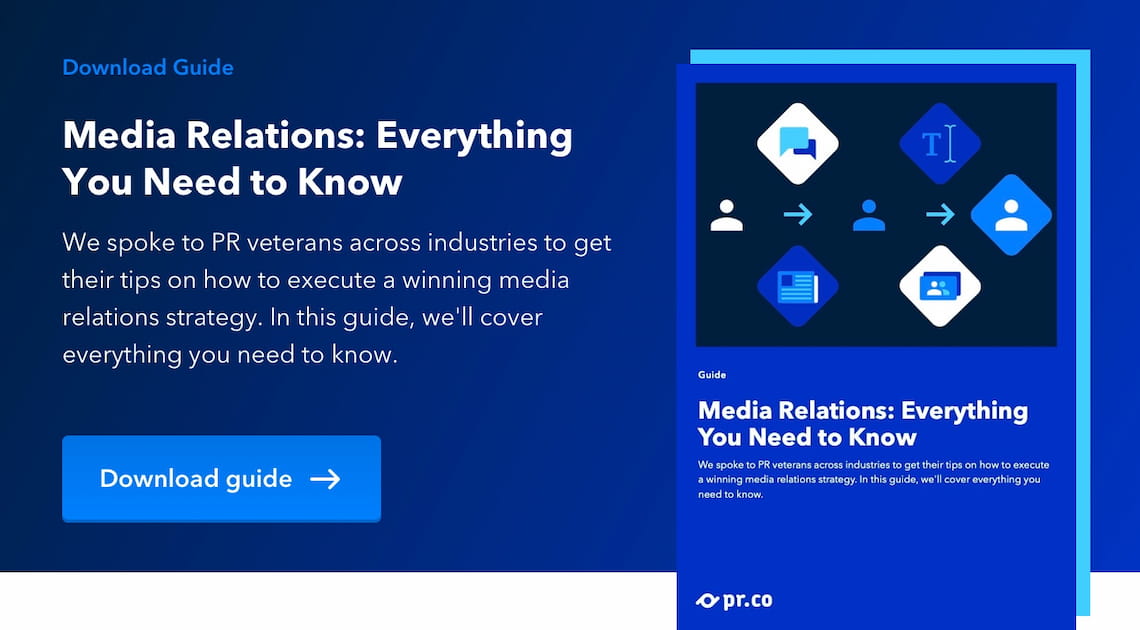 Messaging
Definition: Messaging refers to the underlying message you want to bring across, and which language and tone you want to use..
Like all great things, messaging should be as simple as possible. It is the two or three ideas you most want to convey about your brand. This messaging should be the undercurrent of everything you create. Think of Nike's 'Just do it' or Apple's 'Think Different'. It's a clear and consistent message that your audience will remember you by.
Brand messaging can be split in two different forms of messaging:
Product and service messaging

usually takes a backseat in most communications, unless you have a very niche product or are pitching to a particularly technical publication. Nevertheless, it's important to work out your positioning internally — so you stand out from the competition with your unique features. It also helps journalists to understand your position in the market.

Campaign messaging:

every single piece of content you create doesn't have to have the same messaging, but the brand values they reflect underneath should always be the same. Let's look at the brand promise for famous brands and how that is reflected in their campaigns.
Mission
Definition: A mission is a written statement that establishes the core purpose and values of an organization. It clearly states what a company does for customers and what it believes in. This statement is a powerful tool that helps guide teams towards accomplishing business goals.
Example:
Tesla's mission is to accelerate the world's transition to sustainable energy.
LinkedIn's mission is to connect the world's professionals to make them more productive and successful.
Networking
Definition: Networking is the act of interacting and connecting with social or professional contacts.
In PR, networking is a way to build connections with press contacts. How can you make the most out of this interaction? A media or industry event is the perfect setting to make new connections with journalists or peers. The crowd is in your niche, the event itself is a great talking point, and you can meet people in a natural way. Plus there's often free food. What's not to love?
There are some general rules for networking that will help you out:
Arrive early

to avoid having to break into groups.

Write notes

about people you meet on your phone or the back of a business card.

Go to the edge of a large group and when there's a lag in conversation

introduce yourself

.
Pro tip: The key to networking is kindness. Try and find out how you can help the person you are speaking to. If you can do it on the spot, even better. By offering them value, you won't be forgotten in a hurry.
Newswire
Definition: A wire service is a resource companies use to distribute press releases directly to journalists. Some well-known wire services include PR Newswire, Business Wire, Marketwire and PRWeb. Wire services are also known as press release feeds or press release distribution services. To be frank, we have our doubts about the effectiveness of these for anything else then distributing the mandatory financial news— many journalists report that they never use them.
Online newsroom
Definition: This term refers to a website, page, or section where an organization features their company news, media assets, clippings, and contact details.
Other words for online newsroom are press page, online press room, mediaroom, corporate newsroom, online media centre - you get the point.
Online newsrooms can increase the quantity and quality of the coverage you get in the media. By making it easier for journalists to find your news and information, the more likely it is for them to write your story. What makes a good online newsroom? Check out some examples.
Over the last ten years, we've built powerful newsrooms for brands like Dolby, Shimano, and WeTransfer. Want to learn more about how we can help you? Holler at us!
Outbound PR
Definition: This term refers to traditional media relations; the process of reaching out the media and pushing messages in order to gain coverage.
Now, while we are advocates of inbound PR, we are just as much advocates of outbound PR— if done well. An essential part of outbound PR is making sure your pitch is complete as it can be. Include links, photos, videos, quotes, podcasts; anything your press contacts can use to make a great story. A plain PDF will be ignored.. Like Aladdin's cave, a pitch should include every asset a media professional could possibly dream of. Therefore, sending the release in an easy to use online format (ideal as a page in your newsroom) is the way to go.
Owned media
Definition: Owned media is the content you own that lives on your website or blog. It's important to mention that channels like Medium and LinkedIn pulse are not owned media, since you're publishing on someone else's domain (and therefore building their domain authority!). You can use these platforms as outlets, but they are not considered "owned" media if you don't have ownership over the channel. They are part of your shared media strategy.
Owned media is perhaps the most overlooked, but essential channel in any media relations strategy. Here's a snippet from our media relations guide:
"If your news announcements only live as PDF's in your contacts' inboxes, you're missing out on a very important channel: inbound PR. By offering news, coverage and media kits (and anything else that might help your contacts build a story) online, your news will become findable on search engines. It becomes discoverable for website visitors and offers support and context for journalists visiting your website. Other ways to utilise owned channels are brand journalism, sharing internal expertise in informative articles, or creating podcasts."
Paid media/Paid placements
Definition: Contrary to popular belief, paid media is less about fancy billboards or tv ads. Instead, it refers to social media advertising, sponsored content, search engine ads, and email marketing. Essentially, it's about paying to reach an audience. On one hand, paying is important because you need those new audiences in order to keep your funnel full and meet your business goals. On the other hand, these one-sided, pushed messages can be perceived as inauthentic. Therefore, we don't consider paid media the strongest channel for media relations.
PESO Model
Definition: Back in 2014, Spin Sucks' Gini Dietrich described the relationship between different forms of media used in public relations and coined it the PESO model. It is a media model strategy that stands for Paid, Earned, Shared and Owned media. Its simplicity really helps when building out a solid communications strategy.
We had the chance to sit down with Gini Dietrich, the creator of the PESO model, to chat about the future of PR. She believes that the industry will cease to exist in the next 10 years. Here's her take on the unstable future of PR.
Persona
Definition: Persona is the word used to describe an ideal customer. In order to determine who your audience is, where they are, and what they are interested in, customer profiles are built.
Need help creating one? We got you covered. Here is a canvas that can guide you through building a communications strategy.
Personal branding
Definition: Personal branding is the practice of marketing people and their careers as brands. It consists of articulating a simple, clear statement of who you are and doing it consistently so that your audience or network can identify you in a crowd.
Example:
When it comes to personal branding, no one does it better than former President Barack Obama. This is how his personal communication strategy focused on authenticity and charisma created a unique personal brand.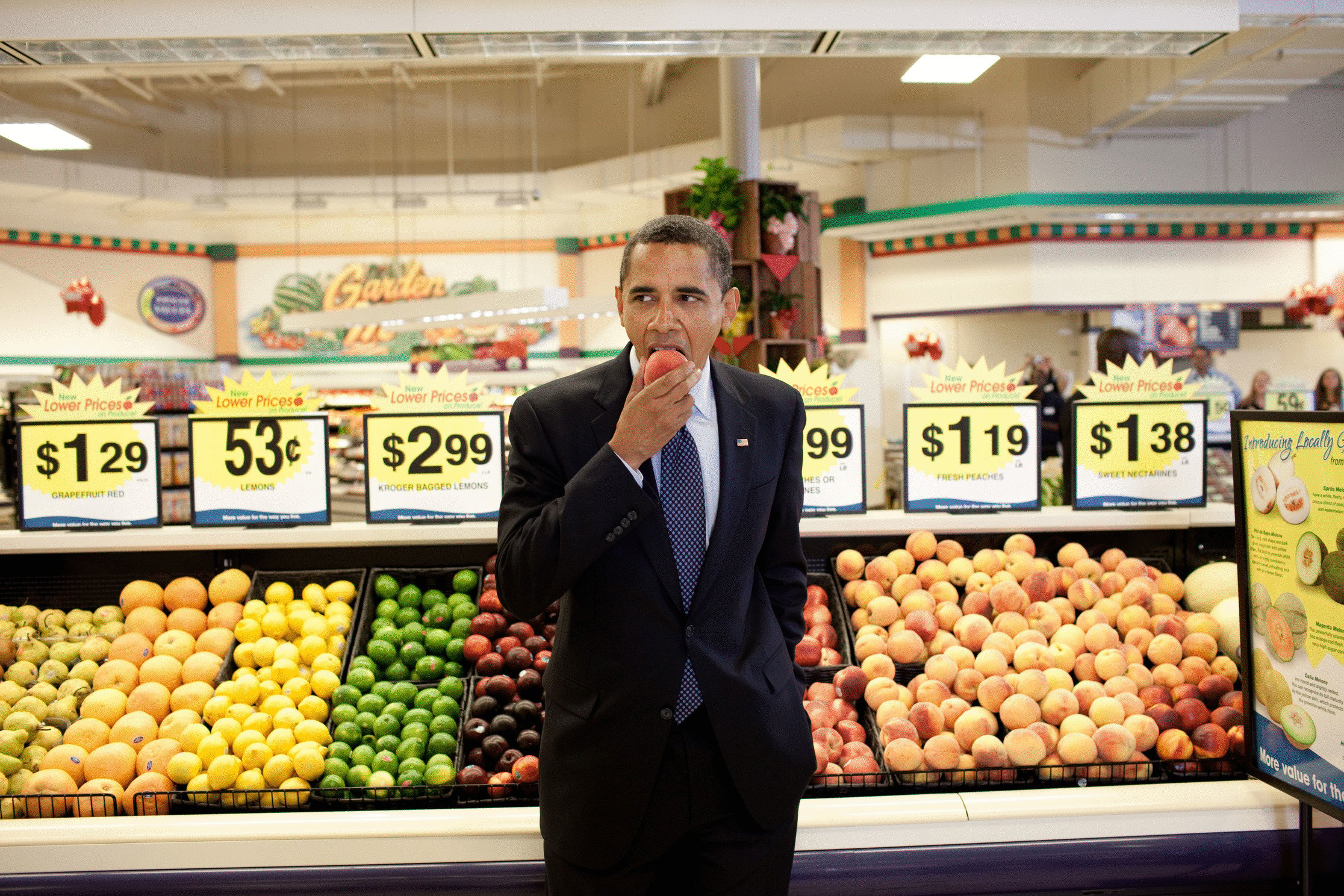 Pitch
Definition: A pitch is a short, personalized message targeted to media outlets that underlines the value of your story and explains why it's relevant to them or their audience. What makes a pitch successful is the ability to personalize it as much as possible and, at the same time, keep it under 400 words.
Press Release
Definition: A press release is an announcement on behalf of your brand or organization to the media professionals and beyond. Ideally, a press release should provide enough information (in one or two pages maximum, with links to more detailed information) so that journalists can write a story about your news. Therefore, press releases should answer the "who," "what," "why," and "where." Other elements that should be included in your press release are contact details, about information, quotes, and media.
Example:
Ready to start writing but don't know where to start? Here's our guide on how to write a press release, complete with templates for every event type, examples and tips from PR pros.
Press Page
Definition: Your press page is the public face of your brand. But unlike other news coverage, you control the narrative. It is the beating (well-curated) heart of your company. It is where journalists, customers and other Curious Georges go for the inside scoop. With a good press page, you make it ridiculously easy for the world to find your company news. In no time at all, they should be able to find out what you do, and why you do it.
A press page is made up of different components, such as your company's information, press kit, media clippings, and much more. Discover the ingredients to the perfect press page here.
Press pages differ from newsrooms in the sense that a press page is a single page on a website dedicated to press while a newsroom is a set of pages on your website dedicated to press. The latter can feature multiple language sites, search tools, local newsrooms for different markets, etc. Here's a one-pager example of a press page:

Looking for a tool to help you share your news with the world? We might be able to help.
Press list
Definition: A press list is a document with details of specific journalists, bloggers, writers, editors and influencers who create content for outlets that reach your audience.
You can either buy a press list or make one yourself. We asked three PR experts, active in very different industries, to share their tips on how to create a strong network of media contacts. This is what they said.
PRM
Definition: PRM stands for Public Relations Management and refers to the software that allows public relations teams and departments to manage relations with their press contacts.
Your PRM takes over if a simple Excel file doesn't cut it anymore, and allows you to manage more detailed profiles on your press contacts.
Example:
Media relations isn't a solo act. Whether you're working with an agency, a team abroad, or a journalist; a PRM platform can make teamwork easy. At pr.co, we've built one ourselves. Check out how its features can make collaboration seamless.
PR Software
Definition:

PR software are tools that can help PR professionals with their work. Examples of PR software are newsroom solutions, monitoring software, PRM, media databases, trend forecasting, among many others.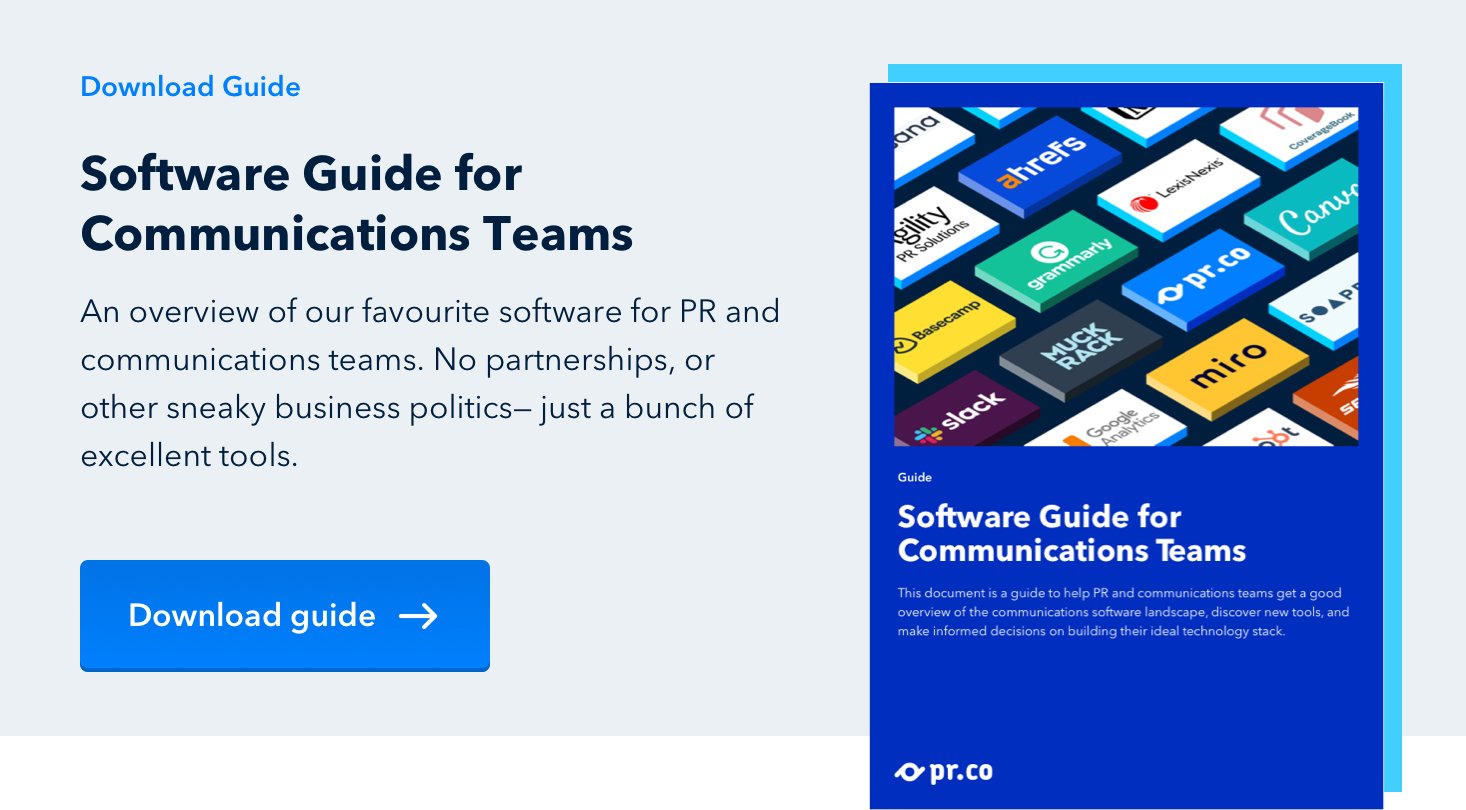 Public relations
Definition: The Public Relations Society of America defines public relations as "a strategic communication process that builds mutually beneficial relationships between organizations and their publics." Essentially, PR is about influencing, engaging with and building relationships with key stakeholders in order to influence the public perception of an organization. There are many functions that fall under public relations such crisis communications, internal communications, investor relations, events, content creation, etc.
Purpose
Definition: Merriam Webster dictionary describes purpose as the reason why something is done. In a business context, purpose is "an organisation's meaningful and enduring reason to exist that aligns with long-term financial performance, provides a clear context for daily decision making, and unifies and motivates relevant stakeholders".
In our 10 years of running a PR software company, we've seen countless press releases bomb, and paid close attention to those who haven't. What we found in common is that what makes PR excel and rise above the noise is purpose. We even wrote a whole book about it. You can download it for free here.
Purpose washing
Definition: Purpose-washing refers to presenting your brand as if it operates according to a larger purpose, when in reality it only operates to serve itself.
Example:
Consumers are becoming more conscious of the role brands play in society. In fact, according to a global study, 64% of respondents identify themselves as belief-driven buyers, referring to the way they shop or boycott a brand based on their stand on societal issues.
With more companies transforming their operation and products to become purpose-driven, there has also been a rise in purpose-washing brands.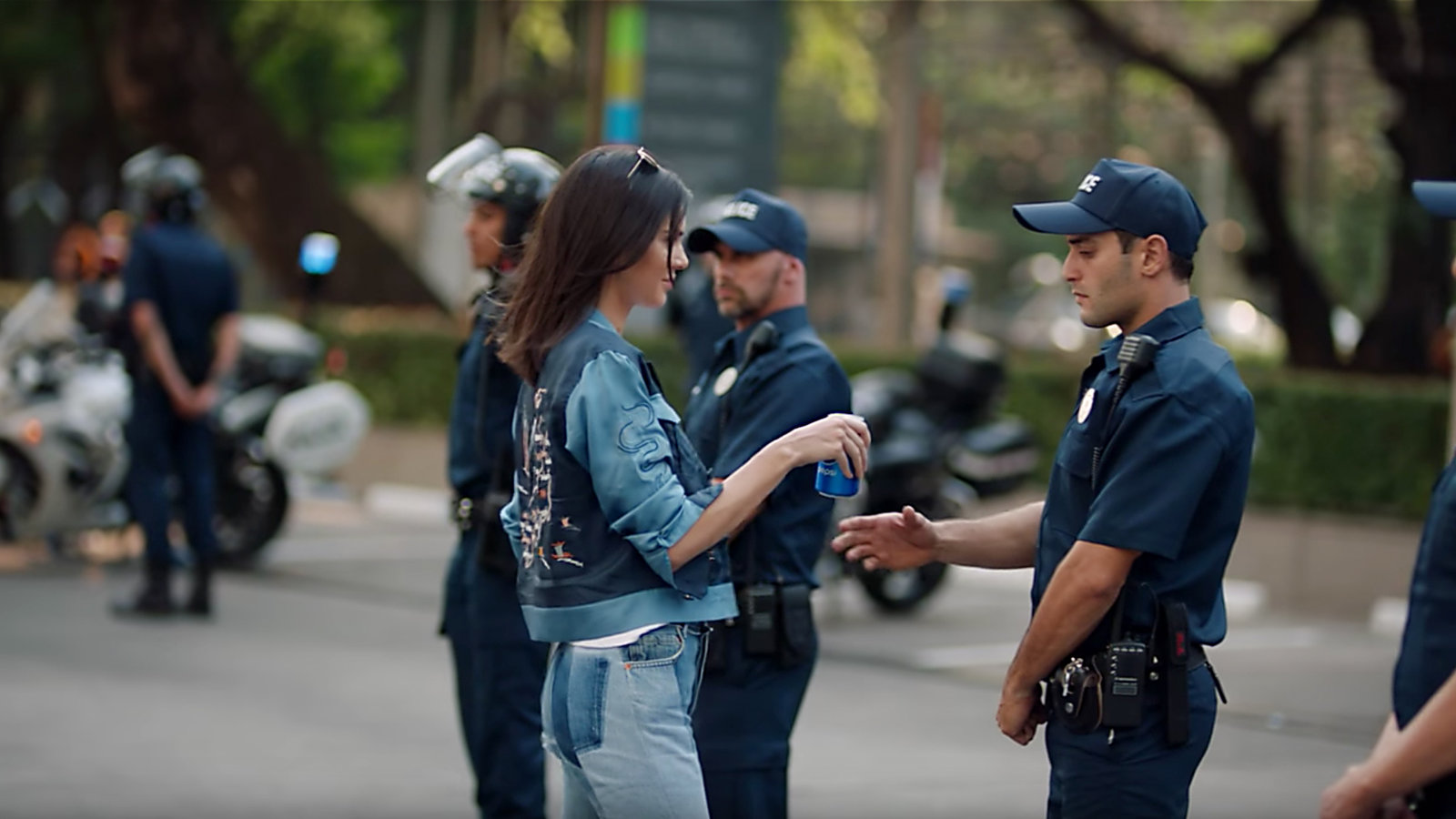 Critics accused Pepsi of appropriating imagery from serious protests in order to sell their product. Source: The New York Times.
Take Pepsi's failed commercial featuring their take on Black Lives Matter. Their attempt to position themselves as a conscious brand was not successful because it was tone deaf. It made protesting for a serious cause seem like something hip people do. It lacked a connection to purpose. The brand immediately faced backlash on social media for trivializing Black Lives Matter. As a consequence, Pepsi had to pull the ad from TV and social media channels less than 48 hours after it was aired.
Reach
Definition: Reach refers to the total number of individuals who were able to see, read, or hear your content. This applies to traditional media and online channels as well.
Reactive PR - newsjacking
Definition:

Reactive PR or newsjacking refers to the way a brand can capitalize on the popularity of a news story in order to be featured in media outlets, and eventually, increase brand awareness or sales. Think of newsjacking as riding out a popularity wave. For example, let's say there is a breaking story about a problem in your industry and your company offers a solution to it. Newsjacking would mean sending out a reactive pitch to media outlets, referencing the problem in the news and showing how your solution can fix it.
Example:
Former U.S. president Donald Trump frequently fuelled debates on immigration when his administration tightened border policies with Mexico. AeroMexico newsjacked this controversial decision with an ad campaign offering Americans discounts on plane tickets based on the percentage of Mexican descent revealed in their DNA tests.
RSS feeds
Definition: RSS is a web feed that allows users to receive notifications and updates from websites they are subscribed to. These feeds can allow users to keep track of many different websites in a single news aggregator.
A while ago, we sat down with a Dutch journalist who shared with us how they find their news:.
"I have a curated Google News Feed. I personally don't use any RSS readers, but I know some of my colleagues like to track news through RSS feeds."
We have previously removed the RSS functionality from our customers' newsrooms thinking it was outdated; shortly after a ton of reporters flooded our support inbox to ask what happened with their RSS connection. Low-hanging fruit, use it!
Reputation Management
Definition: Reputation management refers to the effort to influence how people think of a brand, company or person. The goal of reputation management is to influence the media to shape the public perception in a favorable light.
Return on investment (ROI)
Definition: Return on investment is a performance measure that evaluates the efficiency of a PR campaign or action. In PR, ROI is a measure to show how profitable a campaign is. This measurement can be divided into two categories. First, ROI can be measured in terms of economic gains like sales revenue. It can also be measured in terms of earned media that enhance a brand's credibility, which can indirectly affect sales revenue.
There is no secret formula to determine success in PR. It really comes down to which goals you set. To help you get on your way, we've gathered some examples of objectives, lag measures and lead measures for PR teams.

Sentiment Analysis
Definition: Sentiment analysis in public relations is a tool used to measure what is being said about your brand, your competitors, and industry and if those comments are positive, negative or neutral. This information is vastly useful for PR teams as it allows them to assess whether their event, new product, speech, or interview hits the mark or falls flat. Sentiment is tracked by some monitoring tools.
We predict sentiment analysis will become an important skill for the future of PR. Here are 6 other skills PR pros should master.
SEO
Definition:SEO stands for search engine optimization. To put it simply, it is defined as the process of improving your site and content in order to increase its visibility for relevant searches. The more visible your site is in search rankings, the more likely you are to harness attention and attract leads and customers. We spoke to SEO expert Arnout Hellemans - who's set up SEO strategies for brands like RBS, TNW and Leaseweb - for some top tips on how people in PR can leverage SEO. Read the full interview.
Shared media
Definition: Shared media is a categorization within the PESO model that refers to the channels where both you and your audience live - namely, social media. In social media channels, your audience and your community already talk about you, your competitors, and industry topics. Shared channels are great for distributing news to stakeholders; either as an article in your newsroom, or as press coverage.
Example:
Your social channels, LinkedIn, Twitter, perhaps even Instagram, are perfect channels to connect with media professionals covering your industry. Try to share company and industry news, and thought-provoking articles. Ask for opinions, share work from your press contacts, and invite contacts for press events. With most journalist's inboxes overflowing, even pitching might be best done via your social accounts.
Social monitoring
Definition: Social monitoring is the mechanism used to assess what is being said about brands on social media in particular. The comments measured can be either positive, negative or neutral.
Spokesperson
Definition: A spokesperson is an individual selected to represent and speak on behalf of a brand or organization. As the face and voice of your brand, a Spokesperson is the gatekeeper of your brand's reputation.
But what makes a good spokesperson? We sat down to chat with one of the best spokespersons in the game. Here are his tips, tricks, and advice.
Stakeholder
Definition: The term stakeholder refers to the groups of people who are affected and affect the decisions made by an organization. These groups include internal publics such as employees and board members, and external publics like customers, communities, suppliers, and government.
Storytelling
Definition: To put it simply, storytelling is the art of sharing stories. This technique has utmost importance in the PR industry as it offers a channel through which a brand can communicate its values, influence perceptions, and motivate behaviors. What makes storytelling different from simply sharing information is the emotional aspect. When storytelling is applied, audiences are exposed to an emotional experience, which makes stories memorable.
Example:
Here is an example that is close to our hearts - Veloretti's campaign featuring the role of the bicycle in our home city, Amsterdam. Without ever explicitly stating the importance of two wheels to Amsterdammers, it eloquently shows it through storytelling.
Style guide
Definition: A style guide is a set of standards and best practices for the writing of documents. This tool provides uniformity in style and formatting within a certain industry.
When writing a press release, keep in mind that journalists adhere to specific style guidelines, namely the Associated Press style guide. This guide provides consistency in terms of spelling, punctuation, language use, formatting, and style of writing. Check out their guidelines here.
Thought leadership
Definition: Tim Prizeman, owner of PR agency Kelso consulting, defines thought leadership as 'original ideas with important implications, backed by evidence, clearly expressed, publicly discussed, that strongly influence the opinion of others'.
This tactic can be used to build credibility for a brand or representatives of an organization. The objective of thought leadership is to establish oneself as an expert by providing value to readers through helpful content. That way thought leaders will be their go-to source of information when needed.
Example:
As an example of thought leadership messaging, look at Spanx CEO Sara Blakey's Linkedin posts: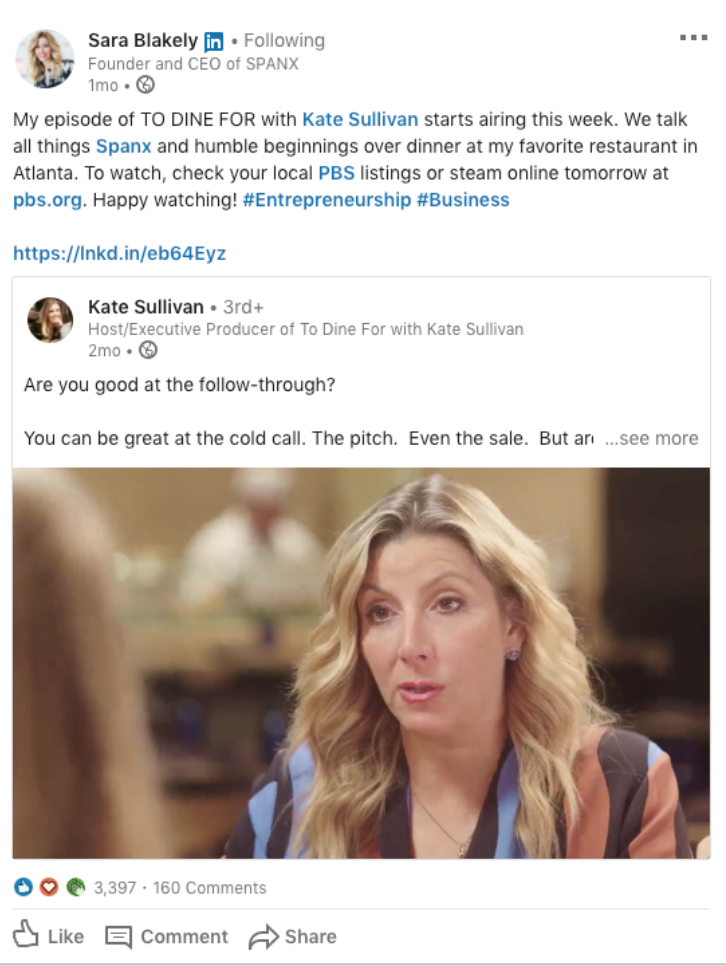 Tier publications
Definition: Tier publications refer to the classification of media outlets depending on their reach, impact, and audience. Here is a general classification of news outlets
Example:
Top tier or A-list: Generally includes national, mainstream, high circulation media outlets that have high impact and a large audience. These are normally household names of media, such as The New York Times or The Guardian.
Tier 2 or B-list: This tier consists of more specific media outlets such as regional newspapers. They have a high reach but have a more specific audience, which can make your media placement more efficient depending on your goals.
Tier 3 or C-list: Composed of local outlets, top industry blogs and publications that are closely related to your target audience.
Tier 4 or D-list: Local coverage in non-priority markets, smaller industry blogs, or other publications that aren't related to your industry.
Bonus tip: For B-list, C-list, or third-tier contacts in particular- many of our customers' segment contacts in their CRM by the contacts' preferred language. This is a great way to save yourself the awkward situation of accidentally sending a German pitch to English contacts.
TL;DR
Definition: TL;DR is a common acronym that stands for "Too Long; Didn't Read". It is usually used when something is too extensive and would require too much time to read.
Tone of voice
Definition: Tone of voice is how you communicate your brand's value to others. It includes the choice of language, frequency, and vocabulary. These choices depend on the channel, the audience and the context of the communication.
What's the difference between tone and voice? Mailchimp explains that the difference is context. "You have the same voice all the time, but your tone changes. You might use one tone when you're out to dinner with your closest friends, and a different tone when you're in a meeting with your boss. Your tone also changes depending on the emotional state of the person you're addressing. You wouldn't want to use the same tone of voice with someone who's scared or upset as you would with someone who's laughing."
Example:
Mailchimp's style and tone guide is a powerful tool that can give you some more insight on all things copywriting and content creation.
Traction
Definition: Traction refers to the interest in your brand/client. Whether that's measured in mentions by a media outlet or general buzz on social media - it means you found a great angle, story or message and are getting noticed. When an article that mentions your brand grows in reach and engagement, it is said to be gaining traction.
Trade Publication
Definition: Trade publications cover specific industries or sectors, such as construction, facility management, manufacturing, security, food and beverage, hospitality, technology and more. They publish business-to-business (B2B) content, such as company and/or industry news, thought leadership articles and industry trends, and may be print, digital or both. Picking this type of publication ensures that readers specifically interested in your story will see your placement.
Traditional media
Definition: Traditional media refers to offline communication channels such as radio, broadcast television, cable and satellite, print, and billboards. Remember newspapers?
Unique Selling Point/Proposition (USP)
Definition: A Unique Selling Point or Proposition, a.k.a. USP, is the marketing strategy used to differentiate a brand, products or services from the competition. This proposition will help you attract and retain customers as your brand begins to stand out in the marketplace.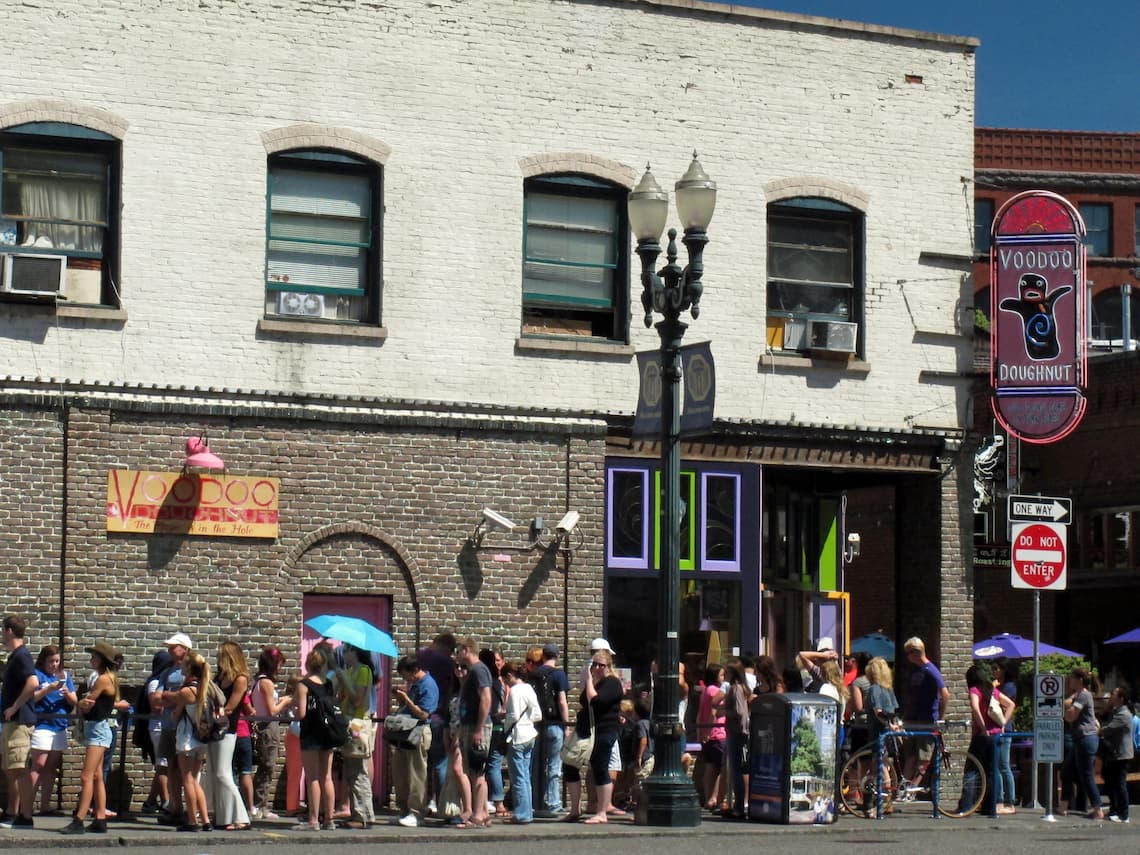 Can you guess what these people are lining up for? Nope, not a COVID test. Also not an underground techno club. It's Voodoo Doughnuts, a popular donut joint in Portland, Oregon. Donuts are a pretty popular sweet snack, especially in the U.S. So what makes people wait 30+ minutes to get a taste of this fried dough? You guessed it- it's the USP. Voodoo Donuts is unique because of the wide variety of donut types and flavors. It is rumored that the owners once experimented by adding Nyquil, an over the counter medication for the flu, in one of their creations. What makes Voodoo Donuts stand out from other shops is the experience.
Value proposition
Definition: A value proposition refers to the value a company promises to deliver to customers should they choose to buy their product. It is what makes them different from the competition and briefly explains what the company stands for, how it operates and why it deserves a user's business.
Example: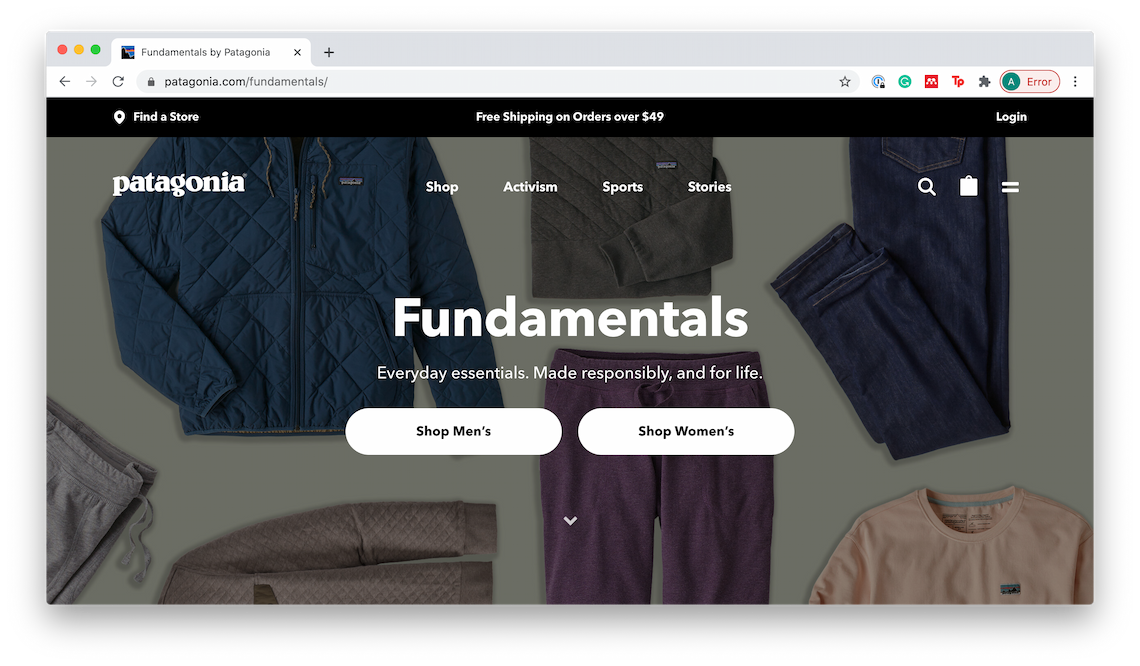 Patagonia is a brand that is committed to saving the planet. Their value proposition is based on making long-lasting products responsibly, which are better for people and the planet too. If you head to their website, you will find their value proposition perfectly summed up in 7 words.
Vanity metrics
Definition: Vanity metrics are statistics that appear to show you how your content or campaign is performing, but in reality, they don't. Another way to define it is by saying its things you can measure that simply don't matter. They're easily changed or manipulated, and they don't bear a direct correlation with numbers that speak to business success. Pageviews, for instance, don't necessarily tell you that your target audience is finding your website; it could also mean that an army of strangers accidentally rolled onto your website. They'll be leaving the page as soon as they can, or burying your customer support team under the craziest requests and questions you've ever read. Examples of vanity metrics are page views, impressions, and likes. Why would so many off-the-shelf analytics and reporting tools show you these vanity metrics then? Because they make their users feel good.
Viral
Definition: Viral is a term used to describe a piece of content - be it a video, an article, a meme - that rapidly spreads across the internet within a short period of time. What is common in viral content is the human emotion implied - be it humor, anger, sadness, or pure joy.
Example:
An image that was meant to be used as a stock photo became a universal meme. Here's a story on how it became viral.
Vision
Definition: Vision is a written statement that defines what an organization does, and most importantly, what it aspires to achieve in the future. Your vision statement should be forward-looking, motivating and inspirational and be reflective of what your company stands for.
Example:
Take Ace&Tate, an Amsterdam-based eyewear brand, as an example. They envision a bright future by leading the eyewear industry by becoming more accessible and sustainable.
Another example is Ikea: "Our vision is to create a better everyday life for the many people – for customers, but also for our co-workers and the people who work at our suppliers".
Voice
Definition: Voice is the footprint of your brand's communication. It is composed of the characteristics that make up a brand, including words and phrases that should be regularly used and those that should be avoided. If voice is your brand's written personality, then tone is how you express that personality. It changes depending on context.
Example:
-pr.co's response to COVID-19 (March, 2020): "If you are struggling in any other way, even if it is not related to pr.co directly, please reach out, we want to be as helpful as possible to our community during this time. We acknowledge that this is a time of economic and social uncertainty; so if your company is experiencing difficulty, we may be able to come up with solutions together."
-pr.co's response to COVID-19 (February, 2021): "Saying that our industry has changed is an understatement. 2020 mercilessly showed us how quickly things can take a turn. PR pros have had a tough year - from facing ever-changing news cycles to quickly putting together messages according to the crisis at hand. It hasn't been easy. But along with these challenges came opportunities."
Whitepaper
Definition: Whitepaper refers to a document, report, or guide that educates audiences by providing detailed information, analysis and research on a specific topic on which a company is an expert.
Example:
Over the past 10 years, we've learned a fair-share amount of lessons about PR. We've gathered them, compiled them into neat whitepapers that can help you and your team navigate through the many challenges that arise in public relations. We hope they come in handy sometime. Thank us later!
---
Did we miss anything? Send us a message and we'll make sure to add it to our dictionary.

Ana is a marketer at pr.co, and is the driving force behind our 100+ articles and guides. Ana has an MSc in Corporate Communications, and four years of experience in the PR industry. Now, Ana distills knowledge from pr.co's 250+ customers to help PR professionals get better results through high-quality content.. Connect on LinkedIn or send an email