Mike Butcher, Editor at Large at TechCrunch, once boldly stated that the press release is dead. We dare to disagree. Surely, the PR industry has adapted to the demands of the modern world. But, one thing's for sure, journalists today still rely on the output of PR pros.
The purpose behind putting together an efficient press release is to share company news. It's a tool that is used to communicate something newsworthy (we can't stress that enough) that has just occurred inside your company. We understand that the importance of a press release may make the task a bit intimidating. Fret not, we've got you covered. We've created a guide to help you write a press release and included templates, a checklist, and bonus tips from journalists.
Looking for templates for your next press release? Here are 10 press release templates for every event type.
We've done our best to compile everything you need to know to make your next release successful. It's a long article. In a hurry? Quickly jump to:
Why press releases matter
A press release is a strong ally when it comes to media relations. Here are several reasons why they matter:
Press releases allow you to build a community
Press releases inform your customers and stakeholders of what's been happening inside your company. Because releases keep them in the loop with what you've been working on, customers and stakeholders start to feel like they are part of your company.
Press releases help you control the narrative
Controlling the narrative isn't always granted in media relations, especially in a crisis. To gain control, you need to provide information. It's your job to inform, and a journalist might use that information to build their story. Providing a press release filled with details, assets, and interview opportunities will give the press more context to write your story and material in a way you feel is correct.
Press releases help you raise awareness

You've got big news to share - a press release is how to get it out into the world. The key to getting published is making your press release as complete as possible: this means including relevant details, offering powerful images, and of course by sharing a way to get in touch with you.

Press releases help bridge the gap between the media and PR pros
There is a symbiotic relationship between PR professionals and the press. PR pros need to get their organization in the headlines to build brand awareness and trust. The media, on the other hand, are looking to find exciting stories to catch their readers' attention. Ultimately, both journalists and PR pros rely on each other to achieve their goals. A killer press release will act as a bridge between these two parties, giving each side the solution to its needs.

Press releases can help you rank in search engines
If done right, press releases give you the opportunity to focus on another, and very important, growth strategy: search engine optimization. If you make sure you publish your release in an online newsroom and use strategic keywords, you will notice that they will start ranking in search engines -- which means you will eventually begin to notice an increase in traffic to your site.

Let's say your story gets featured on a news site. If an editor decides to add a link to your press release or website, you're in luck. Backlinks from reputable sites increase your ranking, and therefore the findability of your entire website, substantially. The more backlinks you get, the more search engines will show your domain in their results. These simple, yet powerful actions will help you boost your SEO.

While we're here, we need to debunk something: newswires do not help with backlinks. They haven't been of any help with ranking since the Google Penguin update in 2012. Save yourself some money, skip the newswire.

Press releases can help you build better products
Believe it or not, Amazon uses press releases to build better products. In their recent book, Working Backwards, Amazon executives Colin Bryar and Bill Carr, share an insider's look at the company's philosophy when it comes to product development. The authors reveal that every product you know from Amazon - ranging from Prime to Kindle, Alexa, and beyond - all started with a press release.

These press releases help them put the customer first, really digging into what the customer needs. If the press release resonates, they'll start working backward towards a product.

This exercise forces the development team to evaluate if the product or feature they want to build truly offers major benefits to customers. Since you don't usually write up press releases for incremental improvements, this exercise creates space for big thinking. If the press release doesn't sound like it will make waves, then maybe the product shouldn't be built in the first place. Amazon's product manager will then continue working on the press release until the benefits are truly remarkable, which in economic terms is a lot cheaper than tweaking the product itself.
How to write a press release?
Press releases generally have a specific format, and it's important you don't forget to add key information.
To make sure all your press releases are as good as they can be, we've created a step-by-step guide on how to write a solid press release. Our press release checklist might come in handy for your next release, download it below.
Here's what should be in your next press release:
An attention-grabbing headline




The headline is the most important part of your press release. On average, 5 times as many people read the headline as read the body copy. Summarize your main point in 10-20 words, be data-driven (keyword research!), and keep your reader's interests in mind.

Structured format
A structured format offers reporters an organized setup for your story. The first line should always feature the date and location of where the news takes place- it's your 30-second elevator pitch. Your release should answer the famous 5 W's: who, what, where, when, and why. Additional bullet points can help summarize key findings and your second or third paragraph provide more details for context. Mark the end of your press release with "###" centered above the boilerplate.


Use a factual writing style
PR's golden rule is show, don't tell. Your press release should provide factual information about the product, person, or event that you are covering. Don't overdo it with the adjectives and keep the fluff to a minimum.


Add a boilerplate
Not everyone is familiar with your organization. A boilerplate provides background information with a short summary of what your company does.



Include a media kit


You can't control what the press writes about you. But you can control the images they use. A media kit is a folder filled with downloadable assets that supplement a story; like high-resolution photos, videos, data visualizations, technical specifications. You can find more details on media kits here.
Investing in good photography is a smart move— journalists will thank you for it.


Use quotes
A human voice in a story gives it a personal touch— plus journalists typically use quotes to enrich their stories. Be strategic: quote key stakeholders to save journalists time and effort.



Include other coverage




Has your story been covered by another outlet? Link news articles to your press release to boost your credibility and trustworthiness. We've learned that journalists often use your coverage to source quotes for their stories.

Don't forget contact info
Including clear links to contact details and spokespeople is crucial so journalists can follow up by phone, email, or Linkedin. Accommodate their preferred medium with basic contact information such as name, role, phone number, email, and links to social media. To make it more appealing, make it clear that they will also have access to a representative of the company, such as the CEO.



Optimize for SEO & Analytics




Search engines use backlinks as a way to rank a website. If a high-ranking website provides a backlink to your website, it is likely that you will get some of that traffic; so incentivize journalists to link to your release. This could be a data source, a hosted report, extensive analysis, a fact sheet - anything to incentivize a publisher to link back to your domain.

For tracking purposes, it's important to add UTM codes to your URLs so that you can measure and analyze the performance of your sources. This is very simple, but crucial to be able to measure anything you do.
But do journalists really like receiving press releases?
Last year, we sat down to chat with Remy Ludo Gieling, Editor in Chief at Sprout, a Dutch business-oriented online magazine, to learn what happens on the receiving end of our press releases. You can read our full interview with Remy here.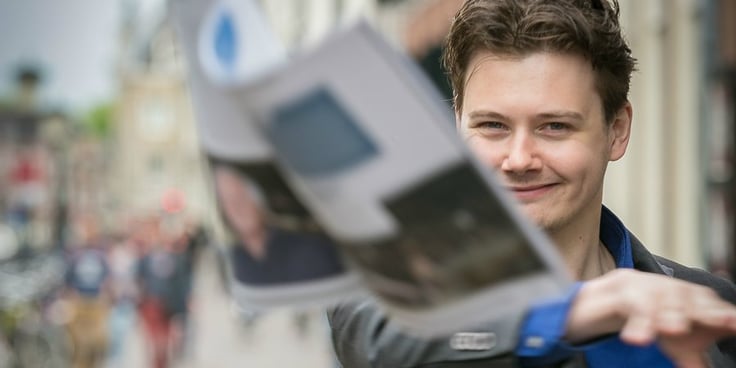 Which sources do you use to find news?
"We get our news through various sources. First of all, there's our editorial inbox, where people send their press releases. You know, we get around 300 - 400 press releases every day in the Sprout inbox. I'm quite active on LinkedIn. We're a business-oriented magazine, so LinkedIn is by far the best way to connect with my audience. Then next to that, I have a curated Google News Feed. Then, there's a group of people I know very well. Every now and then they reach out to me to share what they're working on. If it's something that might be interesting for the Sprout or Management Team audience, we'll work on an article together. My network, my curated feed, and LinkedIn are my primary sources to find news."
How do journalists find news?
Email




Remy explains:

"We get our news through various sources. First of all, there's our editorial inbox, where people send their press releases. You know, we get around 300 - 400 press releases every day in that inbox."


Social


"I'm quite active on LinkedIn. We're a business-oriented magazine, so LinkedIn is by far the best way to connect with my audience."


Curated news feeds and network




"I have a curated Google News Feed. Then, there's a group of people I know very well. Every now and then they reach out to me to share what they're working on. If it's something that might be interesting for the Sprout or Management Team audience, we'll work on an article together. My network, my curated feed, and LinkedIn are my primary sources to find news."
Which press releases make it to the cut?
"The press releases that are in line with the editorial guidelines. For journalists and publications that work in a niche, it's often easier to have clear editorial guidelines. For us, a story is only interesting if entrepreneurs can learn from it. These need to be real stories, with real experiences, not small investment news, or ideas. Ideas are like farts.
"What people often don't understand is that something they might be working on day in, day out, is not as interesting to others as it is to them. The fact that something is big news in their company doesn't mean that it adds any value to other people. In general, 99% of the press releases we receive are rubbish. Sometimes because it just doesn't fit our editorial guidelines, but most of the time because it's not newsworthy.
How should PR pros send you news?
"The worst thing you can do is send us a PDF. They're not easy to preview, it's a hassle to download them, and you can't use any images straight from PDFs. Our team prefers emails with the full press release in the body of the email, and with links to the full press release in your newsroom. "
What should teams provide you with in an online newsroom?
Brand assets

A news archive to give greater context

Previous coverage for more quotes and new angles

Clear links to contact details and spokespeople
Remy was pretty vocal about newsrooms. Curious to know what he said? Read our full interview here.
Examples of good press releases
The perfect press release wows journalists and stakeholders, all while remaining professional, truthful, and factual. Press releases differ per type of event, industry, and type of publication you're aiming for. Here are some examples of press releases from our clients to give you guidance for your next release.
Looking for more inspiration? Check out more examples of killer press releases for other event & industry types.
Which events can be newsworthy for a press release?
Product launches:
Your team has worked endlessly to offer the world a solution to a specific problem. But what makes it so different from other products on the market? Make your press release one to remember: use an angle in your writing to transform your story into a newsworthy one. I can't stress that enough: a newsworthy one. Companies launch new products every day, what makes your product so interesting?
Make sure to include product details. However, not all product details have to be included in your release. The geekiest ones can be added to a separate page on your website. This way, if you get published, editors can link back to the full product overview. These backlinks - especially from the big publications - are very good for SEO.
And of course, a picture is worth a thousand words. Make sure to add high-resolution product imagery.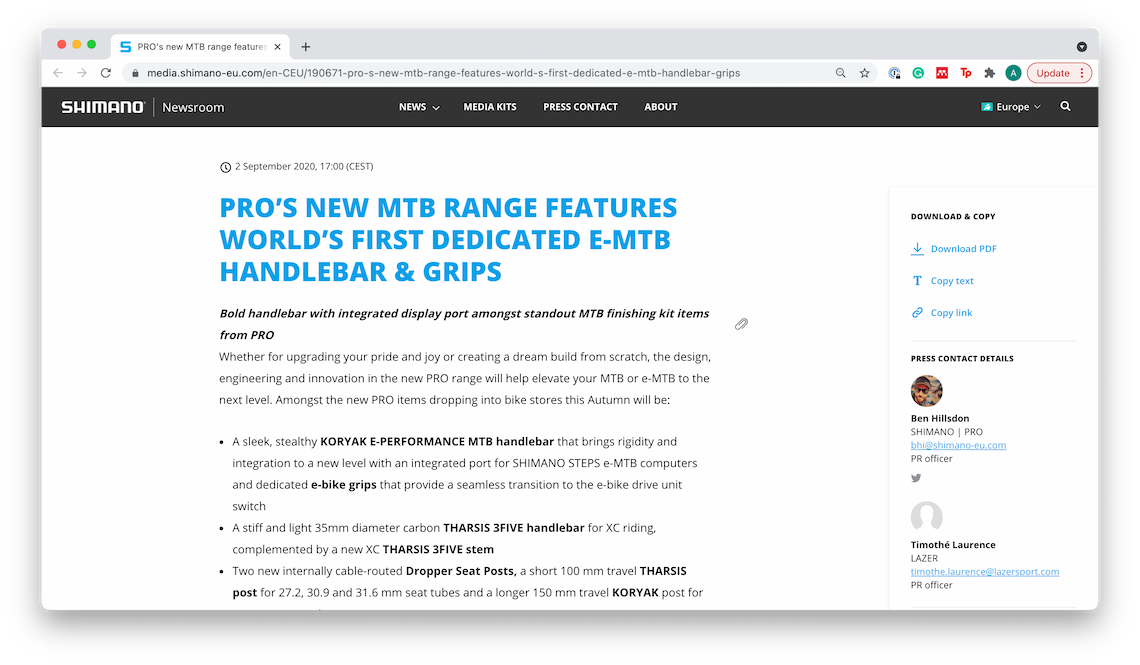 Check out Shimano's press release for the launch of their new product. See the release.
What's good about this release:
Journalists can easily find and download high-res photos of your product

A clear explanation of what the product offers

Product details such as measurements and materials
New hires - organizational change
Changes in your team structure, new hires, or retirements are bound to attract attention, especially if it's someone with a big track record. To do so adequately, provide readers with some context for the person joining or leaving your team. Add their previous accomplishments, new responsibilities, and quotes for a personable touch.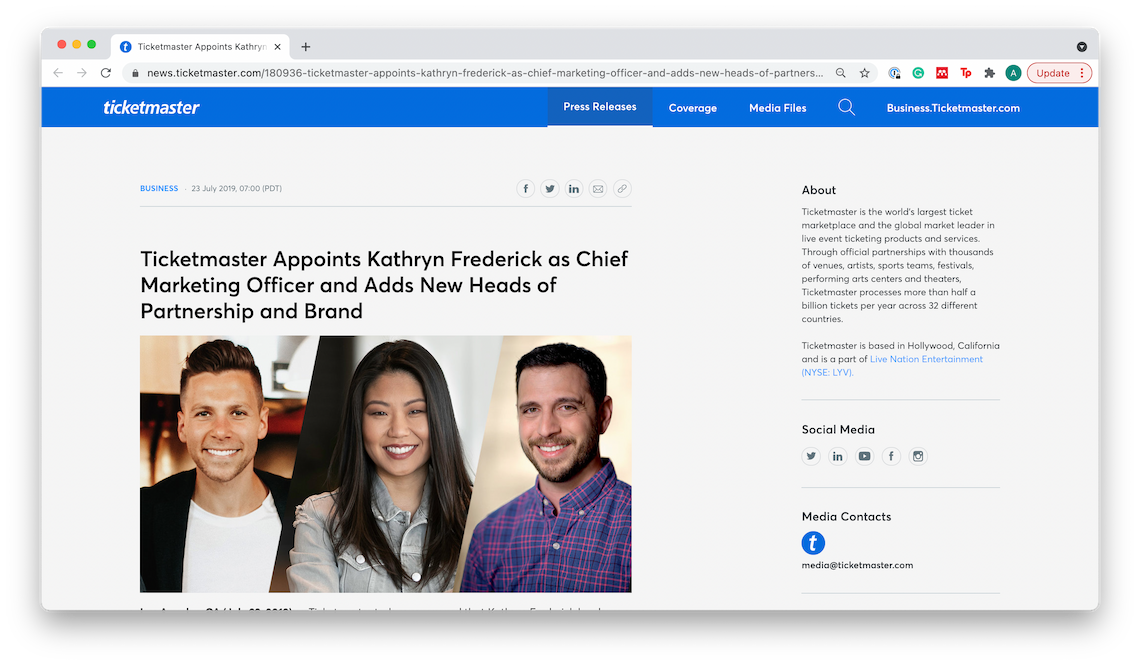 See how Ticketmaster announced their new CMO. See the release.
What's good about this release:
Includes quotes from other team members which highlight the benefit of having a new colleague on board.

A short 'about text' (or boilerplate) at the bottom of the press release provides context for journalists.

Images make it easier to identify the new team member.
Events & Grand Openings:
When it comes to events and grand openings, consider your press release a massive digital invitation. Before putting one together, determine what makes this event so important for your audience to know about.
Remember press releases can be sent out for a variety of events, including those that are closed to the general public or those that have already occurred. Although sending out a press release before an event is more common, there are multiple benefits of doing it post-event. For instance, you can emphasize the success of the event and increase the desire of participants to attend the following one. In any case, remember to feature practical details such as time, location, tickets, information on press viewings or press conferences.
Most importantly, what will make journalists pick up your story are the images and graphic material. An easily accessible media kit with beautiful images will dramatically improve your chances of getting published.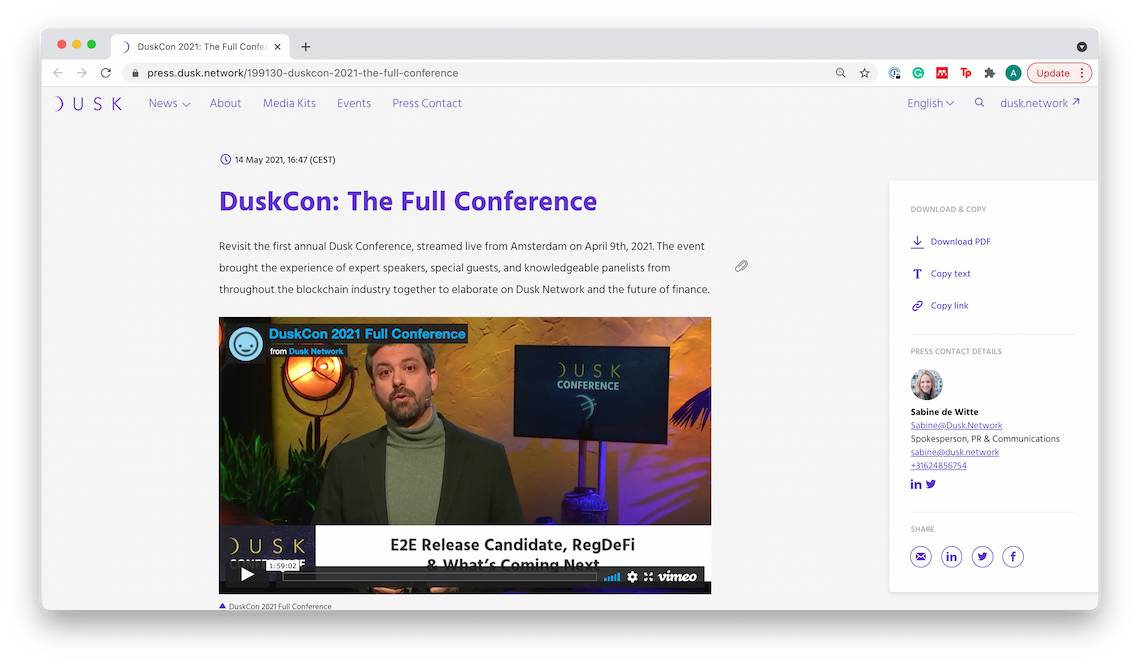 Check out how the Dusk Network promoted their event after it occurred. See the release.
What's good about this release:
A video of the conference is embedded in the press release for context

A short text explains how and where the event took place

Practical information such as contact details
Example press release for different industry types
Healthcare
One of the most important things to keep in mind - regardless of the industry you're in - is the intricate balance between style and substance. While your press release should be factual information, it's also important to keep it interesting. This is especially true in the healthcare industry. Leave out the dry, technical language and give your story an angle. Here are a couple of ways you can use your press release to communicate your news:
Show community involvement,

Share results of studies, achievements or awards,

Announce participation in conferences,

Reveal exciting patient milestones,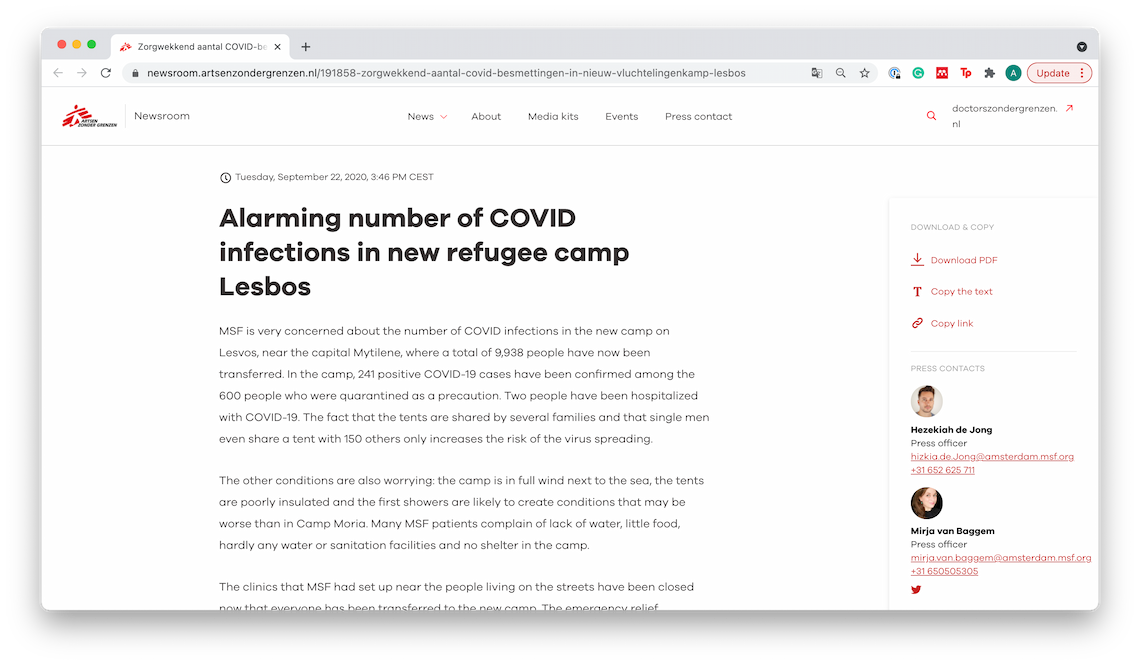 Artsen zonder Grenzen (Doctors Without Borders) is one of the most well-known NGOs in the healthcare industry. See their release.
What's good about this release:
Factual information backed by statistics

A well-organized media kit

Spokesperson contact details
Public sector:
Governmental press releases differ from commercial ones. The former do not advertise a product or service as the latter do. What sets these press releases apart is the sense of accountability, enabled by the transparency of sharing trusted information about new policies or changes. In order to do so, use concise language and be straightforward with your writing style.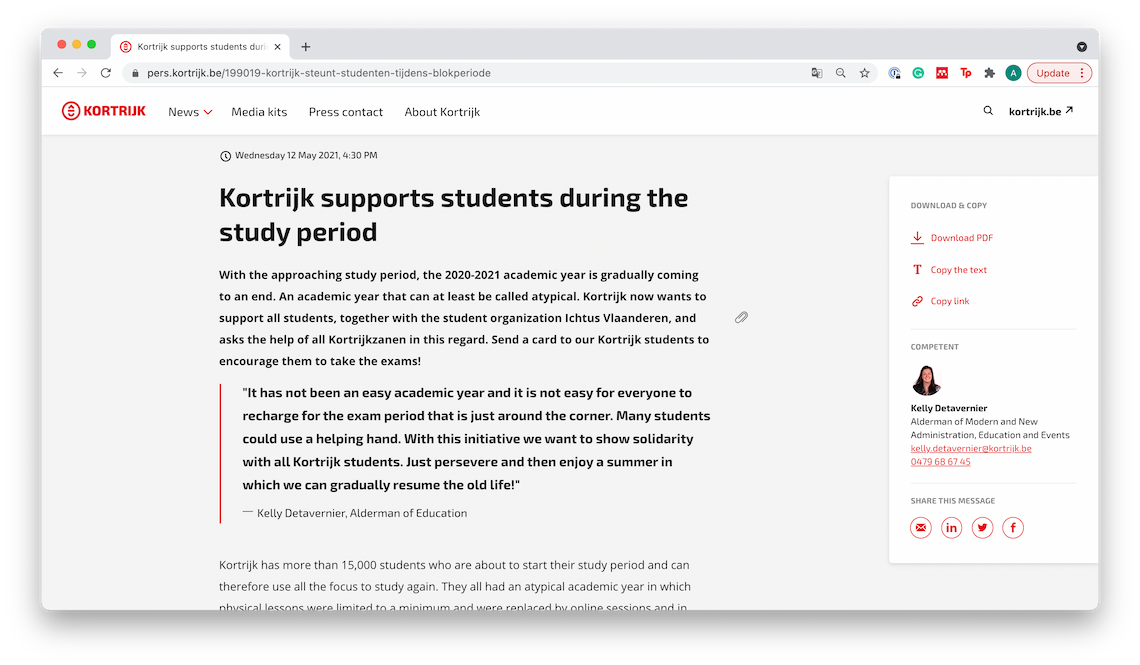 Check out how the Belgian city of Kortrijk announces its news. See the release.
What's good about this release:
Concise information on new actions

Quotes from experts

Spokesperson contact details
NGO:
Granted, the best way to catch your reader's attention is by telling a story. A press release for an NGO is not an exemption. Be mindful not to oversell your press release - make sure to let the journalist make up their mind about your news instead.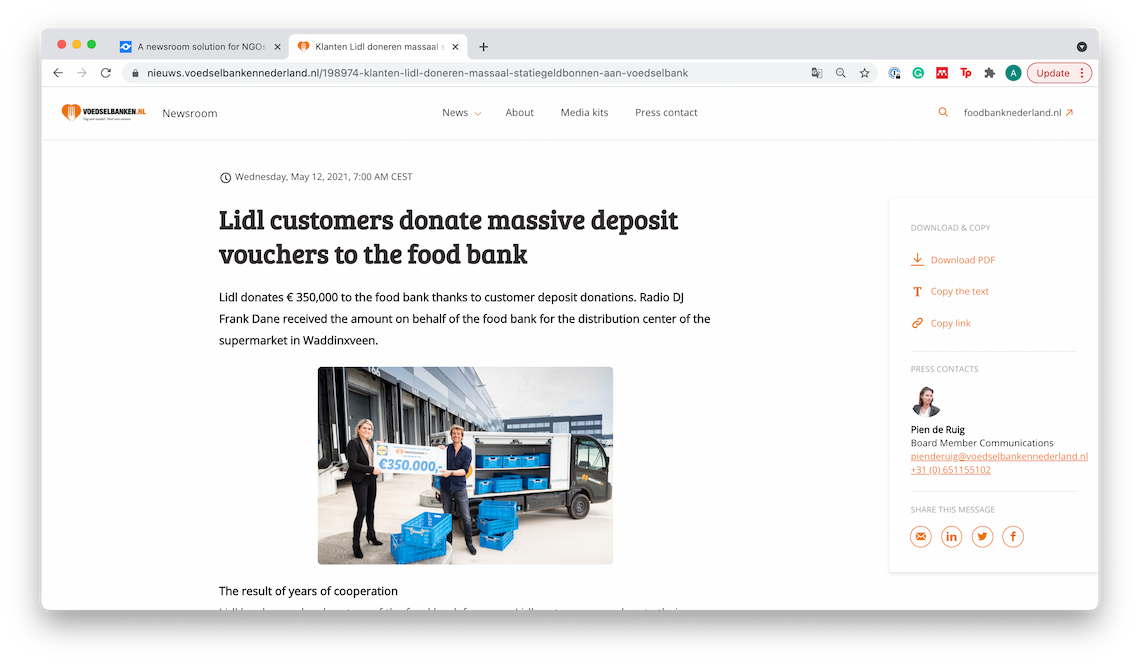 See how Voedselbanken structures their press releases. See the release.
What's good about this release:
Very clear headline

Quotes from different organizations involved

Spokesperson contact details
Technology:
You may have heard it mentioned a couple of times - they say tech is the new finance. As the industry becomes more competitive, pitches become more creative. To rise above the noise, be straightforward and strategic. Use the power of the press release to achieve a specific goal. What is it that you want to achieve with this piece? If you want to impress seasoned journalists, remember to add up-to-date statistics and easy access to your spokesperson.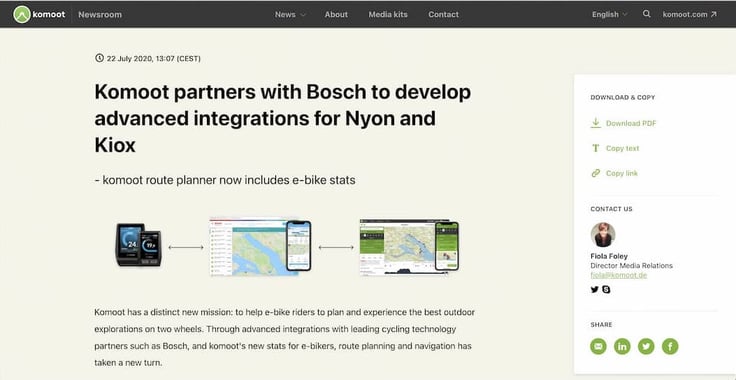 See how Komoot announces their news. See the release.
What's good about this release:
External links to reports that assure credibility and guarantee backlinks to your page

Boilerplates on both Givebutter and G2 to give journalist more context
There's more where that came from. Here are 15+ press release examples for other events and industries.
Press release templates
Now that you've got the full picture, are you ready to craft your very own press release? We can help! We've gathered 10 examples of templates for different event types to help you get started.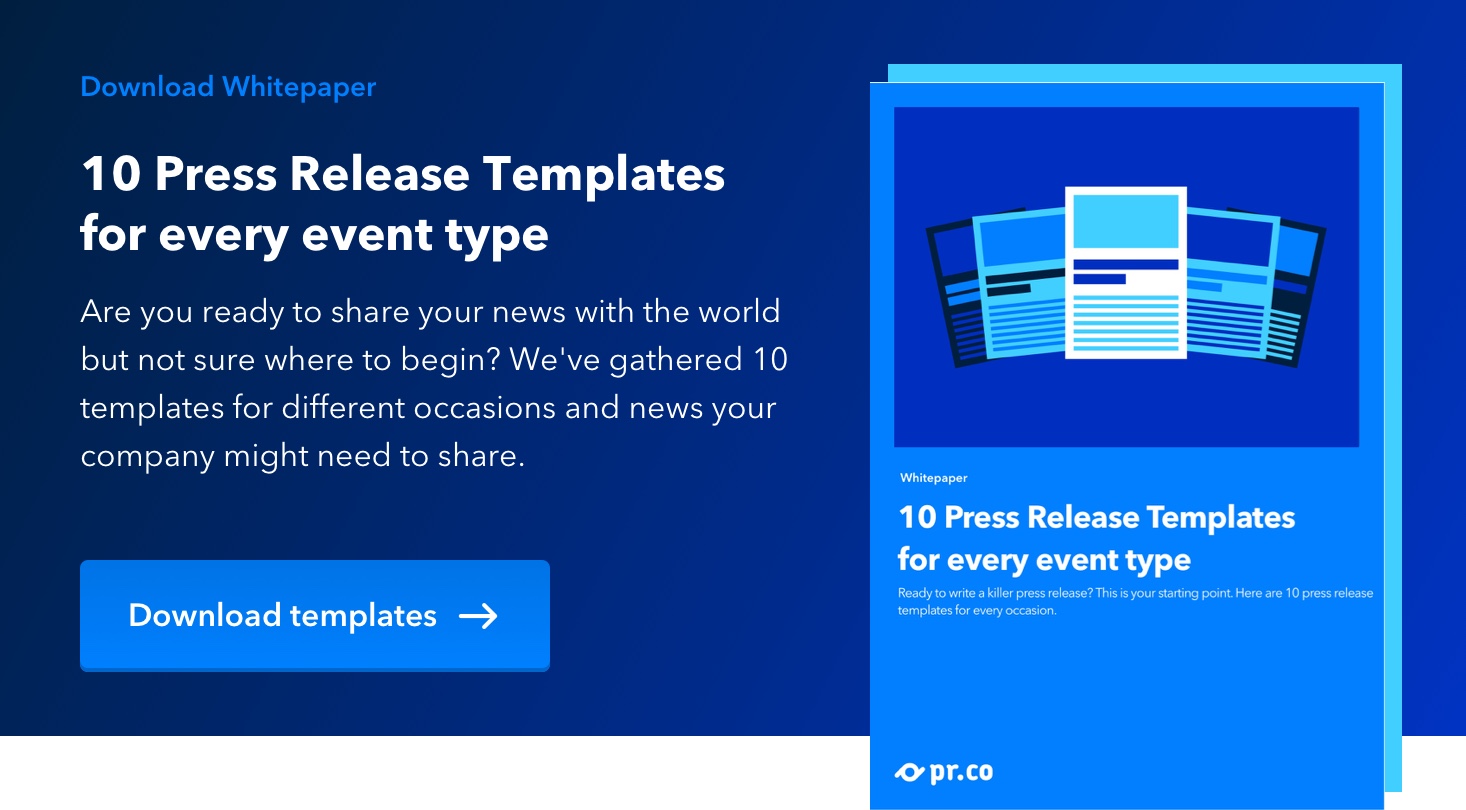 Here is how to write a press release for a product or service launch. If you are looking for other event types and occasions, you can find more templates here.
---
Product/Service Launch Press release
FOR IMMEDIATE RELEASE (Date)
(Contact Name)
(Organization name)
(Email)
(Phone number)
(Press release headline)
(Press release description - keep it under one line or 25 words)
(Location, Date): (Company name) is excited to announce the launch of (name of product/service), a new (description of product/service). This new (product/service) offers customers (basis of new product/service). The official launch date is (launch date).
(Company name) is betting on (further information about the product/service). This new (product/service) promises (benefits to consumers).
(Add image, video, or link to media kit/newsroom)
(Quote #1 from high-executive in your company)
Product/service benefit #1
Product/service benefit #2
Product/service benefit #3
(Quote #2 from industry expert/board member/consumer/influencer - pretty much anyone that can establish credibility on your behalf)
(Product/Service) will be available in (place) on (date) at the price of (price). For more information, visit (link to newsroom or website).
For more information, contact:
(Spokesperson Name & Last name)
(Spokesperson phone number)
(Spokesperson email)
(Spokesperson Social media info -- Twitter, LinkedIn)
Boilerplate: A short description, about 3-4 sentences long, that describes what your company does. You can include metric information such as the number of customers, employees, capital raised. You can also include awards or recognitions you have received or even your mission statement.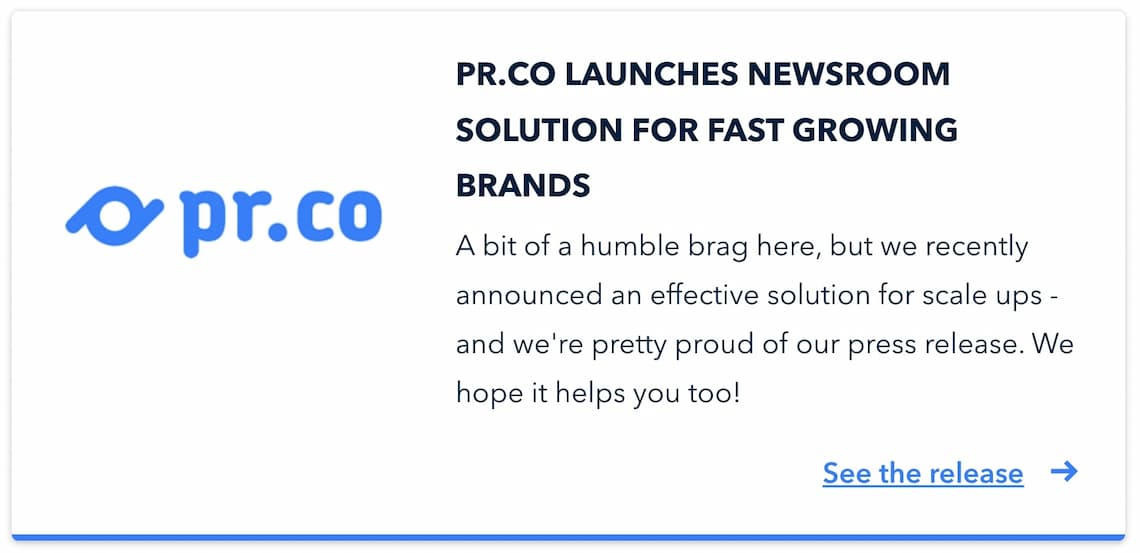 Now that you've got your press release ready to go - the next step is pitching. We sat down with PR pros who shared valuable insight on what works (and what doesn't work) when it comes to reaching out to your media database.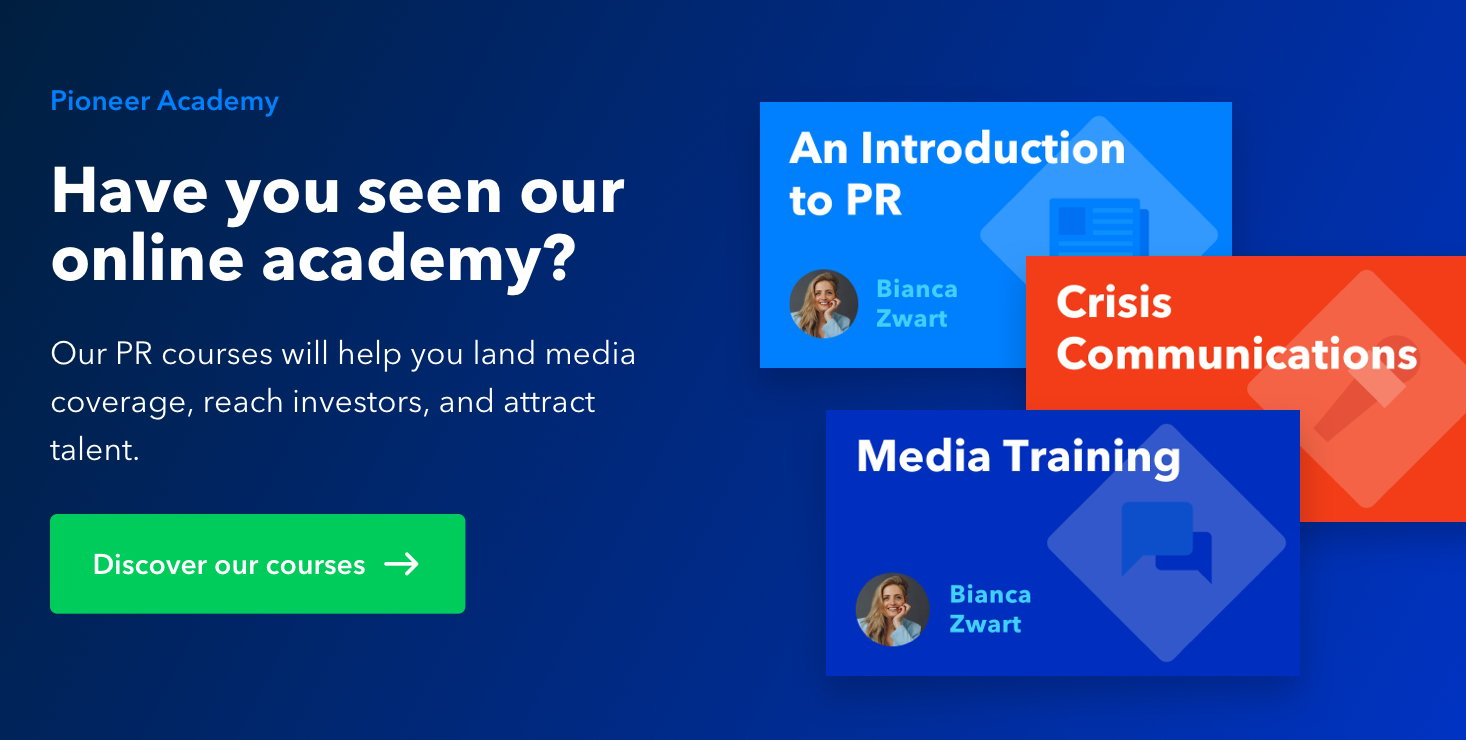 Ana is a marketer at pr.co, and is the driving force behind our 100+ articles and guides. Ana has an MSc in Corporate Communications, and four years of experience in the PR industry. Now, Ana distills knowledge from pr.co's 250+ customers to help PR professionals get better results through high-quality content.. Connect on LinkedIn or send an email