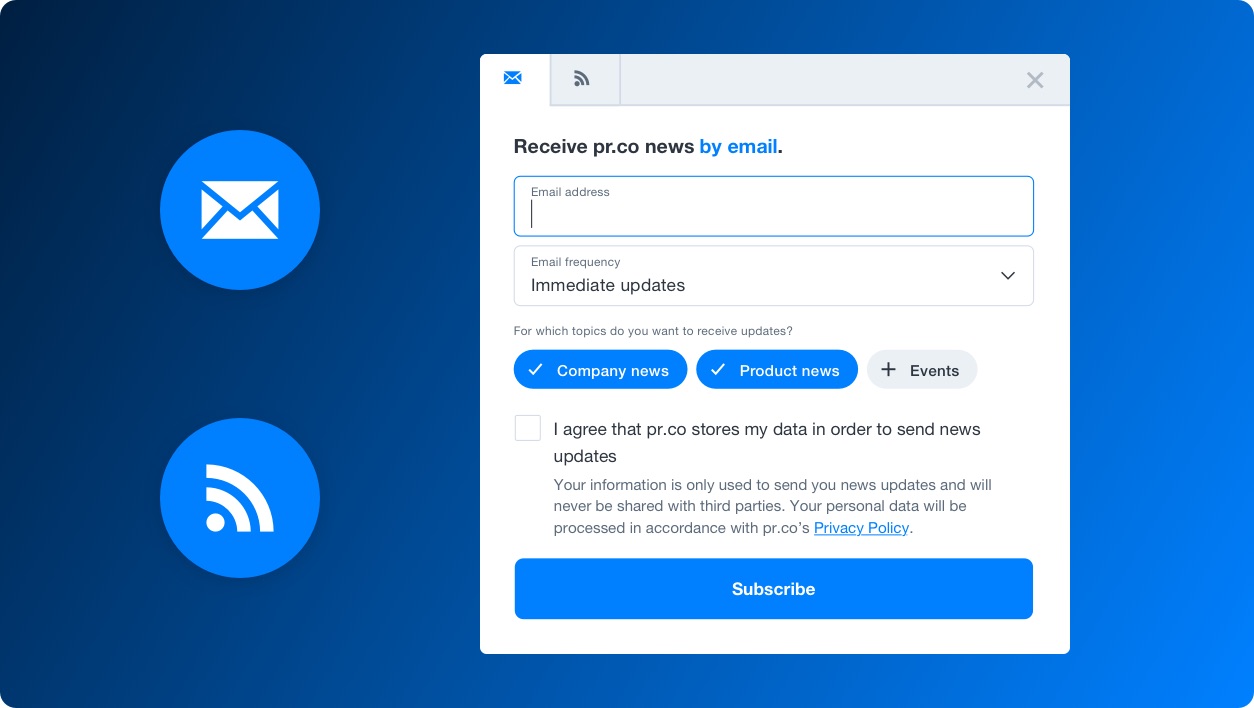 Update: a better experience for your subscribers
This release is all about helping your subscribers stay up-to-date with your news — the way they prefer. Here's what's improved:
Improved subscriber experience for journalists
A good user experience is easy, and includes minimum effort. To make it easier for journalists to subscribe from anywhere and any device, we have redesigned the email and RSS subscribe forms to work like a charm on mobile and desktop screen sizes.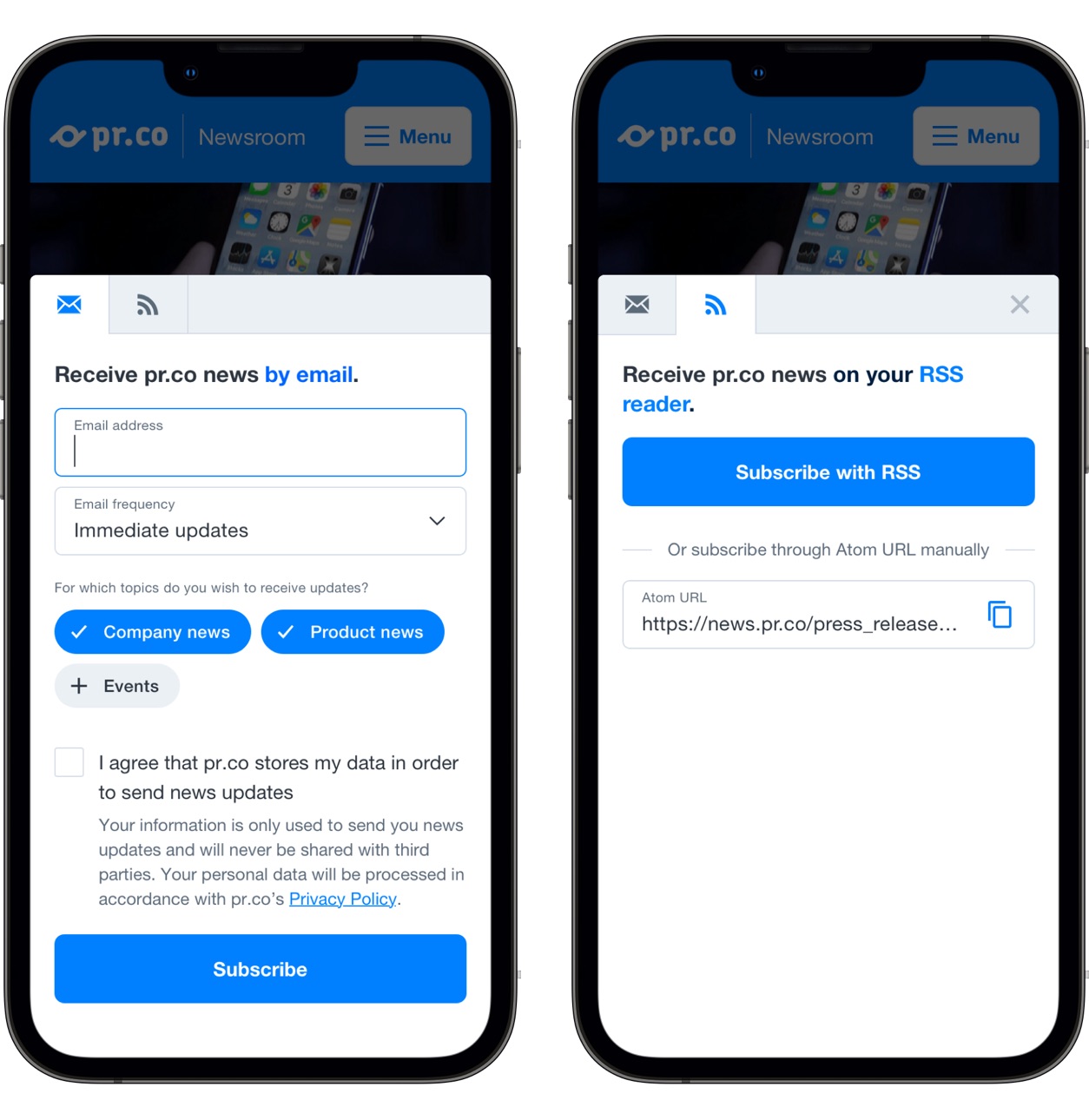 You can also directly link towards the subscribe modal by appending #subscribe to your newsroom URL, i.e. http://news.pr.co/#subscribe.
After someone subscribes by email, subscribers receive a confirmation in their email (double opt-in). We gave that email a nice makeover; it now shows a visual overview of their new subscription.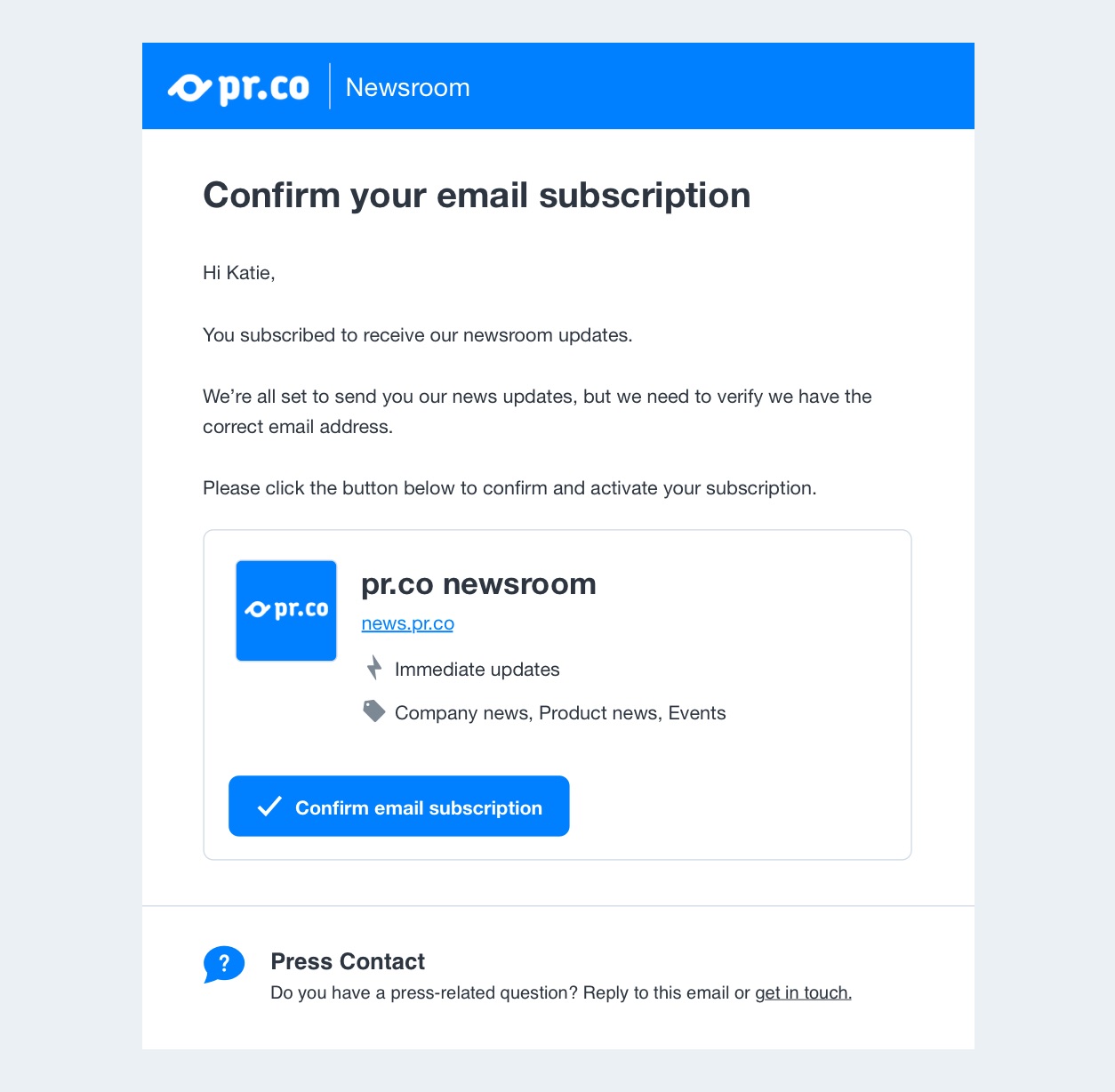 Journalists can now subscribe to just those news topics that interest them
Journalists have often shared with us that they receive loads of irrelevant stuff in their inboxes. We need to respect their time. With this update, journalists can choose for which news topics they want to receive updates. So that only news relevant to their interest, industry or niche ends up in their inbox. Additionally, this feature gives you a neat insight: who's interested in which news.

News digests are sent at fixed times
Journalists have different preferences when it comes down to when they want to receive your news updates. Some prefer updates immediately, while others rather receive them less frequently.
Before this update, we sent news digest emails relative to the day and time someone subscribed. E.g. if you subscribed to weekly digests on a Tuesday at 11:00, weekly digests were sent to you on Tuesdays at 11:00. News published after 11:00 wouldn't make the cut. We have changed that so that emails are sent at the end of the day, week or month.
Subscriber emails are now sent at the following times:
Daily digests, daily at 02:00
Weekly digests, Mondays at 02:00
Monthly digests, first day of the month at 02:00
Immediate updates, immediately. (Nothing has changed here.)
Note: We base the new send times on your newsroom's timezone setting. E.g. if your newsroom is set to GMT+02:00, we send digest emails at 02:00 in that timezone.
There you go; a bundle of improvements and new features to help you and your subscribers stay updated.
Talk again soon!