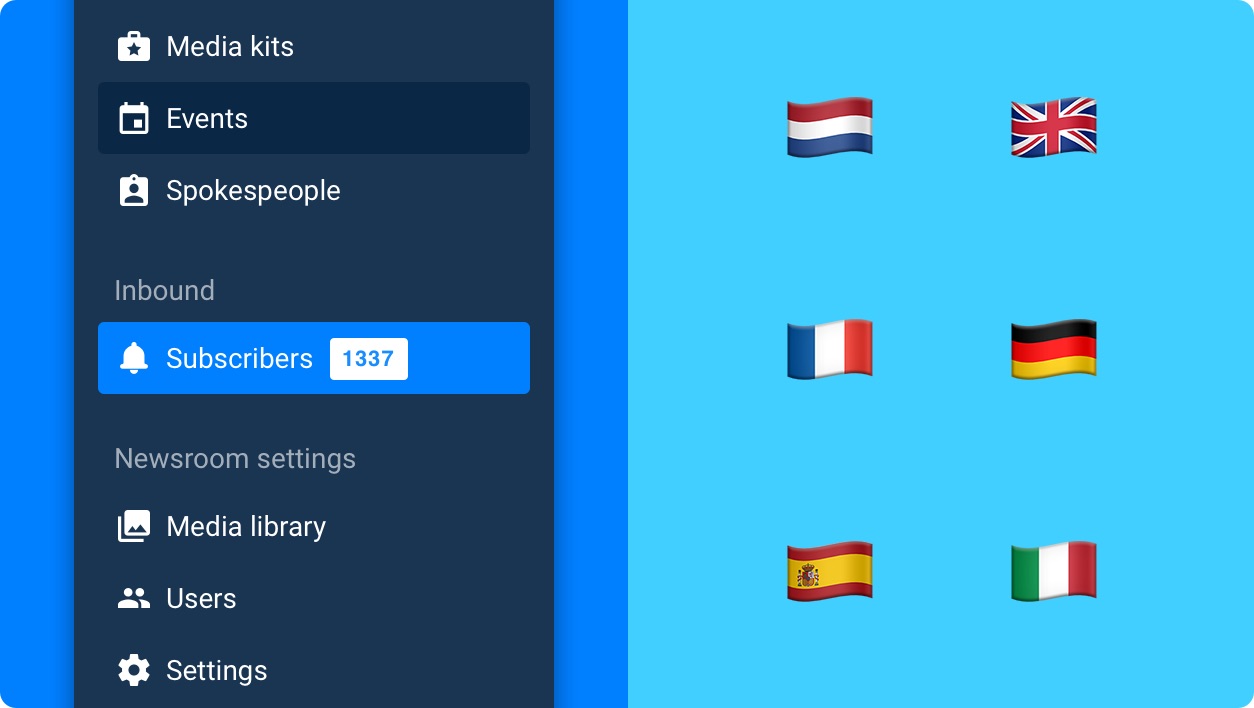 Improved navigation overview, new languages & more
🗂 Sidebar sections for improved overview
We grouped related page links in the sidebar and divided them into separate sections. We've also renamed some pages to reflect their purpose better and to make sure you get to the page you're looking for, faster.
✨ Page titles now have a shiny icon
A cosmetic improvement that not only looks pretty but also reduces cognitive load and shows you which page you're on in the blink of an eye.
🤟 Newsrooms are now available in six languages
We now offer full language support for our newsrooms in:
Dutch 🇳🇱

English 🇬🇧

French 🇫🇷

German 🇩🇪

Italian 🇮🇹

Spanish 🇪🇸
Do you have a multi-country newsroom set up with one of the languages above? As of today, all pages and transactional emails are 100% translated. Our linguists made sure your newsroom and emails are consistent, and sound friendly and helpful.
☑️ Selecting a spokesperson on the release settings page is now easier
Before, you needed to exactly click on the check box to add a spokesperson to a release. Now, the whole spokesperson card is clickable.
🎙 Fill in spokesperson social media details without errors
The input fields for spokesperson social media details now have a prefix that clarifies that you need to fill in their handle and not a URL.
👀 New app icon
Our app (fav)icon has had a facelift as well. It's now more aligned with our app and stands out better among other open browser tabs.
Fixed
We fixed a bug that prevented some users from saving a clipping. This bug only occurred to users with a particular newsroom configuration.

We fixed a bug that prevented a clipping from being created if the uploaded image was too big.

We fixed a bug that showed an unwanted vertical scrollbar in the tags tab bar.