Spotify, Google Maps, Uber, Reddit, Instagram; we use (most) of these services every day. Modern software is a personal goldmine, cooking us dinner when we're tired, showing us the fastest route when we are lost, and making us laugh when we've had a long day.
Software helps you do more, with less; you get more output, or output of higher quality, with fewer resources. Good news, right? Yes, but it also means that you're under more pressure from the higher expectations of your managers and your increasingly productive competitors. To stay ahead of the game in 2023, you need the right tools.
If I want to get more done, why wouldn't I just increase my team size?
A good communications strategy likely includes a lot of components: media relations, thought leadership, social, internal comms, content marketing, and investor relations... As a communications team, you need to plan, execute, and measure each of these components. In order to do a good job across the entire strategy, companies have two options: they hire more people, or they find ways to do more with the same amount of people.
If you have the resources, hiring more people sounds like a good idea, right? It's not, but unfortunately, managers too often make this mistake. Back in 1975 already, Fred Brooks wrote the Mythical Man-month, a book initially written for software engineering teams, but applicable for anyone managing complex projects. I think we can all agree communications strategies are complex projects these days.
Here's the thing: if your goal is to increase the quantity and quality of your communications strategy - hiring more people is most likely not going to get you there. The reason is simple: every person you add to a team adds many more lines of communication, making everything harder for your team. Adding a full-time employee to your team does not mean that you'll get 40 hours more efficient work done. It might even make you move slower. The following illustration shows the lines of communication for various team sizes: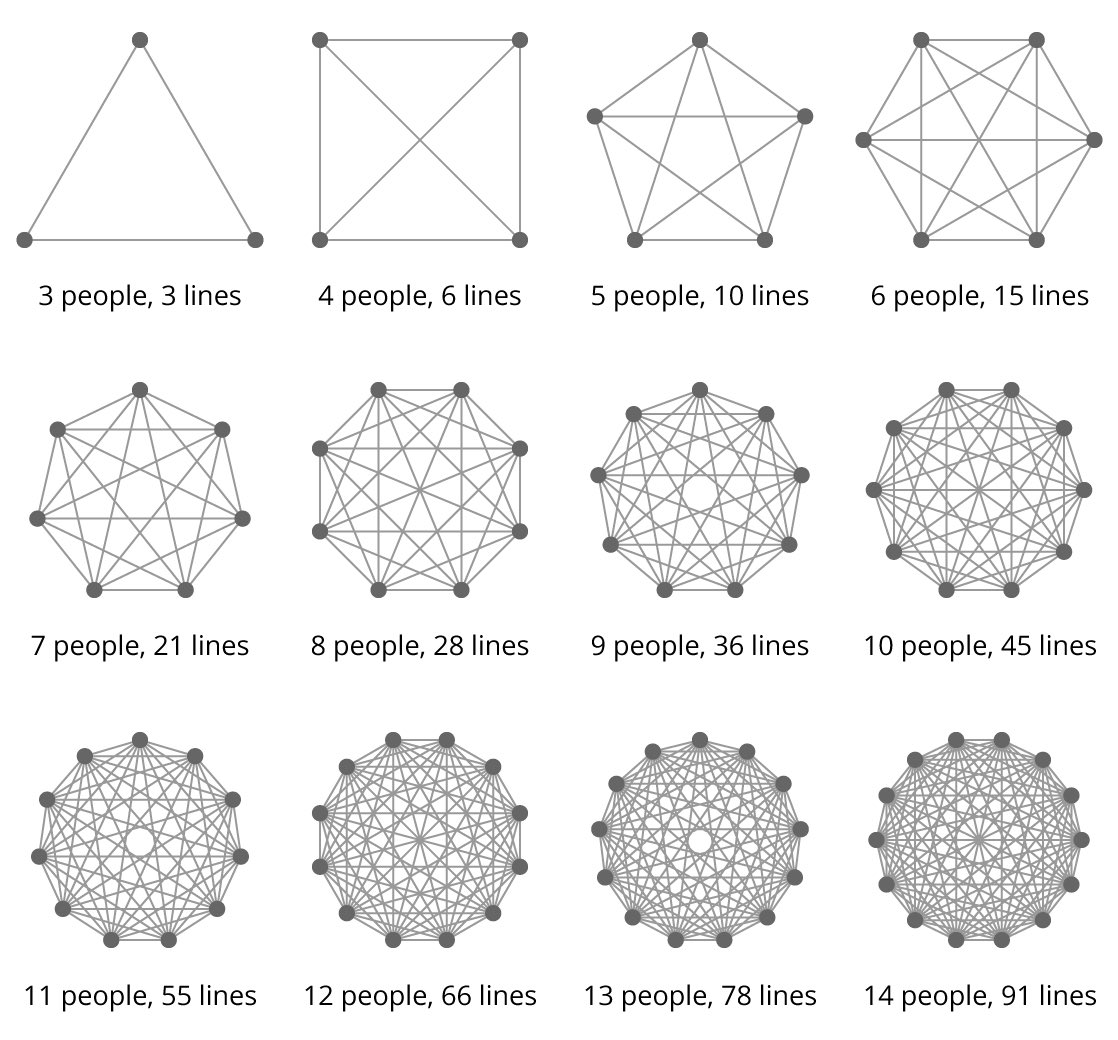 Most enterprise communications teams have 10 to 20 members. No matter how good, agile and efficient your processes are - adding someone to your team is most likely not going to lead to more or better work.
Brooks' recommendation: identify which constraints are keeping your team from achieving more of your goal. Then improve your processes until that constraint is no longer there, repeat the process for the next constraint. Good software solutions are your allies in this process. Luckily for you, this guide is packed full of software favorites; favorites of ours, and favorites of our customers. We don't have partnerships with any of the tools listed, and none of them are customers of ours. We just like them, pure and simple. We hope that the information in this guide will help you to select the right software and reach your goals in 2023.
What's in this guide?
This guide is packed full of software favorites; favorites of ours, and favorites of our customers. We don't have partnerships with any of the tools listed, and none of them are customers of ours. We just like them, pure and simple. We hope that the information in this guide will help you to select the right software and reach your goals in 2023.
In this guide, we will cover tools for the following areas:
Why take our advice?
We're a SaaS company born out of a news department, making online newsrooms and software for communications teams. We know the everyday struggles of communications departments because we were a communications department and we've worked with hundreds of comms teams at some of the world's leading brands (ING, Dolby, Remote, Doctors Without Borders, WeTransfer).
More importantly: we've been building SaaS products for more than 10 years. SaaS history isn't very long, but we've been there since the early days. We've seen a lot of tools pop up, and we have adopted quite a few of them ourselves.
What do we get out of this? Our hope is that when you come to choosing a newsroom solution, you'll consider pr.co. Enjoy the read!
Pro tip: If you're looking to grow your tech stack (on a budget), check out FounderPass. They work directly with SaaS companies to get exclusive discounts on software and tools, helping founders, startups and businesses save money on all the tools they need to grow their company.
Table of contents
The Communications Software Landscape
Since the first SaaS company found success in the 90s, 15,000 more have sprung up in its afterglow. That's a lot of solutions to everyday problems. However, SaaS solutions range from the impressive to the downright mediocre, so choosing the right option for you always requires some thought.
We can't cover everything out there (we don't want you to raise a family and send them off to college by the time this is done) but we can draw attention to the heavy hitters. So, while the list isn't exhaustive, it does contain the main categories relevant to you as a communicator, and the names of companies that are generally accepted as the best. We hope that this helps you make informed decisions when the time comes.
Planning and strategy
In the words of the French poet, journalist, and pioneering aviator Antoine de Saint-Exupéry: "A goal without a plan is just a wish." The right tools can help you move from wishful to strategic thinking much faster.
Tools to help you ideate and brainstorm
At the moment of writing this, the end of 2022 is in sight. After a turbulent few years there has been a seismic shift in the way we work. Some companies (including ours) went fully remote. Others have slowly returned to the office. Regardless of whether your teams are colocated, distributed, or fully remote, connecting is more important than ever.
If you're looking for a way to brainstorm and collaborate, there are tools that will help you get there.
Our pick: Miro
Miro is a digital whiteboard platform that helps distributed teams to work better together.
Visualize any plan, strategy, or project
Working remotely doesn't mean you need to miss out on post-its and whiteboards
Effortless collaboration with your team members
Most remote teams we work with have heard of Miro, and with good reason; this digital whiteboard has a host of features to visualize projects, whatever the device. Think nice visual landscapes complete with post-it notes, annotations, and graphs so you can visualize your communications strategy, customer journeys, project management, retrospections and evaluations, and more. An added bonus is that it integrates with many tools, making it easy to fit into your workflow. As remote work becomes the new normal, versatile tools like these are increasingly essential.
What strikes us most about Miro is that it's so incredibly well designed. It looks beautiful, works perfectly, and includes features you didn't even know you needed.
Rating: Capterra - ★★★★★ (4.7/5, 800+ ratings)
G2Crowd - ★★★★★ (5/5, 3k+ ratings)
Pricing: Free, or $8,- per user for their team account, $16,- per user for their business account.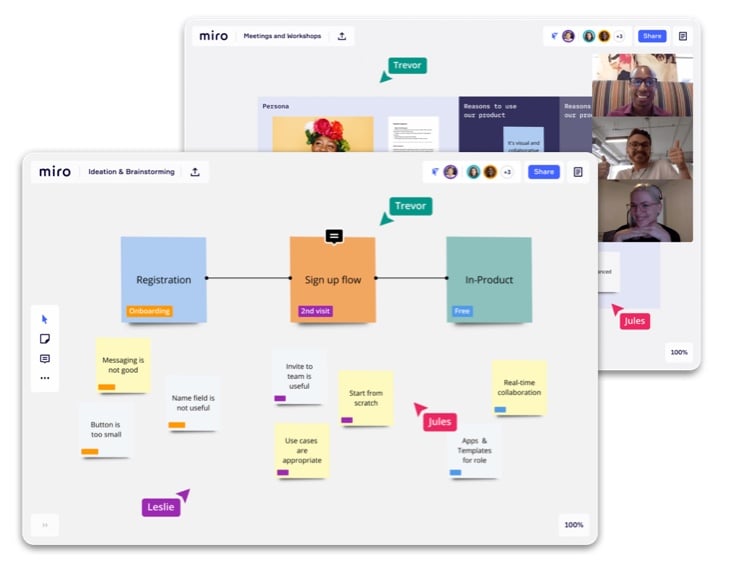 Tools for project management
Regardless of the experience under your belt, everyone can attest that project management is no easy feat. Between planning, budgeting, implementing, and controlling, it takes years to master the basics of project management. Luckily there are tons of tools out there to help you hit the ground running.
Our pick: Basecamp
Basecamp is an online project management and collaboration tool
All projects, tasks, documents, deadlines, and team communication in one place
Very accessible pricing
Built by the pioneers of remote working
Where possible, using an 'all-in-one' platform can save you the busywork of patching together different tools. Whilst Basecamp doesn't do it all, it does a great deal, and solves a common problem of accountability and delegation for communications teams. In this 'virtual office' you can chat, create to-do lists, post files and documents, keep track using schedules and meetings, etc. It's beautifully designed and has famously good support. The only cons are that it's not easily customizable and different versions have different features.
Rating: Capterra - ★★★★☆ (4.3/5, 13k+ ratings)
G2Crowd - ★★★★☆ (4.5/5, 5k+ ratings)
Pricing: Free trial, then $11,- per month. Visit website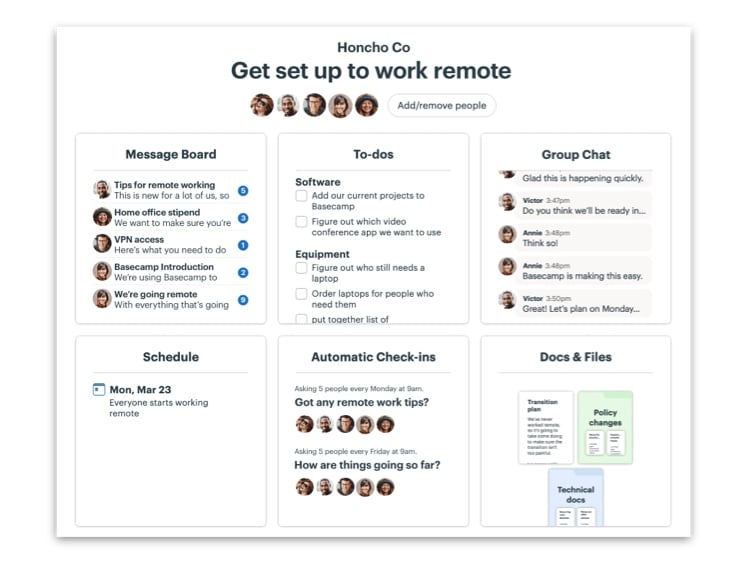 Runner up: Notion
Notion is a unified workspace for teams
Create an internal knowledge base. Ever asked yourself where your tone of voice document should live so that everyone can find it? Here's your answer.

Incredibly versatile: make tables, pages, embed videos, include links to other tools.

Accessible pricing
At pr.co, we use Notion as our internal wiki, to store information about company policies, tutorials on the tools we use, tone of voice documents and our weekly and daily planning. It's a brilliant hub for everything you are working on. When our team began to see how flexible the tool was and just how many tasks you could use it for (there is a notable learning curve) it became a staple. Beautifully designed, works like a charm (even though not all our team members seem to agree with that) and extremely versatile. It does everything Trello does, plus a lot more.
Rating: Capterra - ★★★★★ (4.8/5, 800+ ratings)
G2Crowd - ★★★★★ (4.5/5, 900+ ratings)
Pricing: Free or $4,- per month for personal use. $8,- per month, per user for teams.
Visit website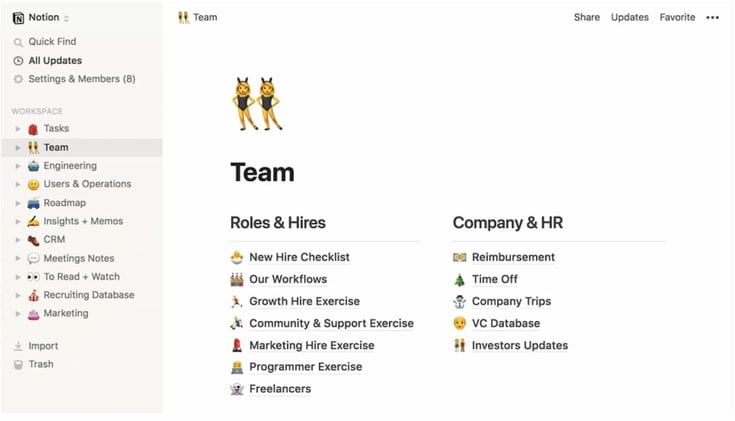 Runner up: Trello
Trello is a kanban-style project management tool to track your 'to-dos'
Extremely versatile: planning, project management, to-do lists, company overviews, lean canvas, the list goes on and on.

Tons of integrations, for instance Slack, Dropbox, Google Drive, Typeform, Salesforce, Intercom, Zapier.

Repetitive tasks can be automated without a single line of code.
Trello visualizes your projects with satisfying clarity. This project hub is long-beloved because it is so straightforward to use. Among the other perks: it's very easy to see the project timeline and stick to deadlines, it's customizable, and it makes collaboration with other teams simple. Small gripes are: it doesn't do a lot else (whiteboarding, etc.) so it might not be suitable for especially big projects.
Rating: Capterra - ★★★★★ (4.5/5, 22k+ ratings)
G2Crowd - ★★★★☆ (4.4/5, 12k+ ratings)
Pricing: Free, or $5,- per user, per month for small teams or $10 per user, per month for team managing multiple projects.
Honorable mention: Asana
Asana is a project management tool to help with team focus
New users will love the attractive layout and ease-of-use with this tool. Asana can help you assign realistic goals and workloads to teammates while keeping a birds-eye-view of your progress. With intuitive design and templates, it's easy to get started, but some of the more advanced features will require a bit of effort to learn to use.
Content Creation
A lot of logistical legwork goes into the 'creation' part of content; it's not easy to craft a good story. While we don't believe tools can craft stories for you (yet) - they can absolutely help in the creative process, and improve the quality of your output. Also, without great packaging, your message will be lost, which is why quality content is so important. These tools will help you whip up something of quality in minutes.
Tools to improve your writing
Our pick: Grammarly
Grammarly is an online writing assistant
Integrates with Google Docs, and with your browser.
Picks up grammar mistakes, spelling mistakes, and gives stylistic recommendations.
Can be a real bargain, if you look for a good deal.
There's nothing worse than spotting a typo or grammar mistake after the fact. Grammarly is bound to up the quality of every comms department. It helps you identify ugly sentences, refine tone, avoid errors, and find synonyms (along with a nice explanation for each suggestion). If you are writing content for legal documents or press releases, catching those errors that slip past the human eye will do wonders for your credibility. With Grammarly's latest update: you can even select the tone, your audience and the purpose of your text, and it will adjust its spelling check accordingly. Our (tiny) bugbear is that dismissed notifications can mysteriously reappear.

Rating: Capterra - ★★★★★ (4.7/5, 6k+ ratings)
G2Crowd - ★★★★★ (4.6/5, 1k+ ratings)
Pricing: Free, or $12,- per user, per month for their premium functionalities. Grammarly often has massive discounts, so if you want their premium functionalities, do a quick Google search for current coupons.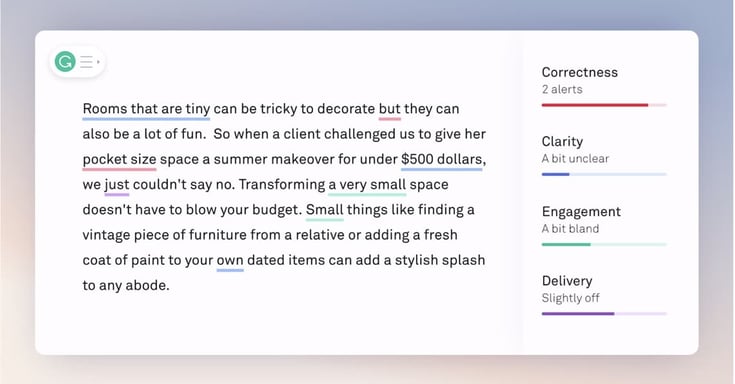 Runner up: Hemingway app
Hemingway app is an editing tool for writers
While you don't have to take every suggestion as gospel, Hemingway can significantly improve the readability of your releases, articles, and stories. This is especially good to use after your grammar check with Grammarly, so you can identify sentences that could do with some trimming before you hit publish. You'll be doing your readers a favor.
Rating: G2Crowd - ★★★★☆ (4.4/5, 45 ratings)
Pricing: $19,99 one-time, no recurring fees.
Visit website
Bonus: Quillbot and Cliche Finder
These paraphrasing and grammar tools may look rudimentary, but they will help you avoid two of writing's most mortal sins: repetition and cliches, respectively.
Visit Quillbot or visit Cliche Finder
Tools to find, create and optimize images
If you're reading this guide, I'm guessing you prefer words above images to create a story. Leave the graphic design to your graphic designer, right? Agreed, but you're probably not the only in your company with that motto. Designers are busy, and it might take some persuasion to have them put your media kit, or social images on the top of their priority lists.
Often, it's just a lot faster to do it yourself. Here are some tools to help you create your own visuals, quickly and on-brand.
Our pick: Canva
Canva is an easy-to-use graphic design tool
Prepare media kits, create social posts and resize images without help from your design team.

Import your brand assets to keep all your visuals fully on-brand.
Very user-friendly.
Yes, the Adobe suite and Sketch are fantastic tools— for trained graphic designers. For us mere mortals there's Canva, which helps you create a social media graphic, build a media kit or resize a photo with very little technical expertise needed. Awesome feature: you can let your branding team upload your brand fonts, colors, and other assets— making it ridiculously easy to create on-brand visuals. With plenty of templates for all kinds of visual assets and easy drag-and-drop functions, you have quite a lot available on the free plan.
Rating: Capterra - ★★★★★ (4.7/5, 10k+ ratings)
G2Crowd - ★★★★★ (4.7/5, 3k+ ratings)
Pricing: Free, or $11,99, for CanvaPro or $13.99 for Canva for Teams (up to five users). Visit website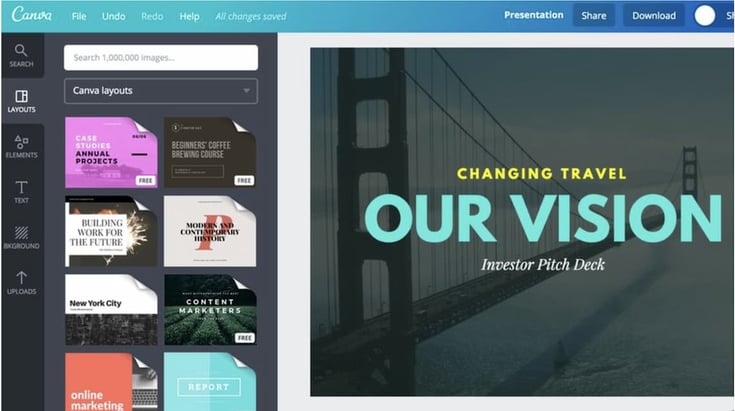 BONUS: Stock visuals
Good photography makes a page come alive. If you don't have any good photography, there are stock photos. While you should be careful with these (they can be so incredibly cheesy), here are a few websites from where you can source photos that haven't yet been used by every single marketing team in the world.
A good proportion of online images come from this free stock library. The impressive catalog has pretty much every visual you could ask for. The only con is that everyone else is using them too, so you may have to search a little deeper into the library to avoid duplicates.
If you're on the hunt for stock photos that don't look like stock photos, Death to Stock has a smaller but growing library of good quality photos, minus the cheese.
Great quality, customizable illustrations from artists all over the world.
It's worth including one of these nice stock illustrations of people of color in your visual mix.
Tip: don't upload your stock photo to your website or newsroom just like that— hi-res is nice, but by default these images are way, WAY too big for your blog articles and press releases. Use the free tool squoosh.app to resize your images to the right size, and compress them so that the image loads fast (good for SEO). For JPEGs, use MOZJPEG and set the image quality to 80%. For PNG, use OXIPNG and set the image quality to 80%.
Tools for podcast production
Our pick: Audacity
Audacity is an open-source tool that will take care of your podcast needs from recording to post-production
Audacity doesn't look as slick as some of its competitors but that doesn't impact its functionality or ease of use. Audacity lets you record in either 16-bit or 24-bit audio or drag and drop audio files into the interface. As for editing, you can cut, copy, paste and trim audio or arrange multiple clips on the same track. You can even add custom presets and fades. Overall, whether you're a podcasting beginner or an old hand, Audacity offers everything you need at an unbeatable price.
Rating: Capterra - ★★★★★ (4.5/5, 262 ratings)
G2Crowd - ★★★★★ (4.5/5, 405 ratings)
Pricing: Free.
Runner up: SquadCast
Squadcast is an intuitive in-browser recording studio for high-quality sound and video content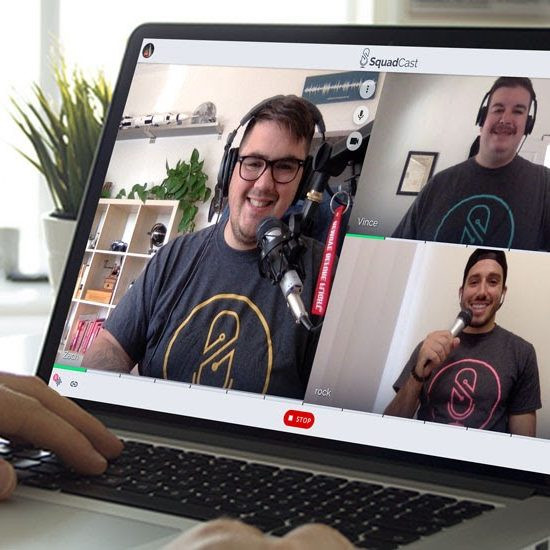 Squadcast is a cloud recording studio that will help you to create high-quality audio and video content remotely. It features a virtual green room where you can test your network and equipment and put any guests at ease ⁠— handy for getting any awkwardness out of the way before hitting record. To help put your mind at ease, your podcast recording is backed up to the cloud in real-time so if a power cut wipes out your internet you won't have lost anything. The main con is that once you're done, you'll need a different tool to handle any post-production edits.
Rating: Capterra - ★★★★★ (5/5, 7 ratings)
G2Crowd - ★★★★★ (4.8/5, 5 ratings)
Pricing: Between $20 and $80 per month for smaller teams. Larger enterprises are required to reach out for a personalized quote.
Visit website

Honorable mention: Zoom
If you're on a tight budget Zoom and already have a premium Zoom account, it can probably meet your recording needs. To record guests remotely on separate audio tracks, head to your Zoom settings and make sure that the 'Record a separate audio file for each participant' box is checked when you hit record.
Tools to create and host videos
Video can be a much more powerful medium to get your message across than words. We believe video is a great strategy for any comms team out there and it's still very under-utilized. Instead of that long email pitch to journalists, why not stand out from the crowd and record a personalized video to get your message across? Instead of the good old quote in your press release, why not record a quick video of your CEO giving context to your news? Video is a fantastic way to stand out from your colleagues in PR, and create signal instead of noise.
Our pick: Soapbox
Soapbox by Wistia is a tool to record, edit, and share videos
Record your screen and your webcam at the same time.

Create beautiful video pitches, explanations, and demos.
Amazingly user-friendly, and surprisingly entirely free.
Perfect for tutorials or talking head videos, all you need to use this tool is the Chrome browser (it only works on chrome) and a webcam. Easy-to-use, the end result looks well-edited without feeling too staged. Videos are done in one take so you have to be camera-ready.
Rating: Capterra - ★★★★☆ 4.8 / 5, 10 ratings
G2Crowd - ★★★★★ 4.3/5, 20 ratings
Pricing: Free.Visit website
Runner up: Loom
Loom is a video messaging tool that helps you get your message across through instantly shareable videos.
If a picture is worth a thousand words, then a video is worth a million. Sometimes it takes too long to type out an explanatory email. That's where Loom comes in. Loom is a video messaging tool that helps you record your camera, mic, and desktop simultaneously. It comes in handy, especially when working remotely and async. We highly recommend it!
Rating: Capterra - ★★★★☆ 4.7/ 5, 800 ratings
G2Crowd - ★★★★★ 4.6/5, 200 ratings
Pricing: Free or $8 per user for business accounts
Other notable mentions: Apple iMovie
Apple iMovie is a video-making tool that helps create, edit and share videos across online platforms.
Well-known for creating intuitive products, if you're looking for a simple video editor, it doesn't get much better than this. With fun features like a green screen and sound effects, you can put a movie together in less than an hour. You can easily share this on Youtube or Facebook, or send compressed videos over Dropbox with this tool. If you're using Windows you'll have to give this a miss.
Virtual Events
COVID changed the world in more ways than one. We know you're probably tired of hearing about it, so we won't go on about it. There was at least one silver lining during the pandemic, however, that we'd like to highlight. While we were all stuck at home (baking banana bread and making whipped coffee), we found new ways to connect. That also meant that being physically present for an event was no longer a requirement.
Communications teams worked quickly to translate events into the digital realm. Even as things have gone back to normal, virtual events are here to stay. Below we'll share some of our favorite tools for organizing and hosting virtual events:
Our pick: pr.co
Not to toot our own horn here – but we think we have a pretty powerful tool to help you host online events. With our Virtual Events feature, your audience can watch virtual events in your beautifully branded newsroom instead of going to YouTube or Vimeo. Hosting events in your newsroom gives your viewers an on-brand experience, without logging in or downloading yet another app. Your team can choose the streaming platform that best fits your needs, whether that's Youtube or Vimeo, or even a pre-recorded live stream.
Virtual Events also allows you to engage with your viewers through a live chat, Q&A submissions, or opinion polls.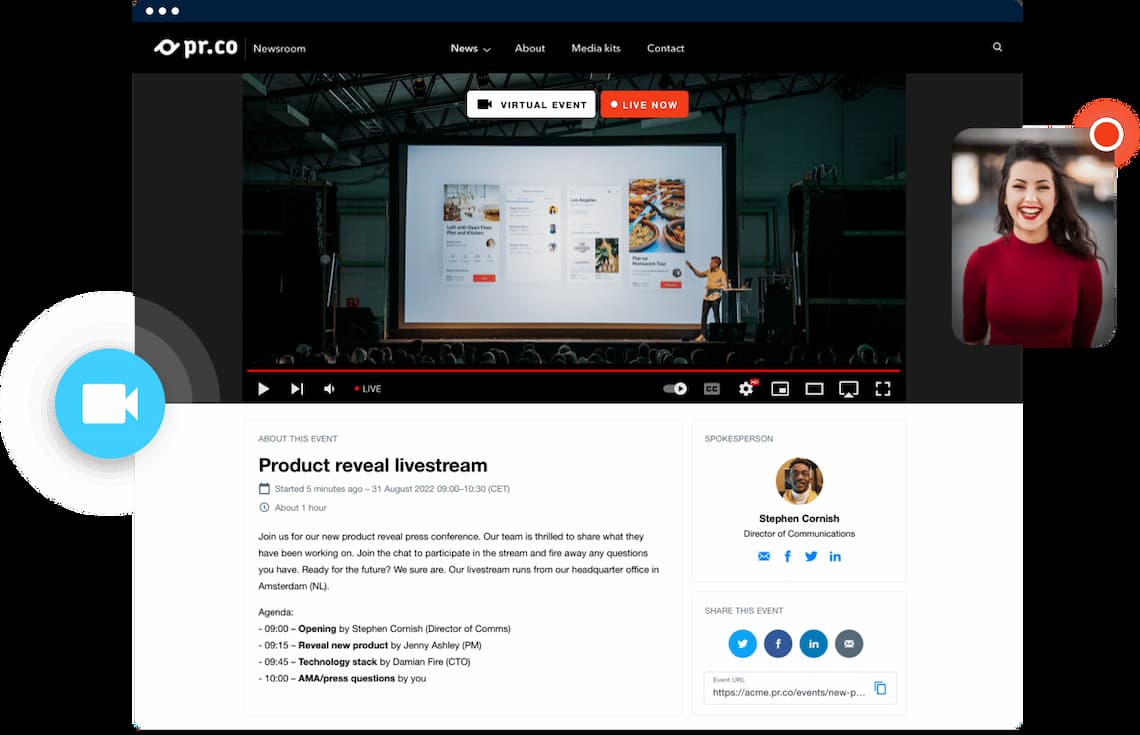 Learn more about Virtual Events
Runner up: StreamYard
StreamYard acts like a live-streaming studio in your browser. This tool allows you to interview guests, brand your broadcast, and stream directly to Facebook, LinkedIn, and other platforms. Our customers particularly appreciate the ease of use, especially when it comes to branding your broadcast. StreamYard allows you to make your event unique by applying your own logo, colors, images and videos.
Runner up: Hopin
Another great tried-and-tested tool is Hopin. If you miss the networking part of events, this tool is for you. What Hopin gets right is understanding that every event is unique, whether it's a 50-person recruiting event, a 500-person town hall meeting, or a 50.000 person conference. Hopin has multiple interactive areas that allow attendees to move in and out of rooms just like an in-person event. It's a great platform for hybrid events, too.
Content Management
Communication equals content. You have press releases, blog articles, thought leadership pieces, product updates, press invites, media kits, coverage, opinionated articles from your SEO, website pages, landing pages, whitepapers— you get the idea.
In the best case scenario, you have a great CMS (content management system) that helps you easily publish and update all of this, in an intuitive way. Worst case scenario, these documents are all over the place, scattered over various laptops from your team members and publishing requires an email to your IT team. With a bit of luck, they might publish it this month.
Tools to manage your press assets
To manage your press assets, you just need a good online newsroom.
Every single SaaS advert will talk about saving you time— with good reason, time is the most valuable commodity. Nevertheless, we've heard it so many times that, even if it's true, our eyes glaze over as soon as it's mentioned.
Back and forth emails requesting info, sending out dozens of Wetransfer links with images, creating fancy PDF press releases, keeping track of your coverage, all these tasks (mostly) disappear with an online newsroom. Most importantly an online newsroom is a time-saver for your press contacts as well. With a good newsroom, journalists will have everything they could possibly need to write a story about you in one place.
Our pick: pr.co
Online newsrooms and software for communications teams
Disclaimer: Shameless pitch? Maybe, we really don't have a choice. As a PR software company, we (unsurprisingly) don't have access or first-hand experience of our competitors' software.
They're not too keen about us trying it out. We only want to recommend tools that we either use personally or are used by the majority of the comms departments we work with.
It would be insincere of us to make an assessment of a product we have never used. But based on the glowing feedback we get from our customers, we are pretty confident that we are the best solution out there— we'd be willing to stake a great deal on it. We believe in what we do, and build our newsrooms with passion and pride. So yeah, we'd like to recommend… ourselves.
Very pretty newsrooms. Made entirely on-brand by an experienced design team. This is not your typical off-the-shelf solution.

Newsrooms are SEO-optimized, your news will crawl up Google News and Google Search within minutes after posting.
Niche product: not a general CMS, but made for PR teams.
Our newsrooms are the way they are because of two principles: we believe the purpose of newsrooms is to make journalists' lives easier, and we believe that great branding to makes messages memorable. Therefore, our newsrooms have been co-designed with journalists, and every newsroom is entirely in line with our customer's branding by our in-house design team. Need more than just a newsroom - we also offer a PR CRM for contact management, a curated press list service where we'll build your press lists if you enter new markets or launch new products, collaboration functionalities (approval management, chat, agency management) and more. If you're interested, let's chat— you know where to find us. 🙂
Rating: Capterra - ★★★★★ (4.6/5, 11 ratings)
G2Crowd - ★★★★★ (4.6/5, 17 ratings)
Pricing: Start-up deals start at €176 per month
Search engine optimization
As the world becomes increasingly digital, developing an SEO strategy will help your PR department hit a home run. No matter how good your content is, if it can't be found, creating it is a waste of time and energy. Backlinks, keywords, page speed, domain authority— this stuff is technical. To do it right, you need to read up on the matter and stay up to date with changes to Google's algorithm. But, there are some tools out there to make improving your SEO a lot more digestible and accessible:
Our pick: AHrefs
AHrefs is an SEO software suite with tools for keyword research, competitor analysis, link-building rank tracking, and site audits
Extremely powerful and complete platform.

Their blog is the most informative blog we've ever seen. You can become an SEO expert in no time with their help.

For something so technical, the learning curve is less steep than you'd imagine.
There are several excellent tools to support your SEO and there's a lot of overlap between them. This guide mentions three options, we mention three of them but we've decided to single out AHrefs because a) we've been using it for more than 4 years and b) their content is excellent: extremely helpful for SEO experts and SEO rookies alike. We use the platform for keyword research, monitoring backlinks (this is essentially a great monitoring system to pick up coverage too!), research new markets (what vocabulary do they use - how big is my potential market?), keep an eye on the competition (what's their content strategy like, which keywords do they rank on?). With so much to offer, it really is a secret weapon.
Rating: Capterra - ★★★★★ (4.7/5, 400+ ratings)
G2Crowd - ★★★★★ (4.6/5, 400+ ratings)
Pricing: From $99,- per month to $399,- per month.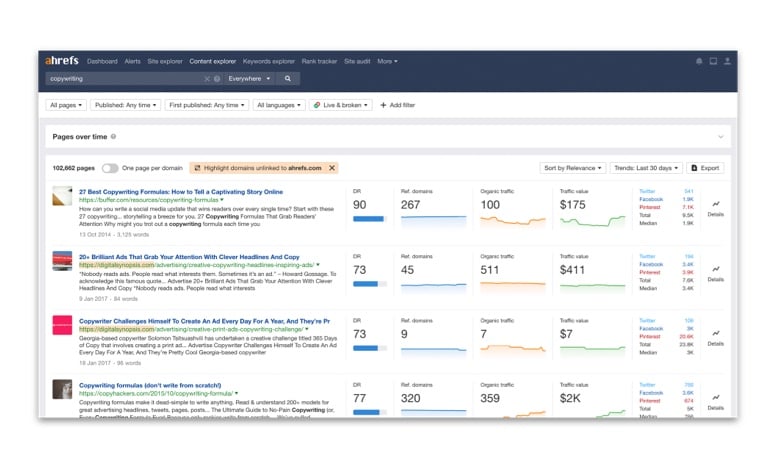 Visit website
Runner up: SEMrush
SEMrush offers tools for SEO, PPC, content, social media, and competitive research.
SEMrush gives you the hard data you need to quickly evaluate new markets and build a strategy. The keyword database is rich and easy to navigate. If you're having some trouble, their tutorials are particularly good, and can help you discover new features too. The only downside is some of the add-on features can get a little pricey.
Runner up: Moz
Moz is a set of tools that make SEO, inbound marketing, link building, and content marketing easy.
This tool is easier for the end-user. For a discipline as substantial as SEO, this is a major plus. Viewing how well you're ranking on keywords compared to your competitors is simple, and you receive monthly reports straight to your inbox. All these tools make it easy to optimize your site, so you can bring in more traffic and improve your domain authority.
News distribution
You have a strategy, your newsroom's live, you wrote a release — now how do you get journalists to read it? You probably know a personal and targeted approach is best, your manager might have a good feeling about a media database, and your CEO asks you to send your press release straight to Bloomberg via that newswire thing he heard about.


Newswires
Although some communicators are still obliged to disseminate news on newswires like Cision and BusinessWire, we think they are (rightly) dying out. Originally, all financial announcements had to be made on the wire, but since an SEC ruling in 2013, this can now be done via social media.
Newswires are expensive and ineffective. They affect your brand safety (you have no control over what spammy brands you appear next to) and even if your news does get picked up, it tends to be by low quality publishers or shady sub-pages of well-known publishers.
Journalists routinely ignore 'spray and pray' news. It doesn't respect their time and usually isn't related to their beat. News release distribution services are not earned media. This means they don't help with your rankings— in fact, all your precious backlinks will go to newswires instead of you. Given that findability is so important in modern PR, it's wiser to invest your time building up curated press lists of journalists and sending personalized pitches.
Because of our stance on newswires, we would be doing ourselves a disservice to recommend them. We've written extensively on the topic, check out our blog if you are curious.
Media databases
While media databases can act as a good starting point for building a press list, they're not a golden ticket to exposure. Media databases are massive lists of journalists, including their contact details and interests.

The below media databases will give you a great overview of contacts in your industry and market. Two things to consider:
How many contacts do you need? Having access to hundreds of thousands of contacts is only necessary if you intend to reach journalists by mass blasting— which we wouldn't recommend. If you're active in one or two markets, in a niche industry - ask yourself how long it would take you to find the right journalists and their contact details. Do you really need a hefty subscription to a database with thousands of media contacts?
You earn coverage, you don't buy it. Money buys you infomercials and ads. You can buy a media database, but in essence, it's only an email address. The journey only starts there - you'll need to do research on a contact, see if data isn't outdated (it often is), reach out, build a connection, get a cup of coffee even. This sounds logical, but we've seen far too many companies randomly blasting their irrelevant press release to an entire database of journalists.
For some reason, many sales teams at media database companies seem to be part-shark, part-human. This is a character trait the traditional database and newswire companies seem to have in common, their sales style is very aggressive.
Most successful PR teams have a targeted, personalized approach to PR. It's just more effective. This means using a select list of a hundred or so contacts that you can build strong relationships. Yes, it will take a little more legwork to begin with, but it will pay dividends in the long run.
That being said, we know larger organizations that publish for clients, or across various industries and markets, regularly will have to use databases as they are time-strapped. Here are some customer favorites for that scenario:
Our pick: Muck Rack
Muck Rack is a platform to find journalists, get press for your story, monitor the news, and report on the impact of your PR.
A large, up-to-date database of journalists, podcasters, influencers, and other media professionals.

Muck Rack also builds tools for journalists.
Excellent product focused on high-quality, targeted outreach, not spray and pray. And they're one of the only ones in the game.
Muck Rack helps you search for journalists, monitor your news, and build reports on your campaigns. They're by far our favorite tool in this category, because of the fact they also make tools for journalists. Muck Rack understands media relations are two-way traffic: it's give and take.
Rating: Capterra - ★★★★☆ (4.4/5, 20 ratings)
G2Crowd - ★★★★★ (4.6/5, 120+ ratings)
Pricing: Unknown - not publicly available on website.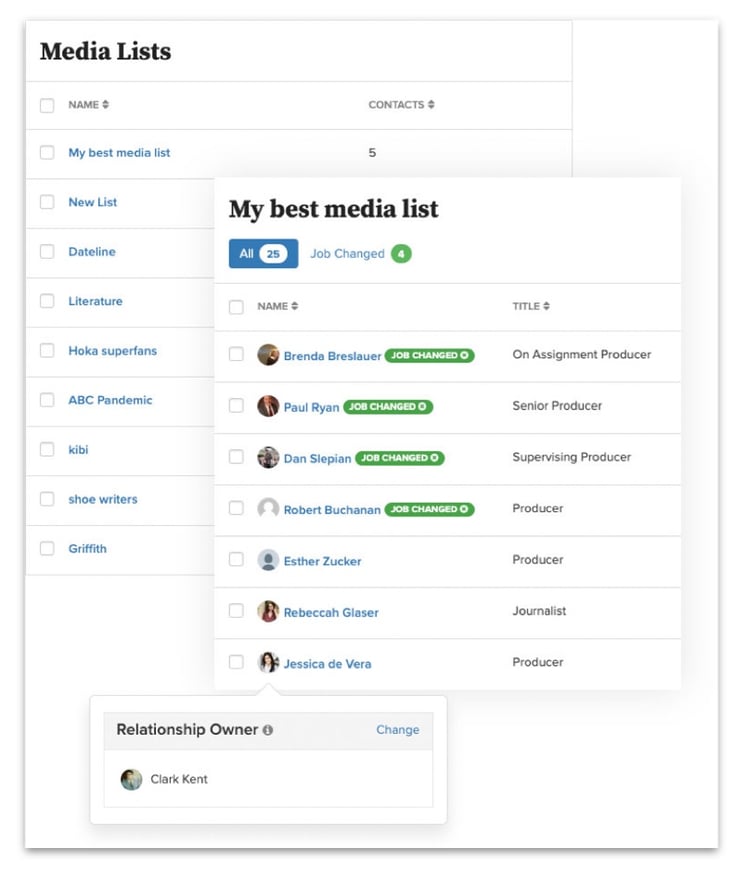 Runner up: Agility PR
Agility PR is software to help PR pros generate and monitor media coverage, measure results, and demonstrate their value.
This PR tool helps you find print or broadcast journalists, bloggers, thought leaders, and analysts from over1,000,000 contacts and outlets. They try hard to keep it updated, despite its size and high industry turnover, although it can sometimes be inaccurate. Nevertheless, its flexible search helps you pinpoint exactly what you're looking for and the customer service team is top-notch.
Rating: Capterra - ★★★☆☆ (3.5/5, 8 ratings)
G2Crowd - ★★★★☆ (4/5, 280+ ratings)
Pricing: Unknown - not publicly available on website.
Honorable mentions: Meltwater and Cision.
We would be remiss not to mention two of the biggest vendors out there: Meltwater and Cision. Their databases are definitely comprehensive. But we've heard from many of our customers that their sales team is quite aggressive. If you use these services, expect a lot of upsells.
Alternative to media database: Hire a freelancer or company to do it for you.
It's no secret that we are not fans of 'spray and pray' tactics. We've spoken to dozens of senior journalists about what makes a winning pitch. If they get a whiff of the fact that a press release has been sent to hundreds of journalists then, you guessed it, it's going straight into the spam folder.
We also understand that some PR teams, although they would also prefer a personalized approach, are strapped for time. That's why we offer a curated press list service, where you give us the details of your niche, and we will do the research and create a targeted, up-to-date press list for you. Of course, you can also hire a local freelancer to do this for you to make sure your list is small but of better quality. That way, you can count on a higher response rate.
Learn more about our curated press lists on our website.
Contact management
When you craft a good story you will need to pound the (digital) pavement, shake some hands, and kiss some babies to get it out there. We suggest doing most of this via email. No communicator should waste their time in this process copying and pasting names from a spreadsheet into their email server. Luckily, a lot of solutions exist to avoid that claptrap.
For a journalist to feel respected and want to work with you, they'll need to have a good experience. Personalized emails (referencing journalists' work/knowledge of their beat) are unbeatable for creating rapport. A good PR CRM seriously helps you with this.
CRMs specifically designed for media relations
Most CRMs out there are either designed to fit all purposes or to fit one specific department. CRM stands for Customer Relationship Management, so these were first designed to manage your customer details. Salesforce expanded their CRM to also include their sales leads, and Hubspot (among others) then expanded that even further to marketing leads. Why does this matter? Many of the features typical for sales and marketing deals, do not really apply to PR contacts; sales funnels, attribution, revenue reporting, it just isn't important for media contacts.
There's another problem we've heard from our customers quite a few times though, and that's that PR teams would rather not have their hard-earned press network in a database with marketing and sales leads. If a series of commercial emails would end up with your press contacts, that could damage your relationship.
Enter, the PR CRM.
Manage contacts and send pin-sharp pitches; a CRM built into an all-in-one PR platform.
Specifically designed for PR teams.
The CRM is built-in with the newsroom and collaboration platform, centralizing all your news, coverage, media kits and emails in one place.

Includes collaboration functionalities, embargoed emails, agency management, branded emails, and heaps more.
We don't just build newsrooms, we also build software. One of the components of our software platform is our PR CRM. It's a simple, yet powerful contact management system, allowing you to keep track of contacts in various press lists, and easily search and filter through them.
We even add a list of key industry journalists to your CRM and update it for you over time so you can cast a smaller— but more effective— net. Moreover, when a team member leaves your company, your contacts won't go walkies with them.
With pr.co, you can publish news, select the right contacts, and send out your news to these contacts in personalized, tracked email distributions. Errors are almost inevitable with manual emails: the software will help you press send without a sense of dread. With our embargo functionality, you easily send embargoed news and media kits to your print contacts, so they can get their article ready for when the embargo expires. For everyone else — your news remains a secret until launch day.
Lastly, our CRM makes unsubscribing and tracking emails easy, so you can reach out and see what's up — all while staying GDPR compliant.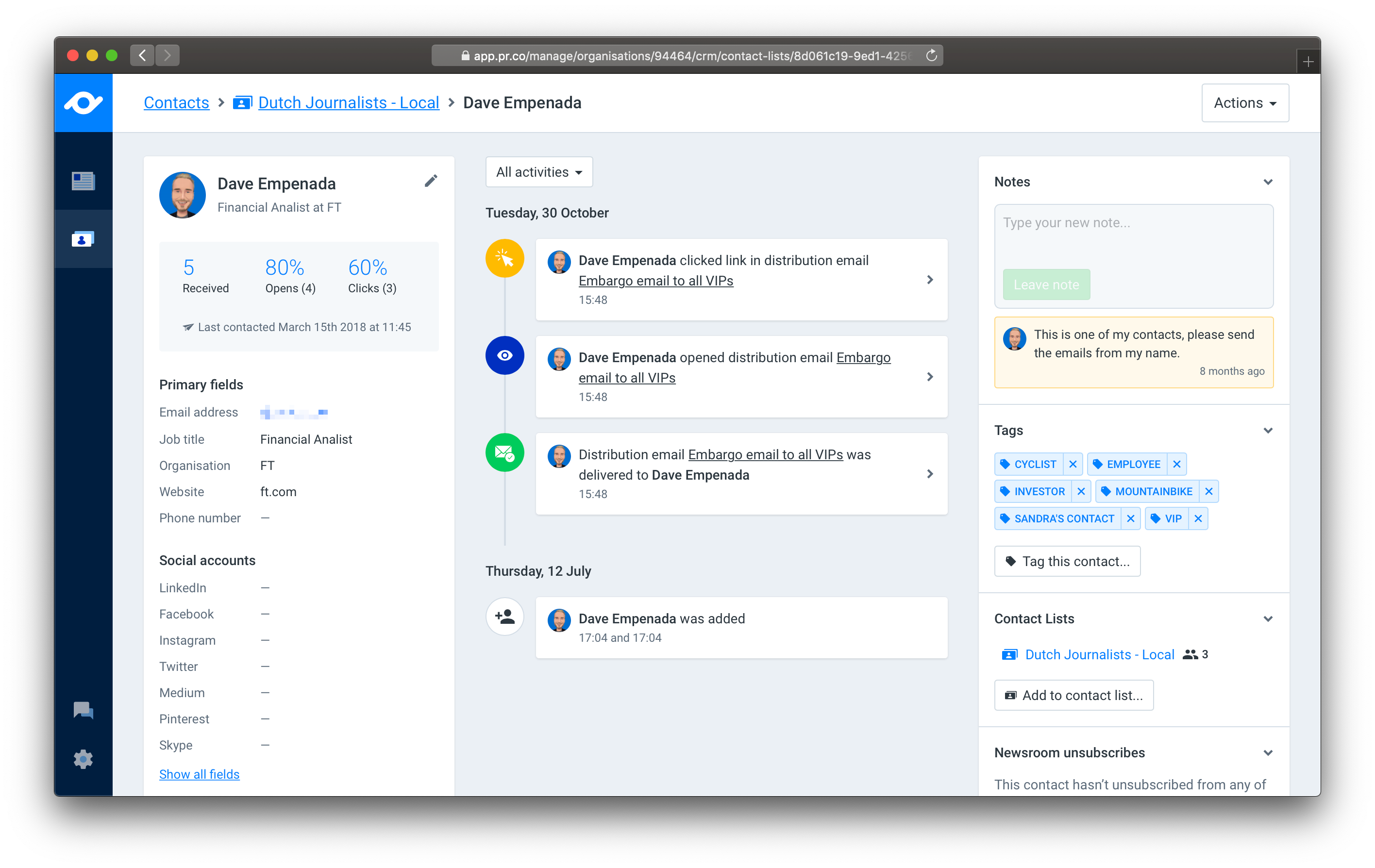 Other CRMs
There are many, great CRMs out there that aren't necessarily built for managing press contacts, but work perfectly fine for that purpose.
Our pick: Hubspot CRM
Hubspot is a marketing, sales, and service software that helps your business grow without compromise.
Very well-designed, flexible CRM system. Even though built for marketers, it's versatile enough to work for PR teams too.

Possibility to manage your PR from the same platform your marketing and sales teams use.

Completely free.
Hubspot is "on a mission to make the world more Inbound." Their own inbound lead generator: the Hubspot CRM. Hubspot's platform will cost you hundreds of euros per month, and includes many, many more functionalities than their CRM - their CRM is available for free. It's Hubspot's way of making teams acquainted with their platform, but that doesn't mean you should expect a toned-down system. Pretty much all functionalities you'll need to manage your media relations are accessible for free, and the system works just great. Just look past the functionalities built for sales and marketing teams.
Of course, it's a lead generation tool, so you'll receive a few emails and calls from the Hubspot sales team. But as opposed to many other sales teams out there, the Hubspot sales reps are a cool bunch; friendly and reasonable.
Rating: Capterra - ★★★★★ (4.5/5, 3500+ ratings)
G2Crowd - ★★★★☆ (4/5, 1400+ ratings)
Pricing: Free!
Runner up: Pipedrive
Pipedrive is a web-based Sales CRM & Pipeline Management Software.
Again, this is built for sales but can be adapted to PR and comms. Pipedrive makes emails much easier to track as information is all in one place. You integrate with other tools like Gmail or Google calendar, making the process more seamless. A quoted 'con' is that you can't add more than 1000 contacts to an email, which is only a problem if you like to spray and pray.
Rating: Capterra - ★★★★★ (4.5/5, 2500+ ratings)
G2Crowd - ★★★★☆ (4/5, 1500+ ratings)
Pricing: Ranging between $14.90 and $49.90 per user, per month.
Honorable mention:
Simply CRM
The name says it all: a super simple CRM that you will actually want to use as it's so intuitive.
Less annoying CRM
While the name doesn't fill us with confidence, we've been assured this CRM has a short learning curve. It gets a lot of praise from predominantly small businesses. Visit their website to see it for yourself.
Nimble
Nimble is a social CRM with practical features and nifty social integrations. If you tend to connect with your contacts on social channels - this is definitely worth a try.
Reporting
Despite your best comms efforts, there will always be someone somewhere demanding a pie chart. These tools prove you are producing bang for your buck.
Tools to report on coverage
As the activity most associated with PR, coverage takes center stage in reporting. But manual reporting is tricky and very labor-intensive. Here are a few tools to make this job a little easier:
Our pick: Coveragebook
PR Analytics to produce coverage reports for management and clients
Quickly build reports of your campaigns: show reach, number of clippings, estimated views, and more.

Simple, focused tool - does what if promises.
Branding options.
CoverageBook is a straightforward tool can produce professional-looking reports with just a click. It includes a Chrome extension to easily bookmark links to add to reports at a later date. You can sort information in a variety of formats and the support team is great.
Rating: Capterra - ★★★★★ (5/5, 19 ratings)
G2Crowd - ★★★★★ (4.6/5, 140+ ratings)
Pricing: Ranging between $99 and $499 per month.
Tools to build analytics reports
Coverage is just one aspect of PR, there's more to it. For all your content on your earned channels, you'll need to track your website traffic. Whether you like this big giant or not, Google's analytics platforms are still the best.
Our pick: Google Analytics
Google Analytics is a platform that helps businesses gain marketing insights and more.
The array of things you can measure with this tool is mind-boggling. As a result, it can be a little intimidating for a first-timer, but once you have control of the basics you'll have a good insight into your users' behaviors and your content performance. Plus, it's free.
Runner up: Google Data Studio
Visualize your otherwise static Analytics reports with Google Data Studio.
If it's reports you're after, Google Data Studio takes all of those insights and turns them into nice-looking visuals. There are endless ways to customize each report and data is constantly updated, making it more reliable. It connects to a variety of data sources, making it all the richer, and much easier to do long-term trend analysis as well as quick insights.
Monitoring
Before creating news or assessing yourself, it's important to feel the room. When you have a handle on how you (and your competition) are being portrayed, it's easier to spot opportunities and chart a course. Likewise, knowing how your customers and employees view your brand is important so you can create a language to reach them.
Monitoring the landscape will also help you anticipate crises. The research you do will be great for SEO and increasing traffic. The tools below can help you with things like keyword research, website optimization, and backlink strategy.
Unfortunately, there's no ultimate platform: you will need to use different tools for monitoring online, broadcast, and print.
Tools for online media monitoring
With most media now online (as well as most ad spend) focusing on online media is a wise move. Here are our picks for international online monitoring.
Online monitoring
Choosing a media monitoring service can feel like the best of a bad bunch in terms of customer service, but the products listed below do what they say on the tin- help you keep track of who is saying what where. By assessing how your product or service is being portrayed, you can work out which USPs to dial-up or down when selling your brand.
Now, there are some "industry leaders" out there: Cision, Meltwater
Our pick: Agility PR
A PR tool to help monitor media coverage and measure results.
With user-centric features, you can search a wide range of industries. Moreover, it can be quite a useful tool to stay on top of industry developments. The search is flexible and the results are reliable. Customer service is generally good.
Efficient, user-friendly, and aesthetically pleasing interface
Pre-built reports that can be easily shared with stakeholders
Monitor content in every media type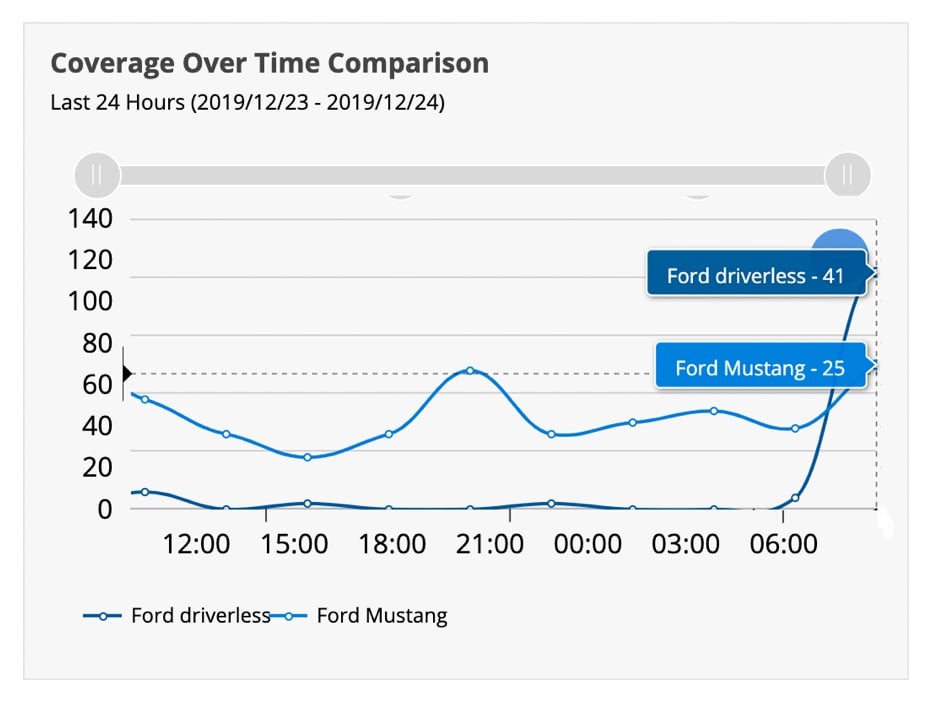 Rating: Capterra - ★★★★☆ (3.5/5, 6 ratings)
G2Crowd - ★★★★☆ (4.1/5, 280+ ratings)
Pricing: Unknown - not publicly available on website.
Runner up: Google Analytics
Google Analytics is a tool for simple monitoring, that's probably good enough for most companies.
Just think about it, if I'd ask you who'd be best at noticing when someone says something about you on the internet. It's probably Google, right? Google alerts doesn't have tons of features, but it does enough for most PR teams: monitor the web for brand mentions. You'll get a daily, weekly, or monthly email with all your mentions nicely lined up.
Tools for print monitoring
Most print monitoring companies are members of FIBEP, the world's media intelligence association, which sets pricing amongst other things.
Our pick: Lexisnexis
A tool to search, analyze, monitor, and share media intelligence
Very complete, powerful monitoring.
Tons of news sources, and available in 90+ languages.
There are simply not that many tools out there that do print monitoring. LexisNexis is a classic. Simple to set up, LexisNexis is a great resource for media research and spotting trends. It's reliable and well organized: especially if you're a visual person.
Rating: Capterra - ★★★★★ (4.8/5, 11 ratings)
G2Crowd - ★★★★☆ (4.3/5, 60+ ratings)
Pricing: Pricing not publicly available.
Runner up: Kantar
Kantar provides data and insights for advertisers, brands, and agencies.
Great for broadcasting insights, Kantar has a wide range of data at its disposal. It's great for finding information on niche topics and has easy-to-use dashboards for reporting.
Social listening
A bad review can hang around like a ghost, impacting your reputation for years to come. Social listening tools allow you to keep on top of the conversation, and give you the opportunity to respond within time.
Our pick: Mention
Mention is a tool for social monitoring, analytics, and competitor research.
Nice interface, powerful monitoring, good reporting tools.

Monitors social platforms, as well as other online sources.
Offers social publishing tools as well
If you want a handle on how people are feeling about your brand, Mention is for you. The interface is clean and customizable, and you can easily download data in an Excel sheet if that's your bag. It's cost-effective, picks up details quickly, and can be set up in less than an hour so you can get back to work. Make sure you set up the right filters, or you may be flooded with information, which comes from social media, news, message boards, and forums. If you want to add traditional media like TV and Radio you will need to pay quite a bit extra, which might not make sense for a smaller company.
Rating: Capterra - ★★★★★ (4.7/5, 270 ratings)
G2Crowd - ★★★★☆ (4.3/5, 430+ ratings)
Pricing: Free for 1 alert, paid accounts between €29,- and €1990,- Larger enterprises are required to reach out for a personalized quote.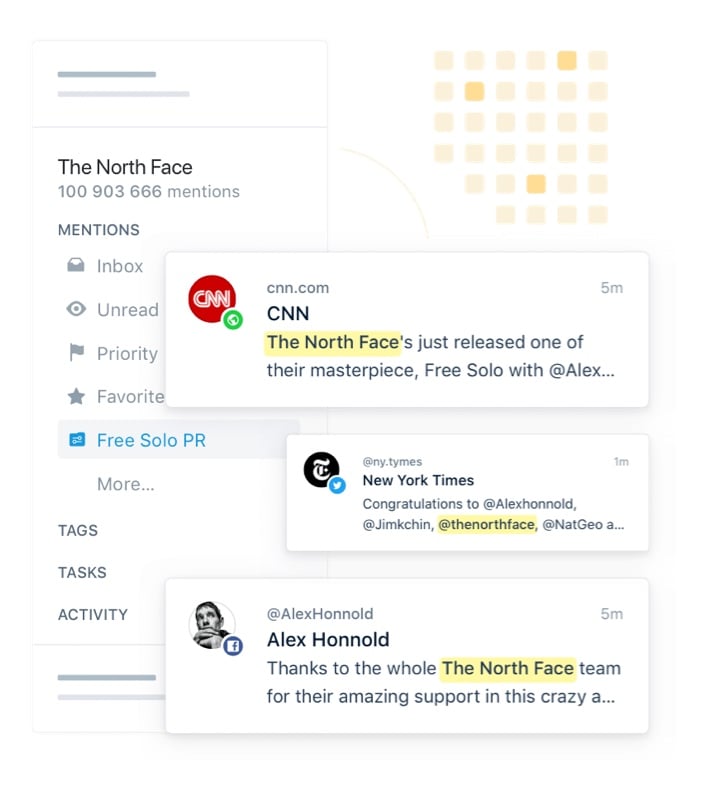 Runner up: Brand24
Track, measure, and engage online conversations in real-time
Brand24 is reliable and affordable, and can help you avert a PR crisis before it hits. It contains good summaries of both positive and negative feedback and has a nice feature to monitor individual groups.
Runner up: Reputation.com
Reputation.com is an online reputation and customer experience management platform
PR is about reputation, so it's worth to assess. This tool can help you monitor and improve online ratings and reviews, improve customer experience, and use data to get a good snapshot of where you are as a business.
Internal communication
We spend the largest part of our jobs communicating with each other. Having the right tools to do it right can help with team satisfaction and improve the quality of your work.
Our pick: Slack
A business communication platform
One of the fastest-growing SaaS companies in the world, and for a good reason.

Works beautifully, and has possibilities for tons of integrations.

Might not work for everyone - requires some processes and rules to keep it organized.
A bit of a no-brainer for any team, Slack not only makes communicating fun, but it keeps you up to date with what your colleagues are doing in seconds. With multiple channels, workspaces, and reply threads, private or public, it's easy to organize discussions— you can even write messages to yourself to revisit later. The search function is also great for finding missing information and drawing attention to past conversations. Being able to edit a message once it has been sent is also useful for the trigger fingered amongst you. Working from home, this tool is more invaluable than ever, as it truly brings teams together. Plus, it's new 'Huddle' feature allows you to jump on a call (video and audio) to go over things that can't be explained over message. We love it!
Rating: Capterra - ★★★★★ (4.7/5, 22k+ ratings)
G2Crowd - ★★★★★ (4.5/5, 30k+ ratings)
Pricing: Between €7.25, and €12.50,- per user, per month. Larger enterprises are required to reach out for a personalized quote.
Runner up: Know your Team
If you're a hybrid or remote team, this tool is essential for your company culture. Know your Team is a tool that helps managers become better leaders and build team rapport. It allows you to schedule and hold one on one meetings, give (and receive) honest feedback, share progress and keep colleagues connected.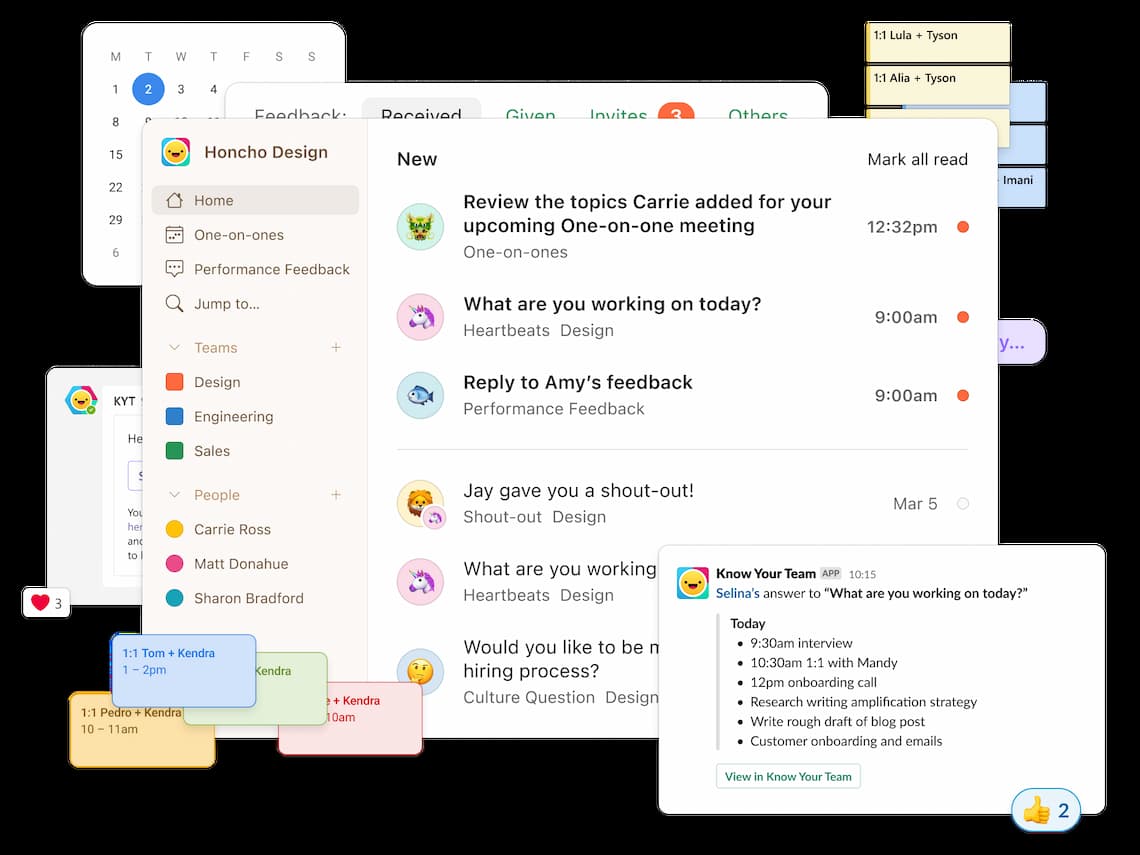 We've been using Know your Team to keep track of our 1:1s, give shout-outs to our teammates, and answer icebreaker questions which are especially helpful when onboarding new team members.
Runner up: Happeo
A social intranet for G Suite users
Learning to use 'Channels' to communicate may take some getting used to but like Slack, Happeo is a great resource for sharing information in a fun and efficient way. The social-media-like news feed helps you keep on top of what is happening, and widgets help you build Pages and collaborate together.
Noteworthy tool: Tandem
Tandem is a virtual office for remote teams - all of your colleagues available with a click of your mouse. All meetings and conference calls happen here. Very efficient, our only problem is that it seriously hogs your CPU. This will pretty much only works well with teams with fancy laptops.
Top 10 PR goals and how software helps you reach them
Top 10 PR goals
Ultimately, as a PR professional, you want to feel satisfied in your role. Reaching your goals is one of the best ways to feel that sense of achievement. A well-picked technology stack not only helps you reach your goals but in most cases, gets you there more joyfully.
Here are the top ten PR goals our customers aim for, and some tools to help you reach them. If you notice tools cropping up as suggestions in two or more of your goals, chances are they're a good fit.
How to evaluate the tools you are already using
Once you have worked out your key goals and set objectives, it should be easier to pinpoint which tools you will need to achieve them. But how do you choose between different vendors? Review sites can only do so much, what's equally important is if the features are compatible with your unique situation. That's why it's best to split features into 'must-haves' and 'would be nices' and compare features between vendors so you can give them a suitability rating. Ultimately, salespeople will try to persuade you and they will all sound fantastic. But it's you that knows what you actually need.
We've built a feature comparison guide that you can adjust so you can compare different vendors and come to an informed decision based on your unique needs. Take me to the guide.
We believe that correct brand communication plays a critical role in any organizations' success. It's important to find a solution that correctly represents your brand to your target markets and your target media. Often the solution direction isn't only between vendors but between building or buying and between generic or industry-specific solutions. Below we quickly highlight the differences between these considerations
Build vs. Buy consideration
Some organizations are successful in bringing communications to scale with an internally built platform. However, more often we have seen that it is very hard to free up the required resources to build solutions from scratch for most organizations. In practice, the comms team will (unfortunately) lose out on development priorities from other departments.
Teams that choose to build a solution in-house, often do so because it will give them unlimited flexibility to integrate with their application codebase and existing systems and processes. However, many teams quickly find that building PR software is not their core competency and that unlimited flexibility means more opportunities for something to break.
We have a whitepaper specifically covering your build-versus-buy considerations, which you can download here.
Generic vs. Specific Software
When choosing your vendor you will often have the option to choose a more generic, do-it-all solution, instead of a PR-specific solution. There are a few benefits of choosing a specific solution over a generic one:
Efficiency

→

when using a tool designed for your specific profession, in this case, a communications and PR role, the software has been designed to align with your workflow and will generally be much more efficient than a generic tool. It will simply require fewer "workarounds" to make it work for your specific use case.



Feature Innovation

→

your organization will benefit from receiving software feature updates that other people in the industry are asking for and you'll be automatically receiving these software improvements over time.
Integrated data

→

having your content management system and your media CRM in the same system means that combining the data from your campaigns and media outreach will be more meaningful since you can more easily track what campaigns are successful for what journalists.
Better support → With

pr.co

, you have experts on call when needed, firstly we can help you on a software level to make sure everything is working correctly, or we can connect you with a large network of like-minded professionals that can help you with any aspect of the PR professionals' job.
Brand Control

→

You remain in full control of your branding with a team ready to make changes and updates when required. You no longer have to wait for your internal resources to free up.
Benefits of Software as a service
Software-as-a-service (SaaS) goes by many names—cloud-based, web-based, outsourced, on-demand—but try not to get confused. They all mean essentially the same thing: you won't be housing the software on-premise. Instead of purchasing a one-time license, you'll pay a periodic subscription (usually per month) to use the software. A lot of popular consumer software, such as Dropbox and Spotify, operate using this web-based subscription model. And software consumers of all ages now demand that their software looks, feels, and works like their consumer technology, meaning fast updates, easy-to-use UI, and responsive service. A SaaS product can meet these demands, usually by offering cloud services for a monthly or annual subscription fee.
SaaS software provides:
Lower upfront cost
Better scalability to size
Faster roll-out and implementation
Faster product innovations for all users of the platform
SaaS is here to stay. Be sure to capitalize on these benefits.