The FIFA Men's World Cup is perhaps the greatest opportunity for a country to exercise soft power. In 2018, the championship's viewing figures dwarfed even those of the Olympic Games. It's safe to say that the context of his World Cup however, hasn't all been positive. This article looks at how PR has cut through the silence and highlighted the human rights concerns at play.
Keep it simple
Joe Lycett's Benders like Beckham
Joe Lycett is known for tongue-in-cheek campaigns that draw attention to unsustainable and unjust practices. So, nobody was surprised when the self-described queer comedian decided to address Qatar's appalling LBGTQ+ record. The success of his campaign, however, was a surprise. He proved just how much you can achieve with a little pluck and £10,0000.
The context
David Beckham was the first premier league footballer to star on the cover of Attitude, a magazine for gay men, solidifying his status as a gay icon. That was until he accepted a £10 million contract to be an ambassador of the Qatar World Cup. Apparently, Beckham's support for human rights has a price tag, but Joe wasn't impressed.
The campaign
On 13 November, one week before the opening ceremony, Joe took to Twitter to launch his campaign, Benders Like Beckham.
At the time of writing, the Tweet has been retweeted 24.6K times. It was picked up by various media outlets and caused an uproar on Twitter— because what is Twitter for if not fuelling a culture war?
As the week went on, Joe gave us more insight into the campaign, sharing an email he'd sent to Beckham's team.
With no response forthcoming, he got ready to shred the cash.
Then came the finale, just moments before the World Cup opening ceremony in Qatar began.
£10,000 of his own money, gone. Or so it seemed.
The following day, Joe admitted that although the money was real, he hadn't destroyed it. Instead, he'd donated it to LGBTQ+ charities.
The result
Journey Further calculated that the stunt amassed over 7,400 articles in just 10 days and increased Google searches of "Joe Lycett" by 614%. Coverage that amounts to £2,843,090.
Many were impressed by the results. Jon Sopel, a former BBC correspondent with 40 years of reporting experience, said, "I honestly can't think of anything that has been done in PR or advertising for ten grand that has garnered so much attention". Not bad for 11 Tweets.
Joe has since been named a UK Communicator of the year by PR Week, and rightly so.
Hypocrisy doesn't fly with consumers
BrewDog's F*Cup
The campaign
Never one to mince their words, BrewDog got straight to the point when they appointed themselves the anti-sponsor of the World Cup.
Unfortunately, at the same time as publicly decrying their human rights abuses, BrewDog was doing business with Qatar. A fact that didn't go unnoticed by the public.
The result
The campaign did make a splash but only because of its inevitable belly flop. BewDog's deal with Qatar's only (government-owned) alcohol distributor was signed just three months before they launched their campaign. This, coupled with the recent headlines decrying their own dehumanizing workplace culture, led to the campaign being branded disingenuous by the press and public.
Still, 100% of their profits from lager sales during the tournament and 100% of revenue (not just profit) from their special edition World Cup beer packs will "go towards fighting human rights abuses" and 100% of revenue (not just profit). So we can hope some good will come from it.
Making it personal: the art of Spokesmanship
US team captain Tyler Adams kept it cool under pressure at a press conference ahead of his team's match with Iran. Having previously spoken out in support of Iranian people in the wake of the anti-regime protests that have recently swept the country, Tyler was met with an irate journalist.
The reporter opened with, "you say you support the Iranian people, but you're pronouncing our country's name wrong..." Then, without a moment's pause, followed up by asking, "are you okay to be representing a country that has so much discrimination against Black people in its own borders?"
As the video shows, you would be hard-pushed to find a better 80-second lesson of Spokesmanship. So how did he do it? Let's break it down.
Being humble
First of all, despite the journalist's tone, and rapid questions, 23-year-old Tyler stayed humble, immediately apologizing for his mispronunciation of 'Iran' before moving on to the second half of his response.
Deescalate
Next, Tyler deescalated the journalist's accusations by acknowledging discrimination "everywhere you go" rather than solely within the United States or Iran, setting the tone for a measured and forward-looking answer.
Making it personal
Tyler tied his own experience in at this point, adding impact to what would have otherwise been an out-of-the-box answer.
Firstly, he said that as an American living in other countries, he had realized that "in the US, we're continuing to make progress [on these issues]".
Secondly, as an individual having grown up in a white family with Afro-American heritage, he explained the ease with which he can adapt to other cultures. The focus on himself could come across as deflection, but he used it to segue into the importance of education to create a more just society.
Wrapping it up
The bow on the top of Tyler's response was how he bought it all together. While speaking of the importance of education, he brought us back to the start of his answer and thanked the journalist for his role in educating him on the pronunciation of Iran. Concluding with the line, "As long as you see progress, that's the most important thing." Wow.
To learn more about how you can master the role of a spokesperson, check out our course on Media Training and Crisis Communications.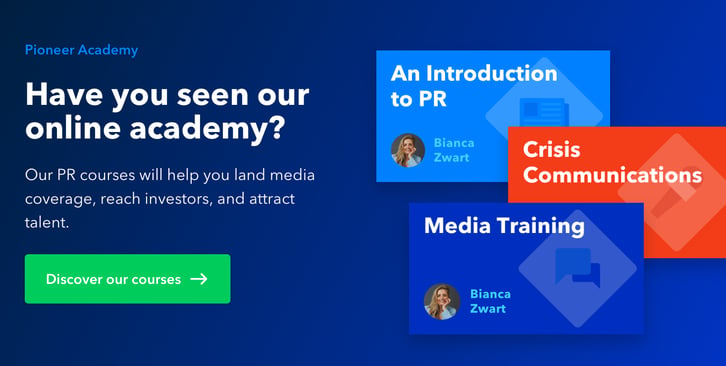 Harriet has 8 years of marketing experience at NGOs and in the public sector. She's a marketer with a strong ethical compass, and sharp pen. Harriet worked as pr.co's Head of Copy and Communications in 2022 and 2023.. Connect on LinkedIn or send an email