When COVID-19 hit the restaurant industry, Takeaway.com had to rethink their entire Communications strategy. They soon got to work on community initiatives, giving them the kind of renewed sense of togetherness that has a lasting impact. Here's how they managed their communications through the uncertainty of the first COVID wave.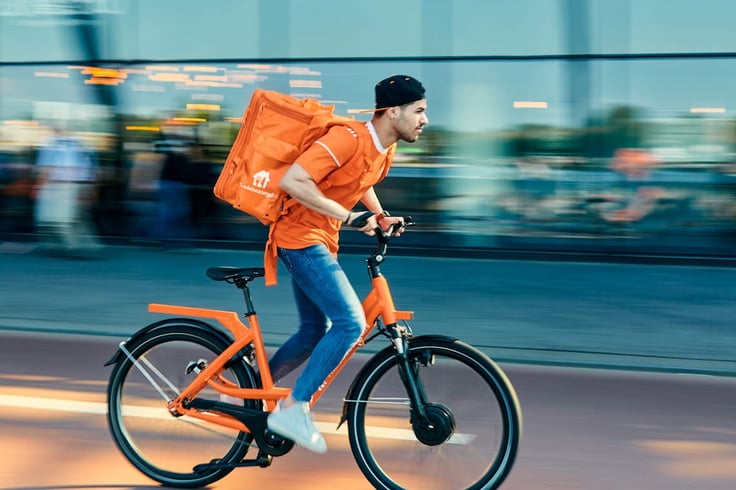 For people around the world, the first weeks of March were dominated by uncertainty, a feeling of the unknown, and unprecedented demand for guidance and reassurance. We all felt it on many levels, in our professional as well as personal lives. I vividly remember the day of 12th March in the Netherlands; when we went into lock-down and restaurants were asked to close. This was the moment when it became obvious for the food industry, be it food delivery or restaurants, that things would not be the same for a long while.
The Chinese sign for "crisis" consists of two parts: the first one means "risk", the other "opportunity". And yes, as Communications professionals we have seen these two words put together many times. But this situation is probably the first time that I personally felt the truth in this old adage.
The Corona crisis has presented companies with a unique opportunity to adapt their communication strategy and messaging, all because of a special new role they now need to play for their stakeholders. This was precisely the moment when we took the chance to review and adapt Takeaway.com's focus for the months ahead. Now more than ever, we needed to re-evaluate and re-think what is truly important in our lives and what we can live without. And thus, within a matter of days, we cancelled ongoing advertising and commercial campaigns and went back to the core of what matters.
To say the world changed during 2020 is an understatement. Here are the skills you need for the future of PR.
First and foremost – reassurance
We understood very well that globally our consumers were full of doubt and uncertainty. They were faced with a vision of weeks of social distancing and empty shelves in the supermarkets. Meanwhile, restaurants encountered the toughest situation they ever had to face – not being able to open their doors to guests and thus losing the lion share of their business. And to top it all off, they had to grapple with the obvious fear for the health and wellbeing of their loved ones, friends, and colleagues.
Takeaway.com's fundamental role is to connect people and restaurants, but this time we had a completely new challenge of eliminating any risk or doubt related to the safety of the delivery process. This is why our first global intervention and communication on March 12th was the introduction of contactless delivery — plus multiple other detailed safety measures for the well-being of all; consumers and restaurants. A short press release we issued received an overwhelming response from global media outlets, which proved the relevance and need for our message: "we are working on the ways to be able to bring you your orders safely and, as much as we can, maintain business as usual".
Consumers and social media followers will strike down any puffery and purpose-washing — they can see through the smallest false claim. This is why we discussed and very clearly defined our way of behaving and communicating in the current situation... authenticity, humility, and a "them first" approach.
We are all in this together – community is all that matters now
Crisis brings us all together, and a common threat erases barriers. With the entire HORECA (hospitality industry) in serious trouble, we took no time to respond positively to the invitation to take part in a pan-industry campaign #samenuitsamenthuis ("Together out, together at home" – for non-Dutch speakers) – which was aimed at encouraging people to support local restaurants by continuing to order. It was a joint initiative that included big restaurant chains, food producers, retailers, as well as our competitors. The campaign was delivered in digital, social, print, and outdoor — we all chipped in. And we went all in together, with no hesitation, for the sake of the common good.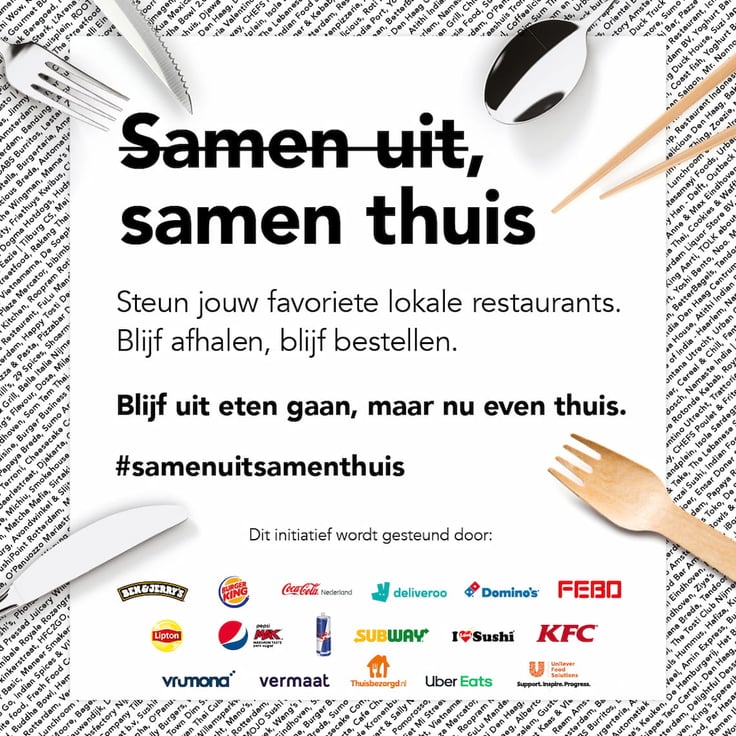 How should communications departments lead the way through a crisis like the outbreak of COVID-19? Here's how you can prepare and survive a crisis.
This solidarity and "togetherness" were also felt in our #TheyAreOpen campaign that followed soon after the lock-down announcement. The aim again was to activate people to support their local neighborhood independent restaurants by sharing their stories, dishes, and creativity in times of Corona. In all markets where we operate, we have seen a fantastic response to the call to action from everyone: consumers, influencers, and restaurants themselves. It's important to note that we were very clear that it was the restaurants who were at the center of the campaign, and Takeaway.com's role was to simply enable them to keep doing business and step back. This was reflected in the tonality of the campaign, starting from the hashtag we chose. The campaign was about them, not us, for the benefit of the overall industry. And that is, if you will, the way we chose to build out the Takeaway.com brand in this special time.
Similar campaigns are very vulnerable when the intentions are fake. Consumers and social media followers will strike down any puffery and purpose-washing — they can see through the smallest false claim. This is why we discussed and very clearly defined our way of behaving and communicating in the current situation. The result is a set of principles that have now become our foundation for all Corona communications. They are principles that each asset is evaluated against - authenticity, humility, and a "them first" approach.
Do the right thing
Doing the right thing is our core value.
The obvious questions still remain: Is there anything else we can do? What is the thing that we do best, that will bring meaningful change? Inspired by multiple grass-roots employee ideas and initiatives, we are now preparing a delivery of over 4 million euros worth of free meals to Corona fighting hospitals and medical staff across Europe. It will be a hugely complex project, across multiple teams, including over 100 hospitals, third-party governmental agencies, ministries, and restaurants. It's a fantastic cause worth shouting about, but in fact, you will not hear much more about it from me.
Taking our set of principles to heart, we will not issue a press release about this, nor will we sponsor social media posts. We will remain informative and supportive while focusing on delivering help — rather than building a campaign at the back of it. That is, as I continue to learn, the very Dutch way of "doing the right thing."
While I have had many other learnings in this period, this is the one that stands out and makes me particularly proud (if not moved). The change and pressure on food delivery companies was completely unexpected. We, as Takeaway.com employees, all woke up in this new reality frankly, with quite a shock. But I am still amazed every day by the resilience and solidarity that helps all our teams not only deliver a high standard of our services — but also to strive, with no less and perhaps even more intensity, to help each other out, and build initiatives that we believe in. Never has the saying "all hands on board" been truer.
Last, but not least, we have discovered our own heroes without capes, shooting through the streets on orange bikes, doing their job of delivering food to the nation - tirelessly, safely, and with a smile. And for that, we wanted to say a massive Thank You!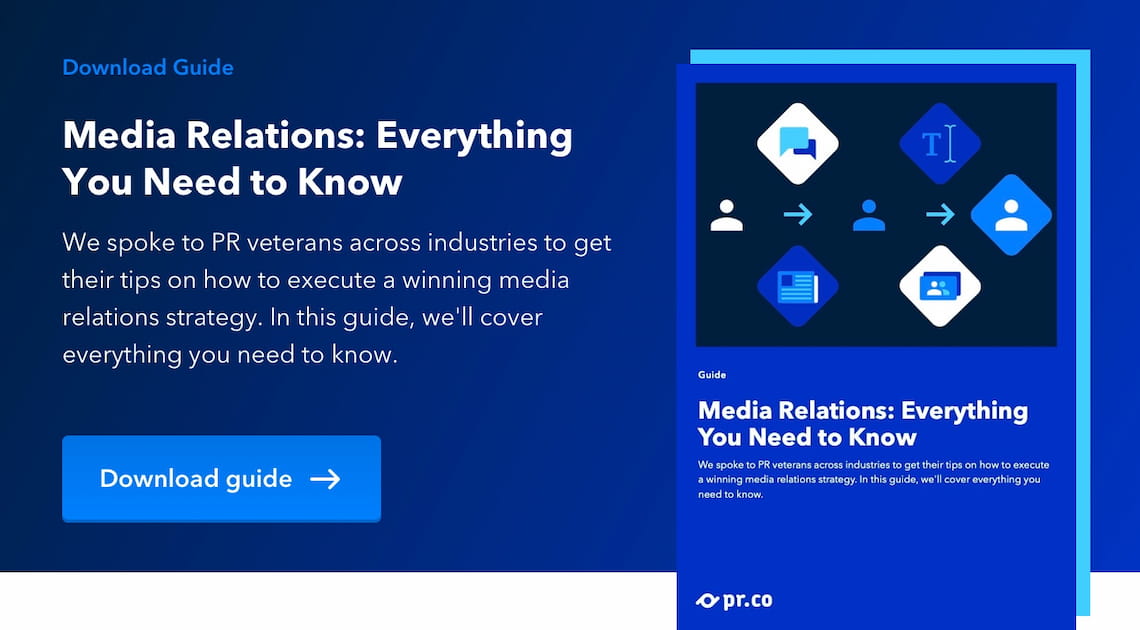 Anna Bielecka is a Communications Professional, Brand Builder, and Storyteller with over 13 years of experience. She learned the PR ropes in the consumer goods industry, and has launched international PR and social media campaigns for Pampers, and Always with their "Like A Girl" series. Today, she leads Brand PR for Takeaway.com globally.. Connect on LinkedIn or send an email