If you're looking to scale your PR efforts, you'll need the right tool stack to help you stay efficient. Not only does automating tasks save you time, but it can also reduce human error, making your work a lot more efficient. This is especially important for PR teams at startups looking to expand their efforts to new markets. The more your team relies on software to automate your tasks, the more time you have to focus on the bigger picture.
We've created a curated list of tools that successful PR teams use every. Why trust us? For starters, we don't have any partnerships with the tools listed; we just know they're excellent. And how do we know this? We're a fast-growing SaaS company ourselves. Also, over the last 10 years, we've spoken to dozens of successful PR teams at some of the most exciting and fastest-growing companies out there. They've shared the tools that make their jobs more manageable, and now, we're passing them on to you.
Here's our round-up of the best tools and resources for fast-growing companies:
If your company is expanding to new markets, here's a step-by-step guidebook to help your team take your PR strategy to the next level. Download our Ultimate PR Guide for fast-growing companies.
Project Management
A good project management tool makes planning, executing, and monitoring project progress a total breeze. These tools create a transparent record so that everyone knows who is doing what and when. This is especially important in a scale-up, given that teams are growing quickly. By setting clear expectations and defining roles and tasks, your work will benefit from choosing the best project management tool for your team.
Trello:
A kanban-style project management tool to track your 'to-dos' and virtually everything else.
A classic, and for a very good reason. Trello is a visual collaboration tool that helps your team visualize projects with satisfying clarity. It's great for all types of teams, from sales and marketing, to HR and operations, and even PR. Trello allows you to manage projects, organize tasks and track success – all in one place. Teams can customize their workflows by adding task assignments, timelines, productivity metrics, calendars, and much more. Plus, with over 100+ integrations with other key tools like Google Drive, Slack, and Jira, Trello is the perfect tool for distributed PR teams.
Miro
Miro is the online whiteboard platform that helps you co-create and bring meetings to life.
If your company is growing quickly, you'll want to add Miro to your tool stack. This digital whiteboard has a host of features to visualize projects, whatever the device. Think nice visual landscapes complete with post-it notes, annotations, and graphs so you can visualize your customer journeys, sprint planning, retros, and more. Like Trello, it integrates with most enterprise tools, making it easy to fit into your workflow. What strikes us most about Miro is that it's so well designed. It looks beautiful, works perfectly, and includes features you didn't even know you needed. It's also worth mentioning Miro themselves have gone through a growth spurt over the past couple of years. They are currently valued at $17.5 billion, with more than 30 million users and counts nearly all of the Fortune 100 companies as clients. Pretty impressive, right?
The only cons are that it can be a little heavy on your CPU, but using their app solved this issue for us.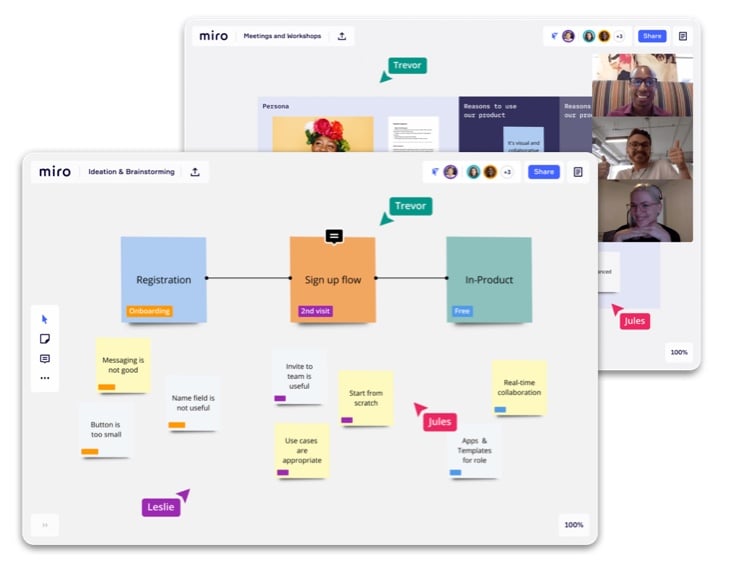 Basecamp
An online project management and collaboration tool for hybrid and remote teams.
Basecamp has been a remote company for 20 years. Now, that is a company you trust to build a good project management tool, right? Basecamp's 'all-in-one' project management platform can save you the busywork of patching together different tools. While Basecamp doesn't do it all, it does a great deal and solves a common problem of accountability and delegation for communications teams. In this 'virtual office,' you can chat, create to-do lists, post files and documents, keep track of schedules and meetings, etc. It's beautifully designed and has famously good support. The only cons are that it's not easily customizable, and different versions have different features.
The folks at Basecamp are true innovators. A nice example of that is how they have entirely removed the online/offline status of employees in their app. Their reasoning: "Who cares if your colleagues are online all the time? Let them walk the dog, do the laundry or get a cup of coffee. A good company doesn't care about its employees being online all the time– who cares if they're getting their work done?"
If you're looking for more tools to help simplify your processes, we've got you covered. Check out our guide to the Best PR tools for 2022.
Internal Communications
One of the most common pitfalls for PR teams at scale-ups (and every other company) is the lack of communication between teammates. Ironic, isn't it – that communicators have a hard time communicating? The only way to prevent this is to create channels that will foster daily conversations.
Slack
Slack is a messaging app for businesses.
This is the backbone of our team. Slack makes communicating fun, but it keeps you up to date with what your colleagues are doing in seconds. With multiple channels, workspaces, and reply threads, private or public, it's easy to organize discussions— you can even write messages to yourself to revisit later.

For us, the most powerful feature is probably Slack's search function. It's invaluable for finding missing information and drawing attention to past conversations.
Editing a message once it has been sent is also helpful for the trigger fingered amongst you. When working with international agencies and partners, this tool is especially powerful, as it genuinely brings teams together.
Notion
Your company's very own wiki.
Growing a company means building processes. With Notion, you bring all these processes, strategies, protocols, and tutorials together, so that your team always knows where to find them. Like an internal wiki, you can store information in countless formats. With nice integrations with Google docs and reporting tools, it's a brilliant hub for everything you are working on. When our team began to see how flexible the tool was and just how many tasks you could use it for (there is a notable learning curve), it became a staple. Notion will help your team get organized and will definitely aid your onboarding process.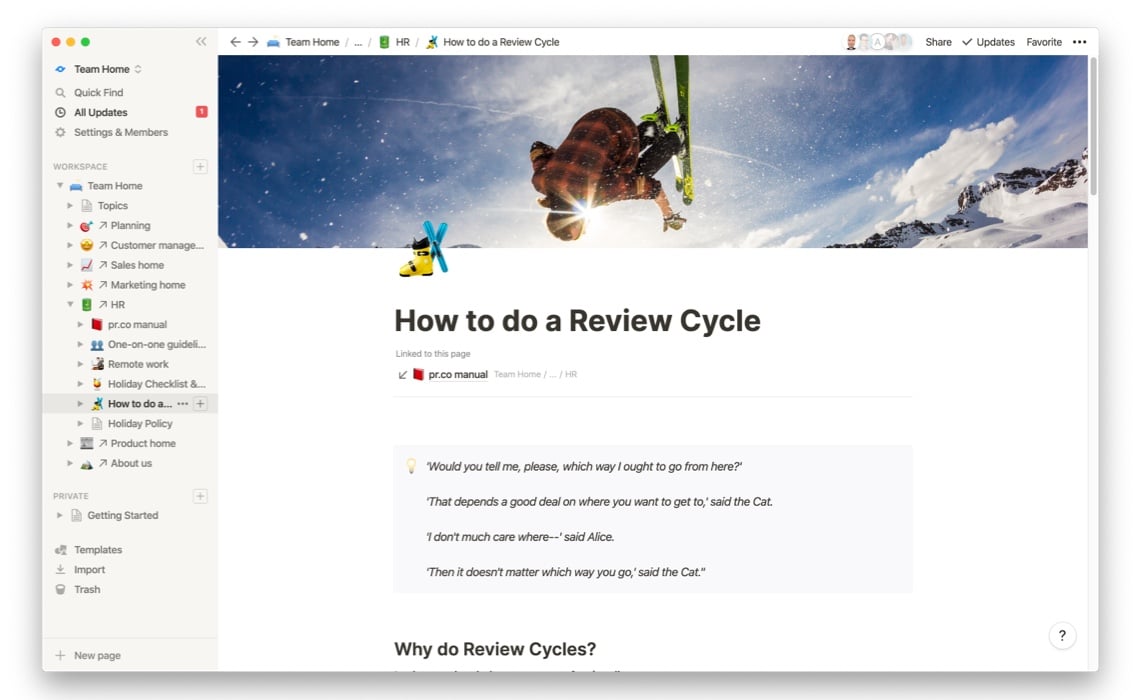 Monitoring
Before creating news or assessing yourself, it's essential to feel the room. Especially since you're growing and entering new markets. When you have a handle on how you (and your competition) are being covered, it's easier to spot opportunities and chart a course. Likewise, knowing how your customers and employees view your brand is crucial so you can create a language to reach them.
Monitoring the landscape will also help you anticipate crises. The research you do will be great for SEO and increasing traffic. The tools below can help you with keyword research, website optimization, and backlink strategy.
Agility PR
Agility PR helps PR pros generate and monitor media coverage, measure results, and demonstrate their value.
Agility PR is our favorite tool to monitor media coverage and report results with user-centric features. For starters, you can search a wide range of industries. Moreover, it can be a valuable tool to stay on top of industry developments. The search is flexible, and the results are reliable. Customer service is generally good.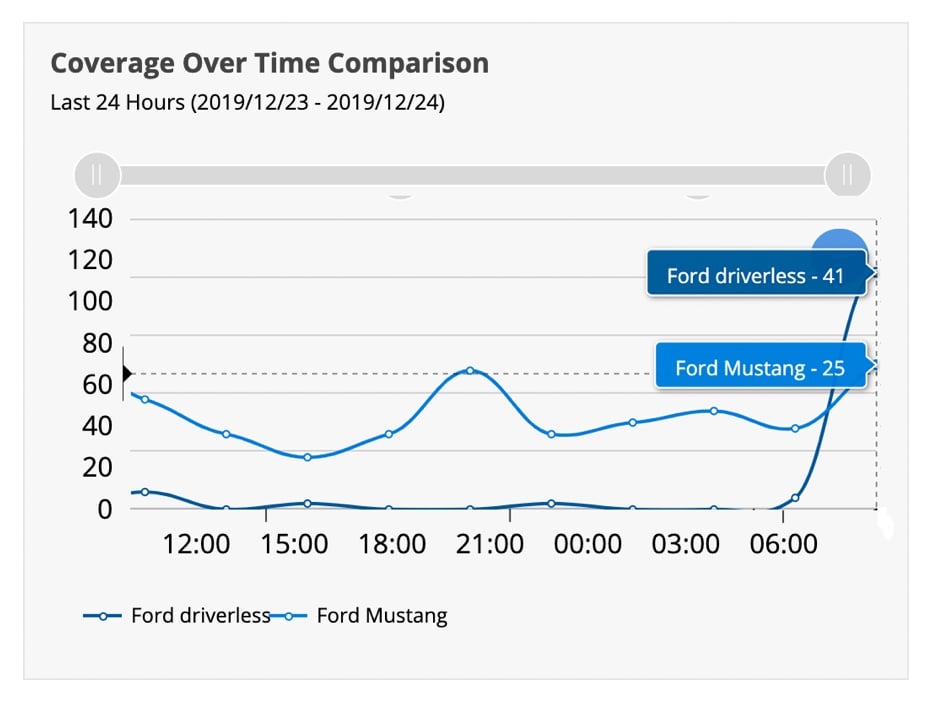 Meltwater
Meltwater helps PR and marketing teams monitor media coverage across both news and social media and enhance brand management.
Taking the temperature of any market before entering is a must. One tool that will help you do some social listening and media monitoring is Meltwater. Plus, it adds a layer of reporting which gives you precise data and insight into how your brand is perceived. Meltwater is a little pricey, and their sales agents are pushy. If you can put up with this, their media monitoring tool is good. Many PR pros we've spoken to have recommended Meltwater as their favorite monitoring tool.
LexisNexis NewsDesk
A tool to search, analyze, monitor, and share media intelligence.
Simple to set up, LexisNexis' NewsDesk is an excellent resource for media research and spotting trends. Most importantly, LexisNexis is the platform for offline media. Interestingly, this is where all the other monitoring providers get their offline media monitoring data. It's reliable and well organized: especially if you're a visual person.
Mention
Web and social monitoring, for a fair price.
A bad review can hang around like a ghost, impacting your reputation for years to come. Social listening tools allow you to keep on top of the conversation and respond within time.
If you want a handle on how people feel about your brand, Mention is the tool for you. The interface is clean and customizable, and you can easily download data in an Excel sheet if that's your bag. It's cost-effective, picks up details quickly, and can be set up in less than an hour so you can get back to work. Make sure you set up suitable filters, or you may be flooded with information from social media, news, message boards, and forums. If you want to add traditional media like TV and Radio, you will need to pay quite a bit extra, which might not make sense for a startup, but might come in handy if you're in hypergrowth.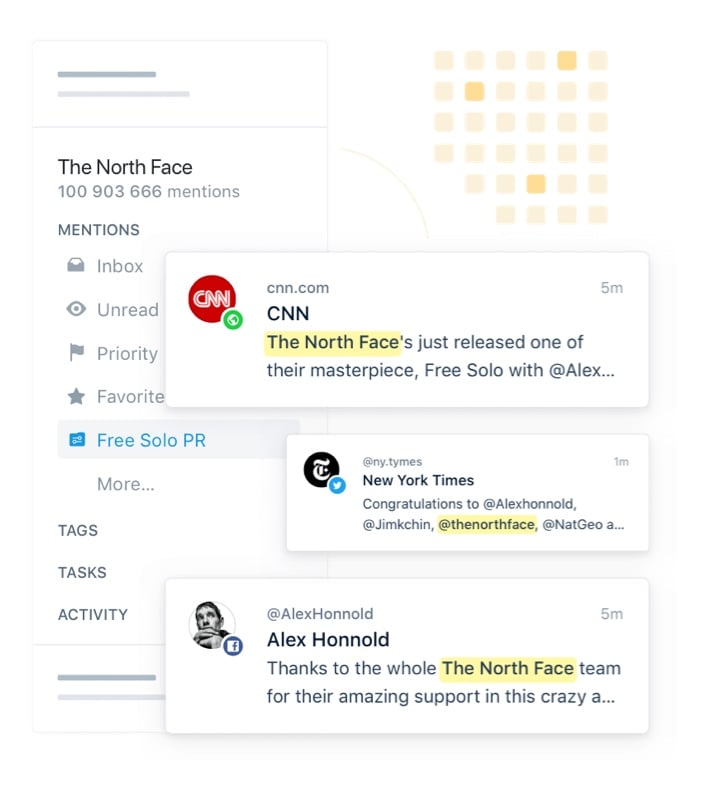 Content creation
Much logistical legwork goes into the 'creation' part of content. You probably want to eliminate this to get back to the fun part: telling great stories. But without great packaging, your message will be lost, which is why quality content is so important. These tools will help you whip up something of quality in minutes.
Grammarly
A typing assistant that reviews spelling, grammar, punctuation, clarity, engagement, and delivery mistakes.
There's nothing worse than spotting a typo or grammar mistake after the fact. Grammarly is bound to up the quality of every comms department. It helps you identify ugly sentences, refine tone, avoid errors, and give a nice explanation for each suggestion. If you write content for legal documents or press releases, catching those errors that slip past the human eye will do wonders for your credibility. Our (tiny) bugbear is that dismissed notifications can mysteriously reappear.
There's a lot more where that came from. Here are 30+ online resources that will help you become a better writer.
Canva
A graphic design platform that helps you design anything from logos and social media content to documents, prints, and more.
Sure, your graphic designer might disagree (they'll prefer the Adobe Suite), but Canva is a great tool to help you get the task done quickly. While we love the Adobe suite, most of us do not have the time to master it. Luckily Canva exists, which helps you create a social media graphic or improve a photo with very little expertise. With plenty of templates for visual assets and easy drag and drop functions, you have quite a lot available on the free plan— although the stock photos are a little on the cheesy side. We would suggest sourcing your own.
Soapbox by Wistia
A tool to record, edit, and share videos.
If you're onboarding agencies abroad, you'll want to check out Soapbox. This tool is perfect for tutorials or talking head videos. All you need is a Chrome extension and a webcam. Soapbox is easy-to-use, and the end result looks well edited without feeling too staged. Videos are done in one take, so you must be camera ready.
▲ Here's our colleague Sjors giving an overview of our product using Soapbox.
Content management
Every Saas advert will talk about saving you time— with good reason, time is the most valuable commodity. Nevertheless, we've heard it so often that our eyes start to glaze over even if it's true.
If you work in PR, there is one tool that will genuinely give you back hours of your life. And that's an online newsroom. Back and forth emails requesting info, sending out dozens of WeTransfer links, even pitching itself, all these tasks (mostly) disappear with an online newsroom.
This is why it's getting a star position in this guide— because online newsrooms are one of the best tools to have in your PR arsenal. With a good online newsroom, journalists will have everything they could possibly need to write a story about you.
Maintaining a good reputation will require constant storytelling from your PR team. If you can tell those stories from a place that's beautiful, packed full of info, and easy to use, your stories are simply more appealing.
Moreover, your news needs to be found to be picked up in the first place. A good newsroom is consistently at the top of search engine results pages. We should know— we work continuously to keep them there.
A beautiful, branded newsroom boosts your brand credibility and significantly increases your Inbound PR (journalists approaching you for a story). Our newsrooms are optimized to appear at the top of the Google results, so it's findable in seconds. Designed in collaboration with journalists, pr.co newsrooms give them everything they need (high-res photos, contact details, quotes, clippings) in a few clicks. With strategically placed CTAs, we help our customers convert incoming press traffic into long-lasting media relationships.
PR software (CMS and CRM)
Behind these newsrooms is straightforward content management software that makes it easy to collaborate with colleagues, wherever they are. Create media-rich releases, manage approvals, and set embargoes from one straightforward tool.
Our smart email tool remembers every detail— from email history to open rates to notes about their dog— so you don't have to. Create targeted press lists, timed emails, and smart filters, and watch your reply rate improve.
Here's what our clients had to say about our product:
"pr.co-launched our first newsroom four years ago. Since then, VanMoof has grown fast. Without fail, the pr.co team kept pace with us, re-designing our newsroom to our exact –and ever-changing– needs, building localized interfaces for our top five markets. What I appreciate the most is that the PR.co team has been there to help anytime we need them. All in all, pr.co has been key to our success in bringing our PR efforts in-house and enabling us to cater to a growing audience of press from worldwide."

- Karlijn Marchildon. Head of Communications & PR at VanMoof.
"Our first newsroom allowed us to communicate with stakeholders in English, but now we're expanding to other countries. We work with agencies across Europe and use separate newsrooms to communicate to each individual market, in their own language, with news pertaining to that region. All of this while trying to serve a journalist in the best way possible."

- Kajsa Apelqvist, PR & Communications Specialist at Lynk & Co
"I would highly recommend using a pr.co newsroom. It is an excellent tool to have, especially just to keep things organized. We just don't have the capacity to build or manage a newsroom ourselves. Because it's a living thing, we're constantly adding to it and changing it. Having a tool like this to support your efforts and have a nice professional presence for the media is super important. Because let's face it, you'll never be able to hire enough PR people to build and manage a newsroom at this phase of a company."

- Christa Connell, Head of Public Relations at BUX.
Disclaimer: As a PR software company, we (unsurprisingly) don't have access to or first-hand experience of our competitors' software. We only want to recommend tools that we either use personally or are used by most of the comms departments we work with.
It would be insincere of us to make an assessment of a product we have never used. But based on the glowing feedback we get from our customers, we are confident that we are the best solution out there — we'd be willing to stake a great deal on it.
Reporting
Your CMO will probably get stricter with results now that your company has grown. Despite your best efforts, there will always be someone somewhere demanding a pie chart. These tools prove you're producing bang for your buck.
Coveragebook
A tool to help PR professionals & agencies showcase and measure the impact of their earned media.
A great way to brief a new agency you'll be working with is by providing your previous coverage. Putting together a coverage book to show off your hard-earned media can require some blood, sweat, and tears. Thankfully there is software that can take care of that for you. CoverageBook is a straightforward tool can produce professional-looking reports with just a link. It includes a Chrome extension to easily bookmark links to add to reports at a later date. You can sort information in a variety of formats, and the support team is great.
Google Analytics
An analytics platform that helps businesses gain marketing insights and more.
The array of things you can measure with Google Analytics is mind-boggling. As a result, it can be a little intimidating for a first-timer, but once you have control of the basics, you'll have a good insight into your users' behaviors and content performance. Plus, it's free.
Final tips from PR pros
Scalability is a mindset. It's all about having the systems and people in place to make your growth as seamless as possible. The difference between handling public relations in a startup and a scale-up lies in the professionalization of processes.
Once your brand has started picking up traction and is expanding, it's important to put it all on paper. Christa Connell, Head of Public Relations at BUX, suggests you get organized before the next growth spurt: "Find the right tools for your team, put together a proper strategy, and align your goals with the wider growth team. You have to have all of your ducks in a row because things can change quickly."
Here are some more elements to consider as you prepare to scale your startup:
One step at a time: when scaling, it's essential to be strategic with your decisions. Don't spend money on hiring new people or software for that matter, until you're absolutely ready to do so.


Be mindful: there's nothing wrong with staying small and lean if your product or service demands it. Grow only when necessary.


If you're in charge of adapting your PR strategy to new markets, here's some sound advice from two PR pros that might come in handy.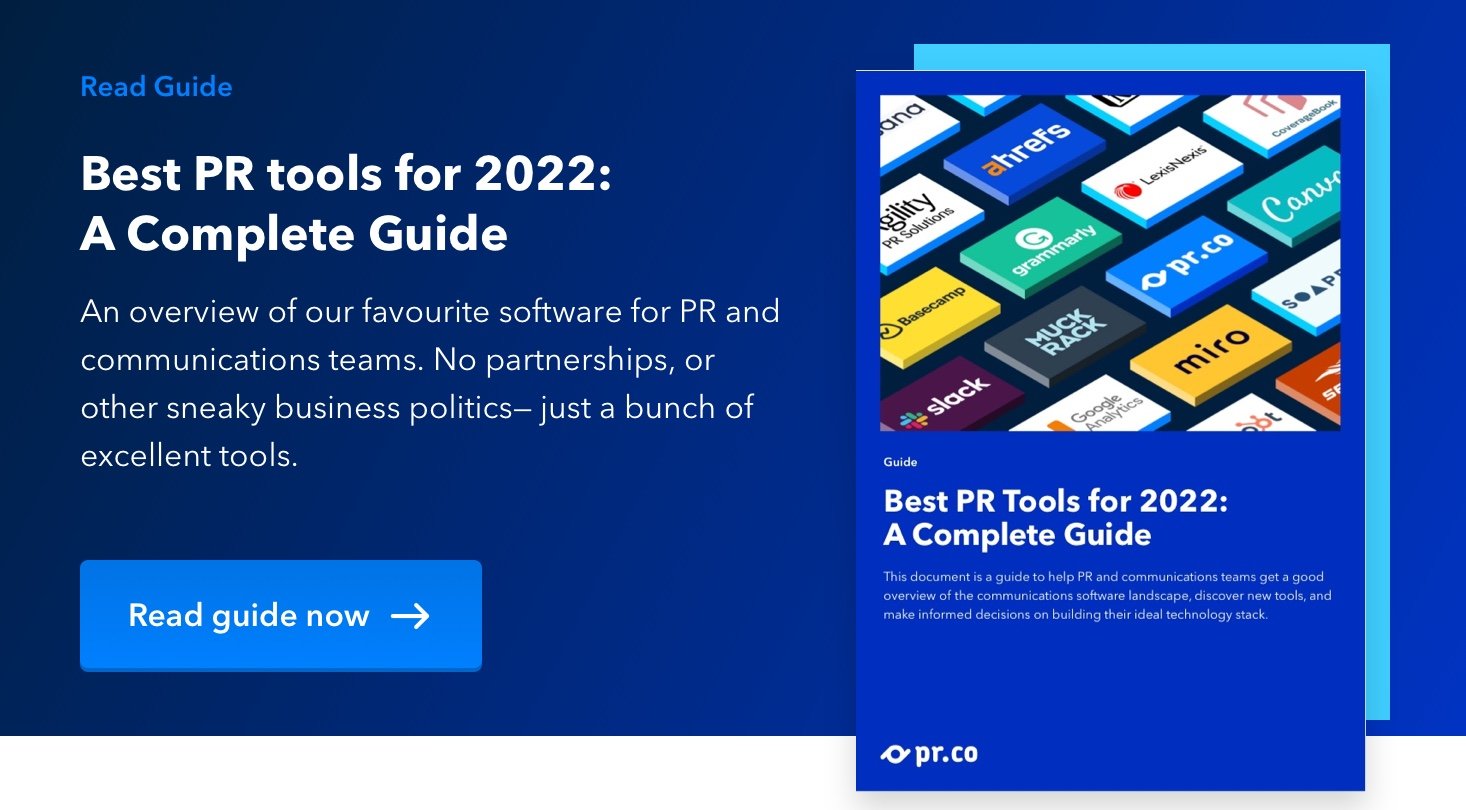 Ana writes stories for, about, and with the best PR professionals in the game.. Connect on LinkedIn or send an email