2020. We can't say we're going to miss you— but there's something to be said for making it across the finish line. 2021 is the fresh start we all need. You're likely working on your communication strategy now, with your mind turned to the future.
If you're anything like the dozens of successful comms teams we speak to every day, you'll be coming up with goals for the next four quarters. And you'll probably need good tools to reach them.
We might be able to help.
We've spent the past 10 years chatting to the communications teams from brands like Ticketmaster, WeTransfer, Dolby, ING, and Doctors without Borders.
As fellow software geeks, we like to take notes of the tools successful teams rave about.
Below you'll find the top 5 PR goals quoted by hundreds of teams across the world working on their strategies too. With it, you'll find the names of one of our favourite software tools that come up time and time again, because they work.
We've also prepared a much more detailed guide, outlining heaps more of our customers' favourite tools, including why they're good, interesting case studies, pricing and how they've been rated on review websites. Download it for free here.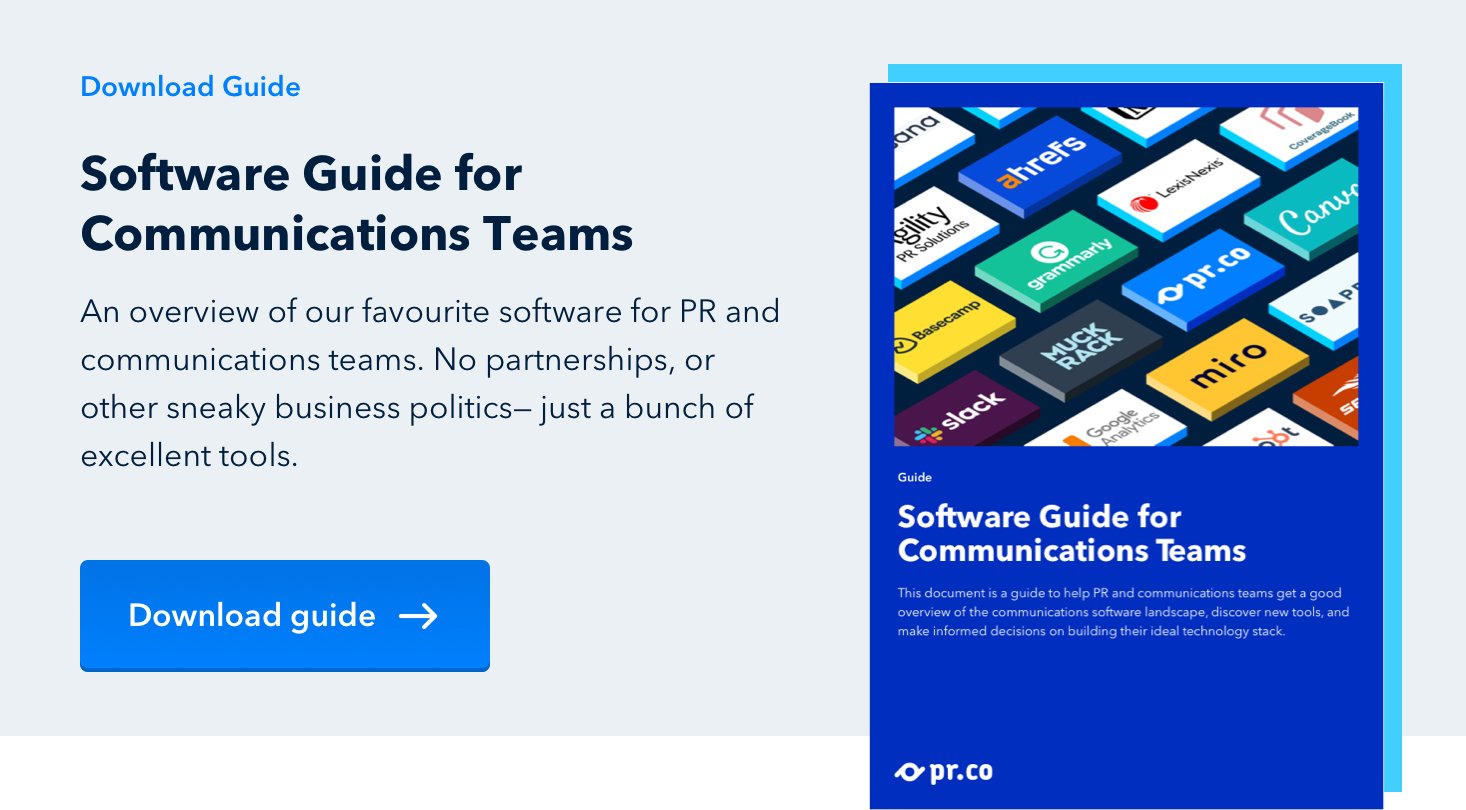 1. Expanding your press network
Journalists tend to rely on a close network of trusted contacts in their niche. If you respect their work, offer them valuable stories, and time it right, you can secure a place in their inner circle. You've got to find the right contacts though, and there are a few really good tools out there to quickly build a press network.
Our favourite: Muck Rack
Software to find journalists, get press for your story, monitor the news and report on the impact of your PR.
A large database of up-to-date journalists, podcasters, influencers and other media professionals.
Muckrack also builds tools for journalists.
Excellent product focused on high-quality, targeted outreach, not spray and pray. And they're one of the only ones in the game.

Muckrack helps you search for journalists, monitor your news, and build reports on your campaigns. They're by far our favourite tool in this category, mostly because of the fact they also make tools for journalists. Muckrack understands media relations are two-way traffic: it's give and take.
Rating: Capterra - 􏰀􏰀􏰀􏰀􏰁 (4.4/5, 18 ratings) G2Crowd - 􏰀􏰀􏰀􏰀􏰁 (4.3/5, 55+ ratings)
Pricing: Unknown - not publicly available on website.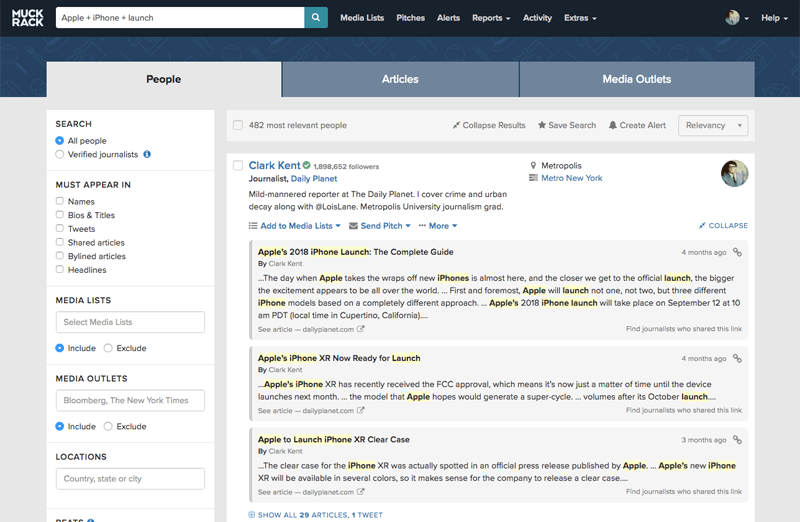 2. Turning your experts into thought leaders/influencers
Considering the past three years were all swiftly proclaimed the "Year of the Influencer" by the likes of Forbes, championing the experts or charming individuals in your company is a must. A great place to showcase your thought leaders to journalists is in an online newsroom, which is full of media-friendly bites like quotes, photos, and research papers. Outside of that you can use content creation tools to add a bit of glitter to your stories.
Our favourite: Soapbox
A tool to record, edit, and share videos
Record your screen and your webcam at the same time.
Create beautiful video pitches, explanations, and demos.
Amazingly user-friendly, and surprisingly entirely free.
Perfect for tutorials or talking head videos, all you need to use this tool is the Chrome browser (it only works on chrome) and a webcam. Easy-to-use, the end result looks well edited without feeling too staged. Videos are done in one take so you have to be camera ready.
Rating: We've entered an obscure realm, Soapbox hasn't yet been rated on main review websites.
Pricing: Free.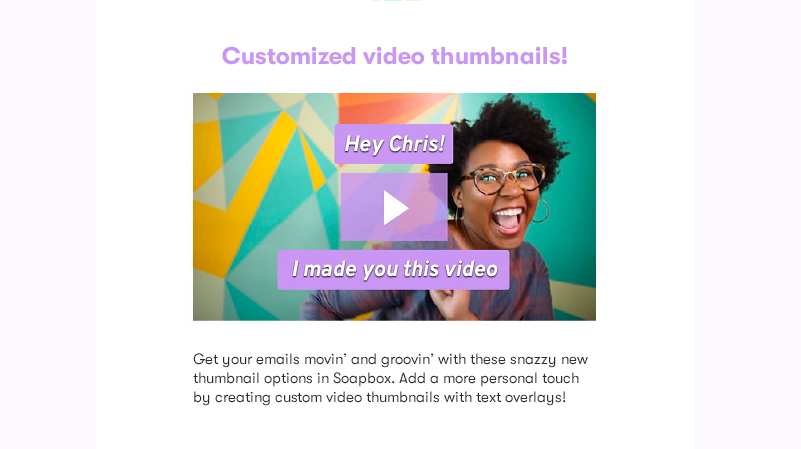 3. Increase media exposure
Back and forth emails requesting info, creating wetransfer links, masterminding fancy PDFs, all these tasks (mostly) disappear with an online newsroom. Journalists are busy bees, and this is a time saver for both you and your press contacts. With a good online newsroom, journalists will have everything they could possibly need to write a story about you in one place.
Our favourite: pr.co
Online newsrooms and software for communications teams
Pretty newsrooms. Made entirely on-brand by an experienced design team. Not your typical off-the-shelf solution.
Newsrooms are SEO-optimised, your news will crawl up Google News and Google Search minutes after posting.
Niche product: not a typical CMS, but made for PR teams (think media kits, coverage, event calendar, and more.)
Online newsrooms have two principles:
They should be designed to make journalists' lives easier
They should look great to make messages memorable
Because of these principles, all newsrooms are co-designed with journalists, and it's branding is entirely in line with your branding. Newsrooms are powered by a platform that also includes a PR CRM for contact management, a curated press list service where we'll build your press lists, collaboration functionalities (to get press releases approved, chat with colleagues, manage agencies) and more.
Rating: Capterra - 􏰀􏰀􏰀􏰀􏰁 (4.6/5, 10 ratings) G2Crowd - 􏰀􏰀􏰀􏰀􏰁 (5/5, 5 ratings).
Pricing: An online newsroom, including the software is €447,- per month.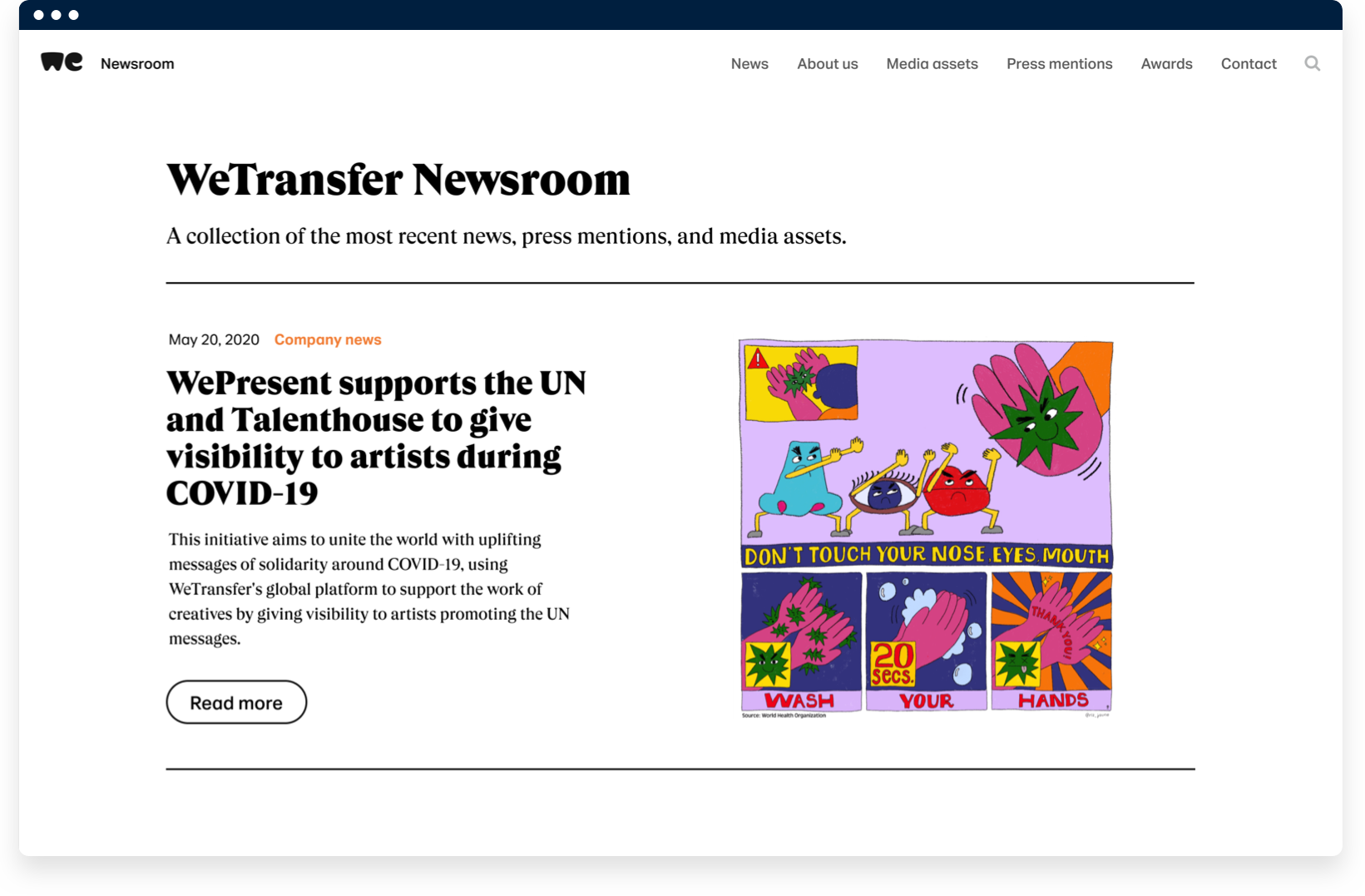 4. Becoming Findable
One of the most important yet underestimated functions of PR is the new(ish) goal of becoming findable. And these days, becoming findable means popping up in journalists' search results. This will mean generating backlinks, improving your site's domain authority, and making sure journalists can find your company news quickly and easily. A findable newsroom is great for the press, and SEO tools can improve the rest of your strategy and materials.
Our favourite: AHrefs
An SEO software suite with tools for keyword research, competitor analysis, link building rank tracking, and site audits
Extremely powerful and complete platform.
Their blog is the most informative blog we've ever seen. You can become an SEO expert in no time with their help.
For something so technical, the learning curve is less steep than you'd imagine.
We've decided to single out AHrefs because a) we've been using it for more than 4 years and b) their content is excellent: extremely helpful, also for SEO rookies. We use the platform for keyword research, monitoring backlinks (this is essentially a great monitoring system to pick up coverage too!), research new markets (which vocabulary do they use - how big is my potential market?), keep an eye on the competition (what's their content strategy like / which keywords do they rank on?). With so much to offer, it really is a secret weapon.
Rating: Capterra - 􏰀􏰀􏰀􏰀􏰀 (4.8/5, 230+ ratings) G2Crowd - 􏰀􏰀􏰀􏰀􏰀 (4.6/5, 250+ ratings)
Pricing: From $99,- per month to $399,- per month.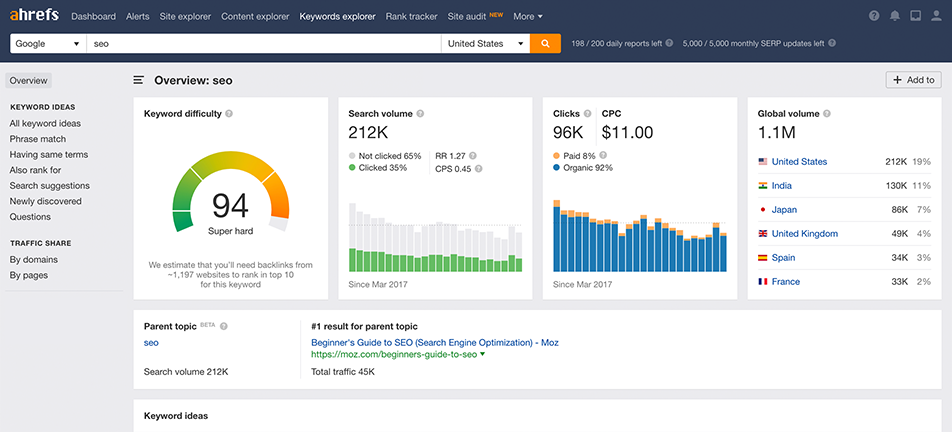 5. Differentiating your brand from the competition
If you want to position yourself effectively, or become the go-to brand on an issue, you'll need to understand the competition. This way you can craft the stories that are going to make you stand out. Media monitoring tools will help you keep your ear to the ground and make a positioning plan to end all plans.
Our favourite: Mention
A tool for social monitoring, analytics, and competitor research.
Nice interface, powerful monitoring, good reporting tools.
Monitors social platforms, as well as other online sources.
Offers social publishing tools as well
If you want to get a handle on how people feel about your brand, this tool is for you. The interface is clean and customisable, and you can easily download data in an Excel sheet if that's your bag. It's cost effective, picks up details quickly, and can be set up in less than an hour so you can get back to work. Make sure you set up the right filters, or you may be flooded with information, which comes from social media, news, message boards, and forums. If you want to add traditional media like TV and Radio you will need to pay quite a bit extra, which might not make sense for a smaller company.
Rating: Capterra - 􏰀􏰀􏰀􏰀􏰀 (4.8/5, 260+ ratings) G2Crowd - 􏰀􏰀􏰀􏰀􏰁 (4.3/5, 420+ ratings)
Pricing: Free for 1 alert, paid accounts between €25,- and €600,-
Found that useful? There's more where that came from. Check out our Software Guide for Communications Teams. The guide includes:
Key features, reviews, and pricing for 20+ popular comms tools
Top 10 PR goals and the tools to help you reach them
A free feature comparison guide to help you pick the right option for you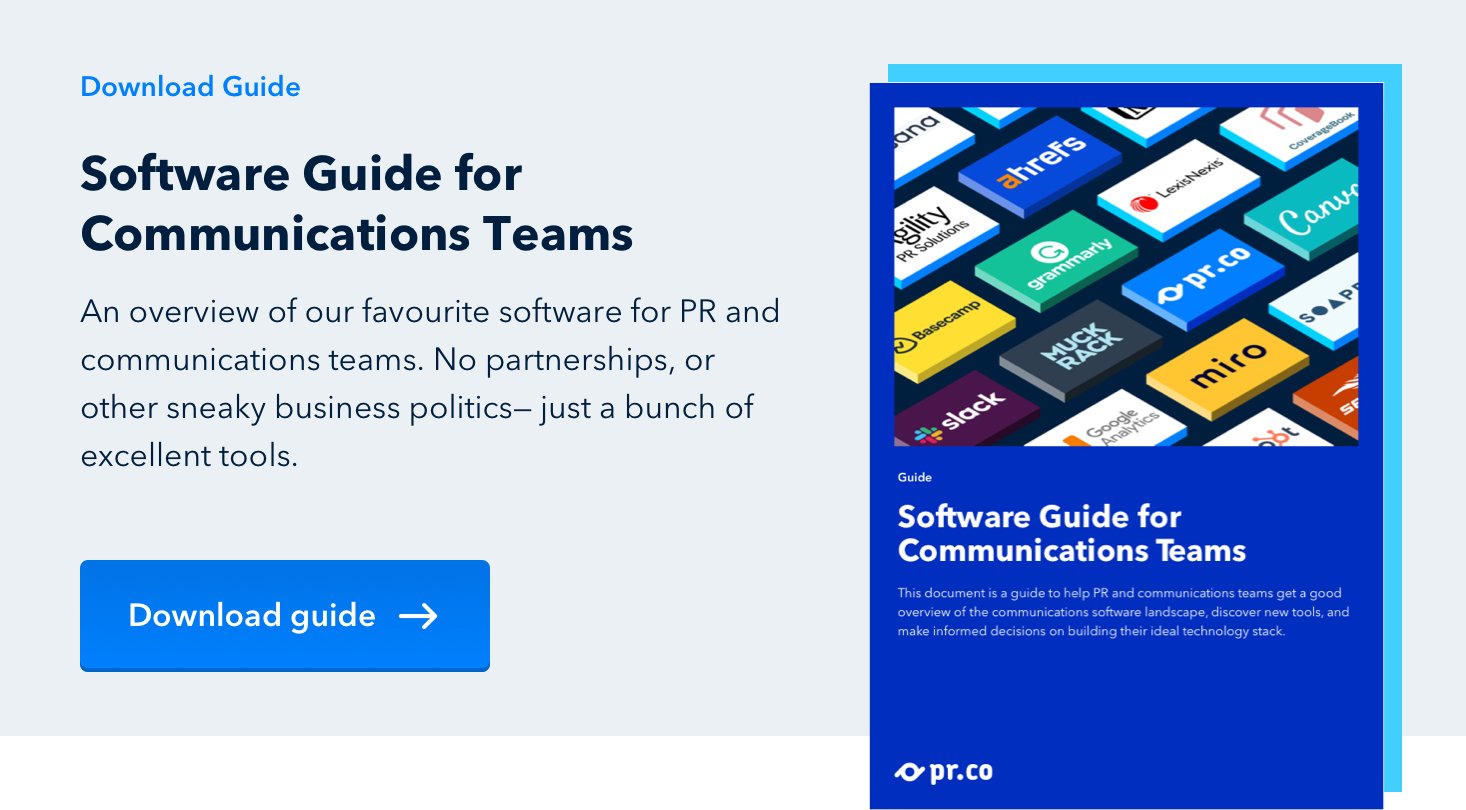 Sjors heads up pr.co's commercial team. He's in touch with customers on a daily basis and writes about everything he learns from these conversations. In his spare time, you'll find Sjors on his bike, on a run or in the pool.. Connect on LinkedIn or send an email