2021 was a stellar year for PR. After a turbulent 2020, companies of all sizes and across industries began to recognize the power of a good PR team. PR has become more important than ever.
But, good PR teams need good tooling. As fellow software geeks, we like to take notes of the tools our customers rave about. Below you'll find the top 5 PR challenges quoted by hundreds of teams across the world, and their favorite software tools to solve them.
Looking for a more detailed guide? We've also prepared a much more detailed guide, outlining heaps more of our customers' favorite tools, including why they're good, interesting case studies, pricing, and how they've been rated on review websites. You can find our complete guide on the best PR tools for 2022 here.
1. Tools to expand your press network
Journalists tend to rely on a close network of trusted contacts. If you respect their work, offer them valuable stories, and time it right, you can secure a place in their inner circle. However, you've got to find the right contacts though– and there are a few really good tools out there to quickly build a press network.
Our favorite: Muck Rack
Muck Rack is software that helps you find journalists, research press contacts, monitor the news, and build reports of your PR campaigns.
A large database of up-to-date journalists, podcasters, influencers, and other media professionals.
Muckrack also builds tools for journalists.
Excellent product focused on high-quality, targeted outreach, not spray and pray. And they're one of the only ones in the game.
Muck Rack is by far our favorite tool in this category, mostly because of the fact they also make tools for journalists. Muckrack understands media relations are two-way traffic: it's give and take.
Rating:
Capterra - 4.4/5, 18 ratings
G2Crowd - 4.3/5, 55+ ratings
Pricing: Unknown - not publicly available on website.
Bonus tip:
Building a media database should be considered an ongoing project, not just a one-off task. Surely, buying a media database is the quickest way to get started. However, it's not the golden ticket to landing media coverage. There's so much more to media relations than simply having a journalist's contact details. To keep your database up-to-date and robust, we suggest using other prospecting tools like hunter.io, Lusha, or Voila Norbert. Most of these tools are free up to a limited amount of searches and some of them even have email verifying tools, so you can test if the email works before you send a pitch to a broken email address.
Looking for a free alternative to build your press list? Here's how to do that.
2. Tools to create more captivating press releases
If you're not doing it already, it's time to start championing the experts or charming individuals in your company. Work with the thought leaders in your company to tell your stories in your newsroom, visually.
Our favorite: Soapbox
Soapbox is a tool to record, edit, and share videos:
Record your screen and your webcam at the same time.

Create beautiful video pitches, product explanations, and demos.
Amazingly user-friendly, and surprisingly entirely free.
Perfect for tutorials or talking head videos, all you need to use this tool is a microphone and a webcam. Easy-to-use, the end result looks well edited without feeling too staged. Videos are done in one take so you have to be camera-ready.
Rating:
Capterra - 4.4 / 5, 18 ratings
G2Crowd - 4.5/5, 20 ratings
Pricing: Free.
Bonus tip:
Building thought leadership takes time and effort. One way to amass credibility and expand your reach is to dip your toes into podcasting. Podcasts have gained astonishing momentum. As of 2021, there are over 2 million podcasts and more than 48 million episodes. If this strategy is right for you, you don't want to miss out on the buzz. To help you get started, we recommend using Anchor to record, distribute and monetize your podcasts (for free).
3. Tools to increase media exposure
Back and forth emails requesting info, resending expired Wetransfer links, trying to make PDF press releases look good– day to day PR jobs can be a struggle., All these tedious tasks disappear with an online newsroom. Journalists are busy bees, and this is a time saver for both you and your press contacts. With a good online newsroom, journalists will have everything they could possibly need to write a story about you in one place.
Our favorite: pr.co
Online newsrooms and software for communications teams
One hub for news, coverage, contact details, images, videos, and other media assets. A one-stop-shop for your press network.
Beautifully designed newsrooms. Made entirely on-brand by an experienced design team. Not your typical off-the-shelf solution.
Newsrooms are SEO-optimised, your news will crawl up Google News and Google Search minutes after posting.
Niche product: not a typical CMS, but made for PR teams (think media kits, coverage, event calendar, and more.)


We pride ourselves on building our newsrooms with journalists, instead of PR teams. The result is a set of nifty features like a journalist toolbar, to make your press contacts' lives easier. Not just yours. All our newsrooms are powered by a platform that also includes a PR CRM for contact management, a curated press list service where we'll build your press lists, collaboration functionalities), and more. Schedule a chat with us– we'd love to show you why the biggest brands in the world choose our solution.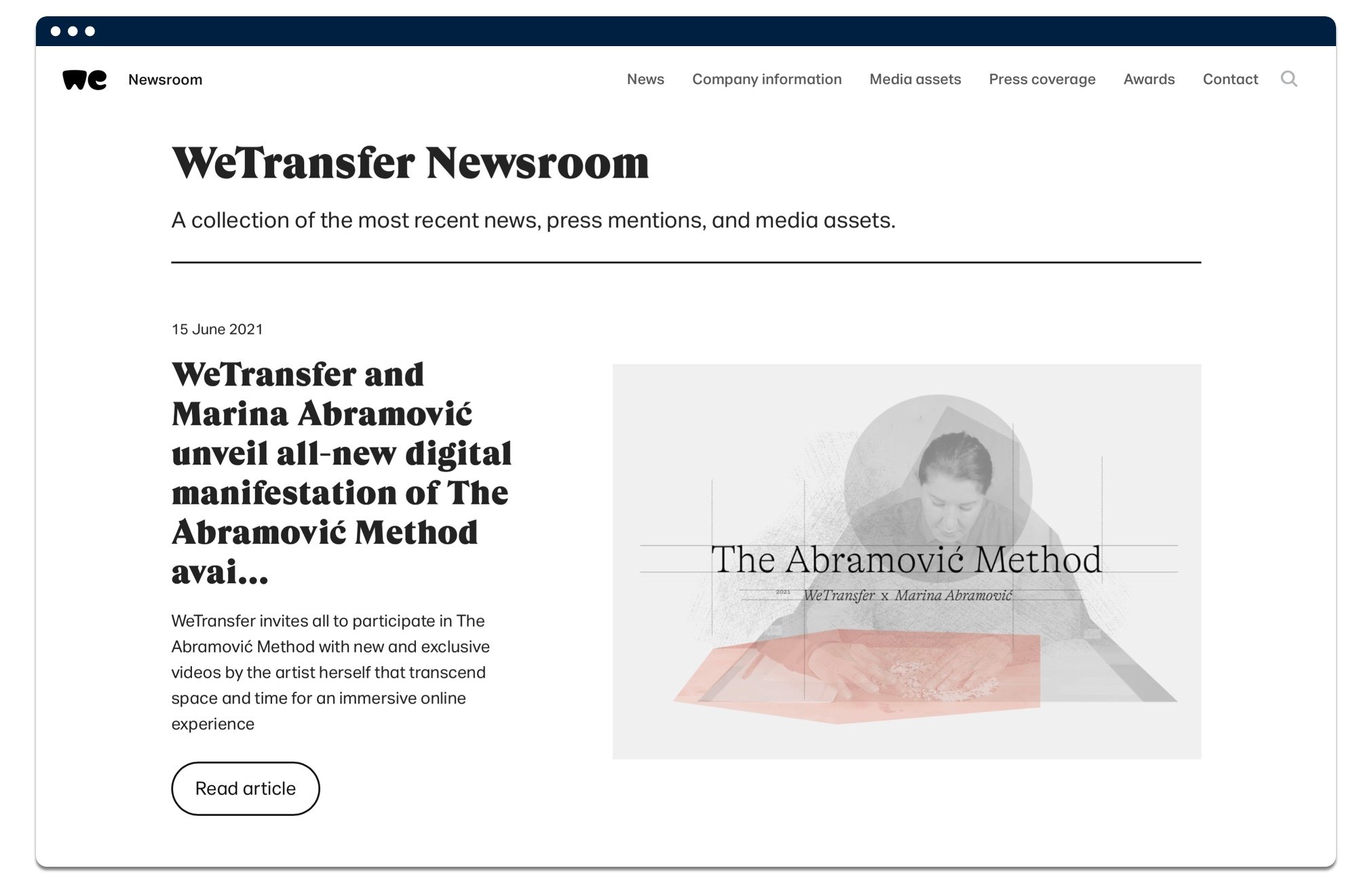 Rating:
Capterra - 4.6/5, 10 ratings
G2Crowd - 5/5, 5 ratings
Pricing: An online newsroom, including the software, starts at €447,- per month (with a discounted startup program for young companies).
Bonus tip:
The media landscape has changed dramatically in the past couple of years. Simply relying on finding and pitching contacts doesn't cut it anymore. Journalists today are not passively publishing whichever press release finds its way to their inbox. Instead, they are actively searching for their stories through research or a close network of friends or thought leaders. pr.co's new Leads feature can help you build out an overlooked channel: inbound PR. Use your newsroom to generate new relevant connections, qualify relevant journalists, and organically grow a high-quality press list. Because why would you scour the web to find new press contacts if we can convert the ones browsing your newsroom? Sound interesting? Let's chat.
4. Tools to make your news easier to find
One of the most important underestimated, and misunderstood functions of PR is SEO– popping up in journalists' search results. This will mean generating backlinks, improving your site's domain authority, and making sure journalists can find your company news quickly and easily. A findable newsroom is great for the press, and SEO tools can improve the rest of your strategy and materials.
Our favorite: AHrefs
AHrefs is an SEO software suite with tools for keyword research, competitor analysis, link building rank tracking, and site audits
Extremely powerful and complete platform.
Their blog is the most informative blog we've ever seen. You can become an SEO expert in no time with their help.
For something so technical, the learning curve is less steep than you'd imagine.
We've decided to single out AHrefs because a) we've been using it for more than 4 years and b) their content is excellent: extremely helpful, also for SEO rookies. We use the platform for keyword research, monitoring backlinks (this is essentially a great monitoring system to pick up coverage too!), researching new markets (which vocabulary do they use - how big is my potential market?), keep an eye on the competition (what's their content strategy like / which keywords do they rank on?). With so much to offer, it really is a secret weapon.
Rating:
Capterra - 4.8/5, 230+ ratings
G2Crowd - 4.6/5, 250+ ratings
Pricing: From $99,- per month to $399,- per month.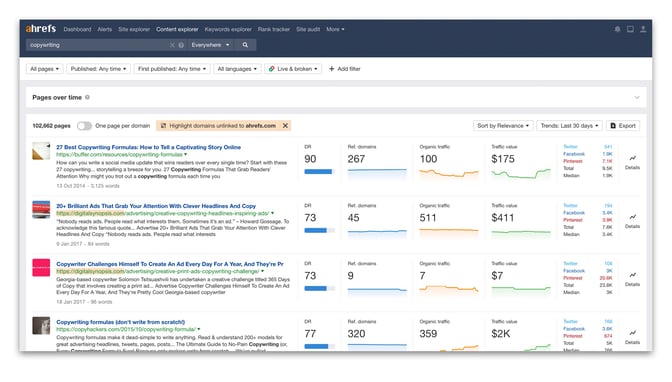 Bonus tip:
Another tool that can help you focus on findability is Answer the Public. This tool allows you to monitor how your keyword is being searched, view similar phrases, and questions regarding that specific keyword. With this insight, you'll tap into a goldmine of new content ideas, tailor your news around your audience's interests and make your messages more strategic.
5. Tools to monitor your brand
If you want to position yourself effectively or become the go-to brand on a topic, you'll need to understand the competition. This way you can craft the stories that are going to make you stand out. Media monitoring tools will help you keep your ear to the ground and make a positioning plan to end all plans.
Our favorite:

Agility PR

Agility PR is a tool that helps you monitor media coverage and measure results. With user-centric features, you can search a wide range of industries. Moreover, it can be quite a useful tool to stay on top of industry developments. The search is flexible and the results are reliable. Customer service is generally good.
Efficient, user-friendly, and aesthetically pleasing interface
Pre-built reports on coverage and share of voice that can be easily shared with stakeholders or clients
Monitor content in every media type: online, print, broadcast, podcasts, and social media.
Rating:
Capterra - 3.3/5, 6 ratings
G2Crowd - 4.1/5, 270+ ratings
Bonus tip:
Monitoring the competition can shed light on how key industry players are approaching the market. To do so, we recommend using Ahrefs to conduct a competitor or content gap analysis. Their tool performs an in-depth assessment of the keywords your competitors are ranking for (and that you are not) to give you a better understanding of how to enhance your content marketing and SEO strategy.
Found that useful? There's more where that came from. Check out our complete guide on the Best PR tools for 2022. The guide includes:
Key features, reviews, and pricing for 20+ popular comms tools
Top 10 PR goals and the tools to help you reach them
A free feature comparison guide to help you pick the right option for you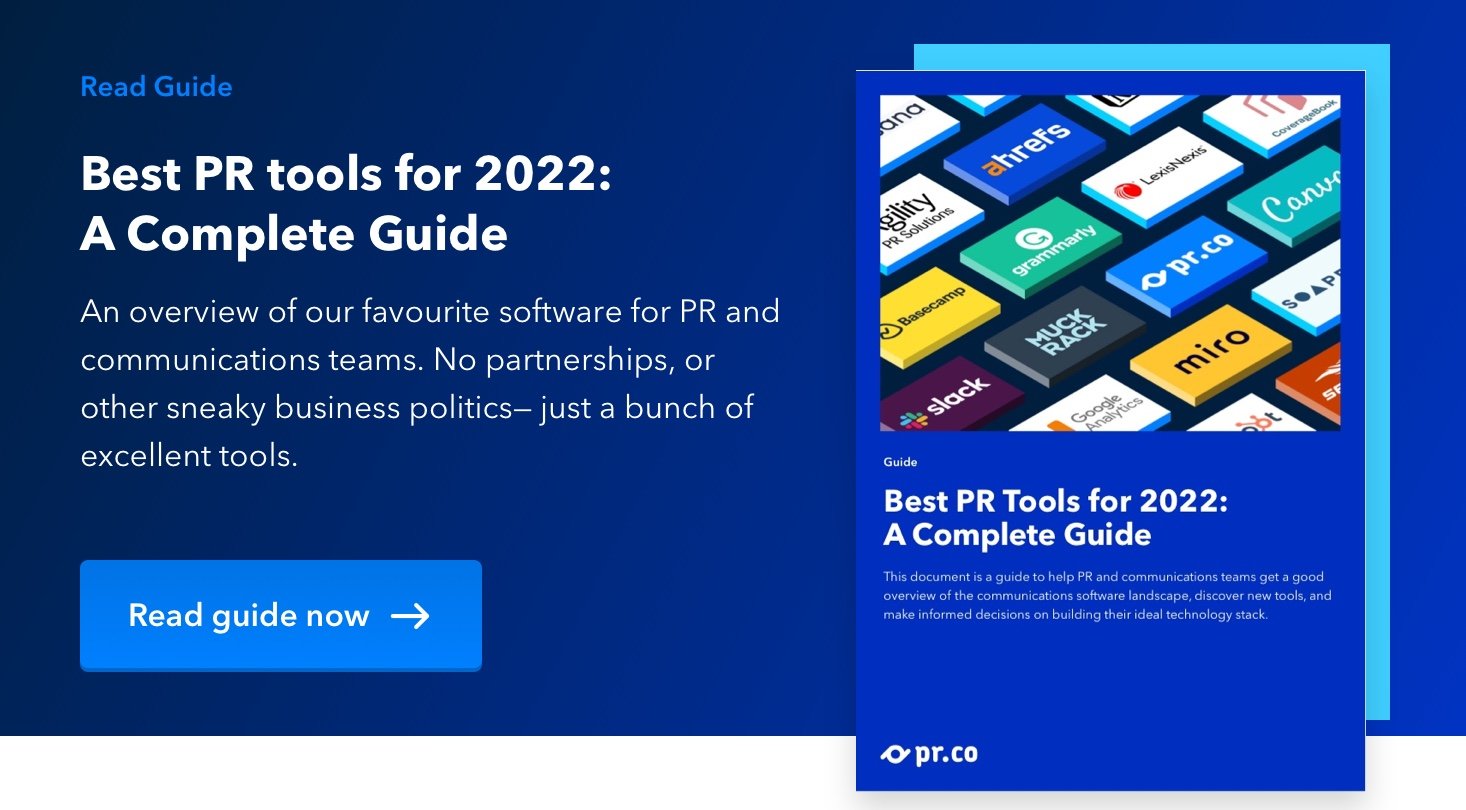 Sjors Mahler is the Commercial Director at pr.co. He's worked with PR and communications teams for 9 years and has organized dozens of meetups and events for the Amsterdam PR community. Sjors has an MSc in Persuasive Communications and specializes in branding, sales strategy, and inbound PR.. Connect on LinkedIn or send an email