If you've landed on this page, it probably means you've got big news to share. While writing a press release isn't rocket science per se, making it stand out and get you coverage in the media can be tricky. To give you a head start, we've compiled ten press release templates for different occasions.
How to use our templates
To personalize the press release templates, replace the text in [brackets] with your information. We hope it comes in handy!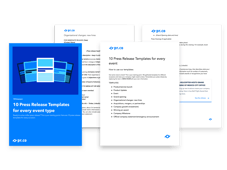 Templates
Download Press Release Templates
Ready to share your big news? Here are 10 press release templates for every event type.
We use your contact information only to contact you about our products and services.
We never pass your information on to third parties. You can easily unsubscribe anytime.
Event Types:
Need some help getting started? We created a step-by-step guide on writing a solid press release. Make sure your next press release ticks all the boxes with our press release checklist.
Product/Service Launch
Your team has devoted endless hours to creating the perfect product or service. Now you want to share it with the world! When it comes to writing a press release for your product or service launch, it's important to emphasize why this product is valuable, which problem it intends to solve, who it will impact, and most importantly, why it is newsworthy. Surely, your product/service launch is a big deal to your company, but in your press release, you must convey why it's important to a wider audience.
Product Update
Your product just got a whole lot better — here's how to share the news with the world. When writing your press release for a product update, it's important to communicate what was improved, why it was changed, and how it will enhance a user's experience. Most importantly, you have to remember that in order to land coverage, your news must be, well, newsworthy. Why does this product update make a difference in your industry? How will it impact users? What's the bigger story?
Just like a product launch press release, information on pricing, availability, and other product details should not be left out.
Event
Organizing events for media contacts is a great way to build essential media relationships. By being able to see, touch, smell, and hear your brand, it comes alive in the minds of journalists. An evocative brand experience is a sticky one- and will increase your chances of being remembered with a smile.
For your press release, remember to answer the 5 W's in your release: who, what, when, where, why, and how. You should also include practical information like the date and time of the event, venue information, and ticket information. If applicable, don't forget to add information for journalists about press viewings, book signings, or interviews.
Grand Opening
Whether you just opened a new location, inaugurated your headquarters, or opened for the first time, a press release is your way to build some hype around your grand opening.

A while back, we sat down with Marianne Kemps,

PR & Communications Manager at Domino's Benelux, to chat on all things PR. Here's how Domino's shares the news of their latest store openings:
"In the past year, we've set a record of store openings. In total, we opened 20 stores in 6 months. That's a lot of press releases. Therefore, we decided to create a basic template with the information journalists need. In addition to that, we always try to highlight the team that works in that store, the freshness of ingredients, the cleanliness of the kitchen, among other . For each store opening we try to offer a different angle that will resonate with the community."

- Marianne Kemps, PR & Communications Manager at Domino's Benelux
Here's an example of how Domino's announced the latest opening of a new store in Panningen, Netherlands.
Organizational changes: new hires
They say you don't get a second chance to make a first impression. Introduce your new team member with a powerful press release. When sharing the news about a new hire, it's important to convey the value that this new member will add to the team and what direction your team will take going forward. To do so, you should include their previous experience and what they bring to the table. Don't forget to add quotes from that new member or an executive from your team. Not only will this press release help you gain traction in the media, it will also play an important role in terms of employer branding.
Here's a humble brag: a while back, we announced a new leadership team at pr.co. Modesty aside, we think we wrote a pretty good press release. We thought it might come in handy if you're looking to write a press release for new hires or organizational changes. Check it out here.
Acquisitions, mergers, or partnerships
Sharing the news of an M&A or partnership is a powerful way to position your company as a successful one. It shows your organization is moving forward and sharing the news is the perfect opportunity to showcase your growth strategy. To nail this type of press release, you have to convey the value of why these two (or more) parties have joined and why this new entity is important for the industry. Remember to write a summary of each party involved, which services they will provide, and what the combined offer will be. To make the story more personable, add quotes from all parties that explain why the acquisition/partnership happened and why it is relevant.
Investment/Funding Round
News about funding and investment are an exciting opportunity to showcase your company's growth! However, the fact that you raised a certain amount of money simply won't cut it. You have to craft a compelling story for your current and future stakeholders. What does this funding round mean for your company? For your customers? For your industry? Has your company been building up momentum in the market? Is this a big milestone for your organization? Don't forget to include the amount raised, which investors are joining the round, how relevant the product/service is to the industry, what problem it's solving, what round is it (pre-seed, Series A,B,C, angels, VCs).
Winning an Award
Prizes and prestigious awards give your brand extra credibility. So go ahead, show it off with a killer press release. When it comes to sharing the news, context is important. Explain what the prize or award entails, why your organization was given the award, who else was competing for it, and include details about the ceremony.
Company Milestone
Reaching a company milestone and sharing the news is an great way to keep momentum in the media. A common mistake that PR pros sin of is thinking these news are as important to the rest of the world as they are for your company. This way of thinking can cost your brand serious coverage. To get your message across, you need to find a newsworthy angle or think of a way you can add value to a story. Is there an interview you can offer for clarification? Can you offer insight on something happening in your industry?
Official company statement/Emergency announcement
Press releases are a way of controlling your narrative. When your company hits the news due to an unexpected event, your reputation is on the line. Depending on the situation, putting out an official company statement is crucial. Keep in mind the tone of your voice and make sure it is aligned with the rest of the messages going out during an emergency.
Now that you've got your press release ready to go - the next step is pitching. Here's what PR pros had to say on what works (and what doesn't work) when it comes to reaching out to your media database.


Ana is a marketer at pr.co, and is the driving force behind our 100+ articles and guides. Ana has an MSc in Corporate Communications, and four years of experience in the PR industry. Now, Ana distills knowledge from pr.co's 250+ customers to help PR professionals get better results through high-quality content.. Connect on LinkedIn or send an email